Want to live your Irish dream? Here's your chance as remote Irish island seeks American workers.
A remote island in the Atlantic Ocean is inviting New Yorkers to connect, do business, and even consider relocating, after having high-speed broadband installed for the very first time.
Arranmore Island located 5km off the coast of Donegal, North-West of Ireland, has just gone through the biggest advancement in its recent history by becoming the recipient of Ireland's first offshore digital hub.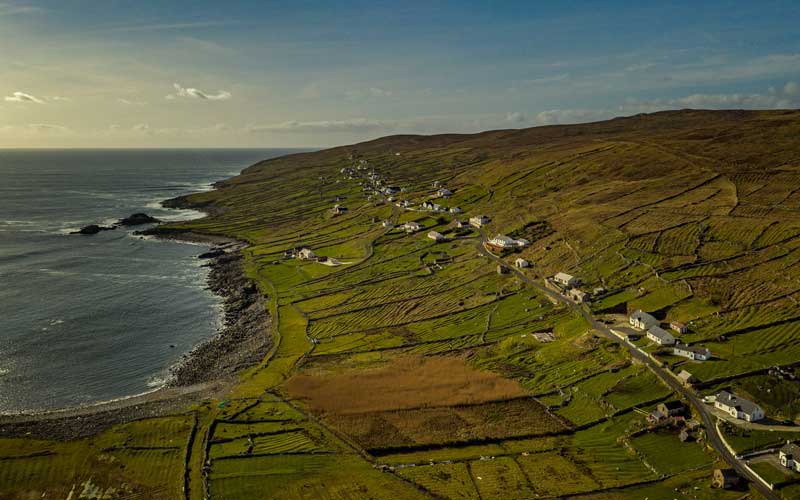 3
Read More: How hard is it to move to Ireland as an American?
In an open letter to the people of New York, the island's community has stated that they are now "open for business". Local talent includes graphic designers, games developers, app developers, photographers plus a host of artisan craftspeople (www.madeinarranmore.com) who are ready to connect right now.
The ambition is to stimulate employment and reverse over a century of emigration that has seen the island's population drop to just 469 people. And that's why New Yorkers are also being presented with the unique opportunity of swapping the hustle and bustle of the city for the calm and beauty of Arranmore.
Speaking on the significance of the change, Adrian Begley of Arranmore Island Community Council, said: "For us, this connection is the electrification of the 21st century. It's that big a thing. Whilst the Irish economy is growing, the islands have been neglected; emigration continues and culture gets lost, but we're confident that's all about to change."
Neil Gallagher, CEO of tech company Caped Koala Studios, added: "Moving home has always been a dream but the fundamentals of connectivity for my line of work just made it impossible. The digital hub means people working for tech companies like mine can now work on Arranmore. The set-up is as good as any city in the world, but the view is so much better."
3
High-speed connectivity has been extended to the island's schools, medical centre and a number of local businesses and community facilities, making Arranmore a more attractive place for families and businesspeople to live and work.
Anyone wishing to connect with Arranmore's community can send them a message via their Facebook page https://www.facebook.com/arainnmhor/
For more information, please contact:
Richie Taaffe
Business Director, Boys & Girls
M: +353 873957348
E: richie.taaffe@boysandgirls.ie
Read More: Four years a Paddy: my take on living in Ireland as an American
About Arranmore
Arranmore Island, or Árainn Mhór (in Gaelic), is situated 5 kilometres (3.1 miles) off the coast of County Donegal (which is part of the Republic of Ireland) on the magnificent Wild Atlantic Way touring route. Wild and untamed, the island has a rich and vibrant heritage and culture and has been inhabited since prehistoric times. The Gaelic traditions are still thriving on the Arranmore Island. The population has seen a sharp decline due to emigration over the last 100 years from 1,511 people in 1911 to the only 469 people today.
More information is available on the island's website.
http://www.arainnmhor.com/