Ireland's capital city boasts of the country's most popular tourist attraction, The Guinness Storehouse, at St. James Gate.
Guinness has become nearly synonymous with Ireland the world over. Not surprisingly, The Guinness Storehouse in Dublin is Ireland's leading tourist attraction year after year with just over 1.7 million visitors reported for 2017. If you're visiting Ireland's capital city, The Guinness Storehouse is a must-see.
Read more: Dublin and surrounds tours
Before you go
Booking tickets in advance online is recommended, but tickets are also available for purchase in person. Group, child, and senior discounts are available, and the entire Storehouse is wheelchair accessible.
Certain upgrades are also available for a fee to enhance your visit. Why not opt in for a personalized Guinness glass, or upgrade to a private dining experience during your excursion?
5
Opening hours
The Guinness Storehouse is open 7 days a week all year, except for Christmas Day, Christmas Eve and St. Stephen's Day (the day after Christmas), making it easy to schedule no matter your itinerary. They offer extended hours during the summer.
The tour is self-guided with brochures and audiovisual elements to help lead the way. Don't forget to bring your camera! Photo opportunities are plentiful throughout The Guinness Storehouse.
As the tours are self-guided, you are welcome to explore the Storehouse for as long as you'd like. We recommend carving out at least an hour and a half to explore all that the Storehouse has to offer.
Read more: Mayo and the Cliffs of Moher tours
Where it is
The Guinness Storehouse is located at St. James Gate on the south side of Dublin City, only a stone's throw from the Liffey River. It's easily accessible by foot or cab from city center. If you're traveling from outside of Dublin, it's conveniently located nearby to Heuston Station, one of Dublin's main train depots.
Free street parking is also available on nearby Crane Street on a first come first serve basis.
If you're feeling particularly touristy after your tour, wave down a horse and buggy that are usually parked and waiting outside to bring you to your next location.
Read more: Galway and the West tours
What to expect
Since opening in 2000, The Guinness Storehouse has welcomed close to 18 million visitors. But not everyone who visits the Storehouse is a tried and true fan - in fact, it's reported that some 20% of visitors try their first sip of Guinness during their tour, so no worries if you're not too familiar with the black stuff.
At the start of the tour is a glass encased copy of the famed 9,000 year lease that Arthur Guinness signed in 1759. The lease helped signify the start of Guinness's fingerprint on not only Dublin, but on Ireland as a whole and makes it the natural starting point for a tour into the history of Guinness.
The tours are at The Guinness Storehouse are both educational and immersive. The building's seven floors of experiences are built to mimic a pint glass, all leading upwards and culminating at the Gravity Bar.
Read more: Ireland golf tours
Learn the history 
On your way up you'll learn every bit of history there is to know about Guinness through interactive experiences - when it all began, how it's made, its social influence, the remarkable advertising campaigns, and more.
In addition to the self-guided tour, the Storehouse boasts three bars and four eateries to ensure a well-rounded experience in learning about all that Guinness has to offer.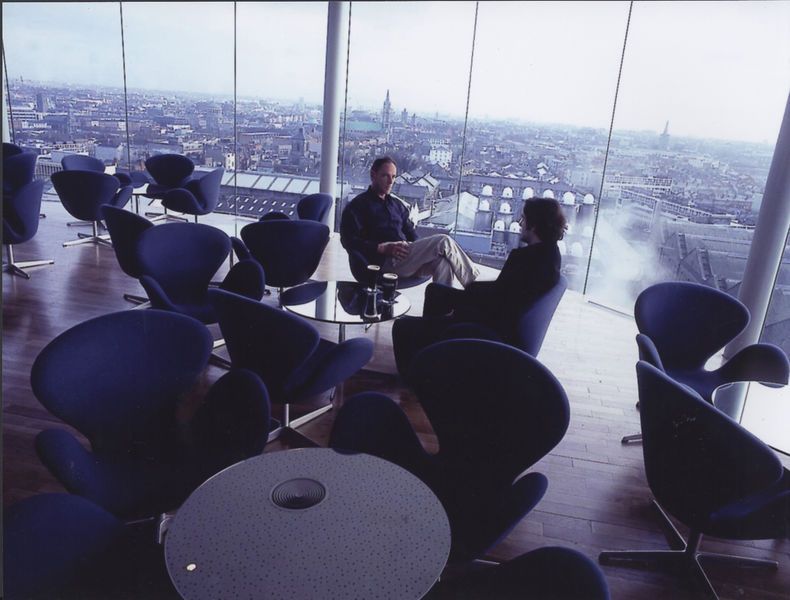 5
Gravity Bar 
Perhaps the most famous part of The Guinness Storehouse is its top floor Gravity Bar. Here, you're welcome to enjoy a freshly pulled pint of Guinness, which is included in your admission. Have a seat and take in the stunning aerial views of Dublin City and the nearby Wicklow mountains, the perfect backdrop for photographs. We recommend timing your visit to arrive at the Gravity Bar around dusk, to see the day slip from day to night and watch Dublin light up in the nighttime.
Back on the ground floor of the Storehouse is a gift shop with plenty of Guinness-branded goods on sale. Everything from footballs, to candies, to clothing are available for purchase and make for the perfect souvenirs.
Have you checked out The Guinness Storehouse in Dublin? Share your experience in the comments!
Read more: Northern Ireland and Game of Thrones tours