The Daniel O'Connell statue in Dublin is widely regarded as one of the finest pieces of work by John Henry Foley, but do you know the meaning behind one of the city's most iconic monuments?
Anyone who has ever visited Dublin City will no doubt have happened across the Daniel O'Connell statue on the city's main thoroughfare O'Connell Street, also named in honor of the great "Catholic Emancipator." Unveiled for the first time on this day, August 15, in 1882, the monument was designed and sculpted by John Henry Foley and finished up by his assistant, Thomas Brock. It is often believed to be Foley's greatest work.
Situated on the south side of O'Connell Street, the monument consists of three bronze sections separated by a granite plinth. Of course, in pride of place at the top is the man himself, Daniel O'Connell, but at the base of the monument are four-winged victories, each representing a virtue attributed to O'Connell: courage, fidelity, patriotism, and eloquence.
Who was Daniel O'Connell?
Daniel O'Connell, often known as the Emancipator or the Liberator, was a major Irish political leader at the beginning of the 19th century best known for campaigning for Catholic emancipation and for arguing for the repeal of the Act of Union, 1800, which united Great Britain and Ireland in one 'United Kingdom.'
Read more: On this day in his history: The Emancipator Daniel O'Connell was born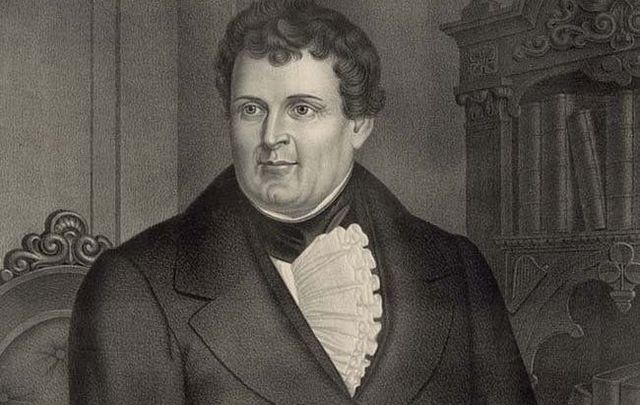 2
Born in Co. Kerry in 1775, O'Connell engineered the widespread mobilization of the Catholic majority in Ireland and once emancipation was achieved held "monster meetings" attended by hundreds of thousands of people, pushing for the re-creation of an independent Kingdom of Ireland to govern itself with the then ruling monarch.
As a Catholic born into a once-wealthy family that had been dispossessed of its lands, O'Connell studied as a law student thanks to a wealthy uncle and, although he may have had better opportunities in life than many of his fellow Irish Catholics, nonetheless he faced discrimination because of his religion. He was prevented from reaching the uppermost circles of his profession because he was Catholic.
O'Connell did not support the rebellions of 1798 or Robert Emmet's 1803 attempt to break the bond with Britain. Throughout his life, O'Connell never supported the use of violence, but rather he believed the Irish should instead assert themselves politically.
What does Daniel O'Connell's Statue symbolize? 
While his statue in Dublin is already a large political statement with his figure towering over Dublin, there are many hidden traits to the monument that reinforce his importance in Irish history while the added bullet holes from the 1916 Easter Rising enshrine another part of the city's political history permanently into its sights.
Read more: Daniel O'Connell's final tragic plea to save Ireland from Famine
In the monument, O'Connell is stationed pointing toward parliament buildings, symbolizing the challenge he gave them over the Act of Union, while at his feet lies a pile of books which are thought to symbolize the fact that he came to this fight as an educated man with the power to use this knowledge in his arguments.
At his feet also is a cluster of statues thought to be the people of Ireland, led by the "Maid of Erin," a woman who acted as the personification of Ireland and who stands on top of broken shackles, further symbolizing O'Connell's significance as the liberator and his support from the Irish people.
Have you visited Daniel O'Connell statue on O'Connell Street? Let us know what you thought of it in the comments section, below. What's your favorite monument in Dublin?
H/T: DBS Irish Studies