As one of the prime destinations on Ireland's west coast, the Dingle Peninsula is rich in seacoast vistas, pristine beaches, rugged mountain passes, and deep green valleys as well as colorful little towns, fishing ports, and great pubs.
Above all, Dingle's pubs are known for great character – and great characters, as well as nightly sessions of traditional music and lots of "craic" (good times).  Even if it is pouring rain, Dingle will warm your heart with its welcoming variety of pubs.
Read More: The best beaches on the Dingle Peninsula
If you are planning a visit to Dingle, here are 9 of my favorite pubs to put on your itinerary:
An Droichead Beag/The Small Bridge 
10
Sitting beside a bridge leading to the road over the Conor Pass, this pub is known for its "mighty" sessions of Irish traditional music scheduled every night of the year, usually commencing at 9:30 or 10 p.m. (Lr. Main St., Dingle Town, tel. 066-915-1723; www.dingle-region.com/smallbridge.htm)

Dick Mack's 
10
Probably Dingle's most well-known pub.  Named after the late leather-craftsman Richard MacDonnell (the current owner's father), this family pub carries on a cobbler's tradition, with a small leather shop still on the premises and an array of handcrafted leather boots, belts, and key fobs still on display.  The walls are lined with family memorabilia, old pictures and books.  The bar area is small and includes an old-fashioned snug. Outside there is a Hollywood-style pavement with star slabs showing the names of famous people who have visited such as Sean Connery, Robert Mitchum, and Julia Roberts, to name a few. (Green St., Dingle Town, tel. 066-915-1960)

Foxy John's
10
A bastion of home town atmosphere. This place is a combination of traditional hardware store (on the left) and vintage pub (on the right). Step in and shop, or sip. And just for good measure, you can also rent a bike at the back of the pub. (Main St., Dingle Town, tel. 066-915-7316)

John Benny Moriarty 
10
The locals simply call this place "John Benny's." It is located opposite the tourist office and pier, and is known for pub grub and genuine Dingle music. The owners, John and Éilis Moriarty, are traditional Irish musicians and get the sessions off to a melodic start. (Strand St., Dingle Town, tel. 066-915-1215; www.johnbennyspub.com)

Kruger's Pub
10
Venture out on the Slea Head drive to find this rural pub, a favorite with locals and visitors alike. It is named after Muiris "Kruger" Kavanagh, a local lad who was known to pick a fight at school so he was dubbed "Kruger" after Paul Kruger, a famous Boer leader. He migrated to the US where he worked at various jobs from bodyguard and nurse to PR man for a New York City theater. After 16 years, he returned to Ireland and set up this pub, to which he drew many friends from Broadway. Although Kruger passed on, his pub carries on as an entertainment hub with weekend performances of sean-nós singing (an old Irish unaccompanied style) and step dancing. (Ballinaraha, Dunquin, tel. 066-915-6127)

Lord Baker's
10
Claiming to be the oldest pub in Dingle, this local landmark is named after Tom Baker, who purchased this premise in 1890 and turned it into a hive of activity, selling wine and spirits, tea, flour, wool and general farm supplies. As well as tending to his bar and shop, Baker served as a county councilor, worked as an auctioneer and wrote poetry in the Irish language. He earned the unofficial title of "Lord Baker" from his fellow townspeople. His legacy lives on in the atmosphere of the bar.  Good bar food is served throughout the day. (Main St., Dingle Town, tel.  066-915-1277); www.lordbakers.ie)

MacCártaìg/MacCarthy's Pub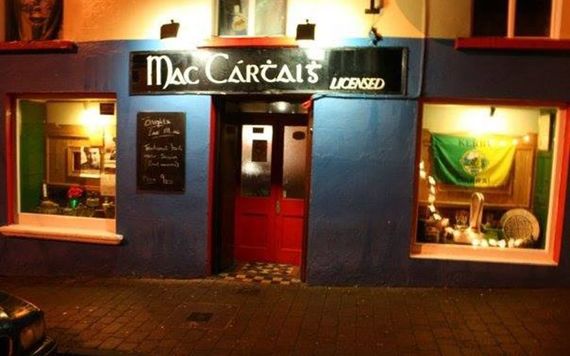 10
Has been in the McCarthy family since the early 1800's. Like many early pubs, it had a dual purpose in earlier days, serving as a pub-grocery store and then a pub-bakery. Pictures on the walls tell the pub's story through the years. Music is on tap many nights. (Goat St., Dingle Town, tel. 066-915-1205;  www.maccarthyspub.com)

O'Flaherty's
10
A vintage pub near the pier, known for its rustic atmosphere and great sessions of Irish traditional music. Enter from Strand Street or from the musically-themed back gate along the harbor-front. (Strand Street, Dingle Town, tel. 066-915-1461)

South Pole Inn 
10
A handy stop between Tralee and Dingle. Formerly owned by Tom Crean, who was famous for his Antarctic explorations, this pub is full of memorabilia from Crean's travels. (Main St., Annascaul, tel. 066-915-7388)

Patricia (Pat) Preston has written 23 travel books (15 about Ireland).  Her latest book, Ireland Travel 101 (http://www.IrelandTravel101.com) won 1st Place in the Travel Guide category of the North American Travel Journalists Association annual competition this year. Visit Pat's web site (http://www.IrelandExpert.com).

* Originally published in 2010.