Tourism Ireland has launched a new film promoting all things unique to the island of Ireland. The short film is entitled, "Only on the island of Ireland will you find….", and focuses on eight experiences that visitors can only find when they visit our nation's shores. 
This country is filled with so many amazing things, so here is just a little taste of things that make Ireland unique.
Ireland is home to a fantastic coastline
9
Ireland has an abundance of sandy beaches along its vast coastline. Visitors don't need to travel too long to find one on their travels and finding that perfect spot to settle yourself down is always a cinch. Whether you want to surf, picnic or just plain relax then Ireland has plenty of options to choose from. We can't guarantee the weather but we can guarantee a great beach.
Kilmainham Gaol (Jail)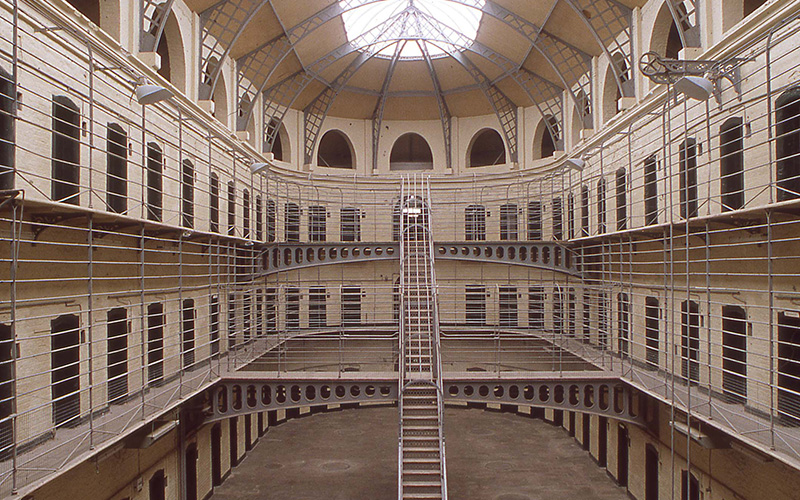 9
Kilmainham Gaol is one of Ireland's must see attractions for visitors to experience. It is one of Ireland's most famous and iconic landmarks. Though it was decommissioned as a prison in the 1920's, it was reopened to the public after extensive restoration in 1971. Since then visitors from all over the world have been able to tour the prison and try to capture a sense of what it was like when it housed some of Ireland's most prolific leaders from the past like Charles Stewart Parnell, Robert Emmett and the leaders of the 1916 rebellion.
Cable car commute like no other
9
Dursey Island is a small island just off the coast of County Cork near the Beara Penninsula. To get to the island you must travel by cable car which transports you over the Atlantic Ocean. The Dursey Island cable car opened in 1969 and runs on a regular schedule. It transports people, supplies and even sheep to the island. Visitors will travel 250m so time is limited but the views are simply breathtaking. Nowhere else in Ireland can you experience something quite like this and it is the only cable to journey over open water in Europe. Waves crashing, wind rustling and creaking from the cables will be your soundtrack as you make the voyage.  
The long sheep commute
9
The south of Ireland is home to a very unique highway but you won't find cars on it, this highway is designed for sheep. On the hillside along Dunquin Harbor in County Kerry, "Sheep Highway" allows sheep to travel up and down the steep Cliffside safely without having to do any unnecessary climbing. This narrow path was constructed in the 19th century and has access to the harbor. Ferries travel back and forth from the nearby Blasket Islands and transports sheep from the island to the mainland. Visitors walk the path and travel to the island to explore. Cars can't drive down the path as it is too narrow and steep, as well as getting stuck in a sheep rush hour.
A good old-fashioned Irish pub
9
Ireland has brought joy to generations with a passion for traditional Irish music. Walking into a pub in Ireland with a band in full swing and you can really get a sense of why. Sit back and relax with a pint of plain (Guinness) or get out on the floor and get your feet moving, the atmosphere in an Irish pub in Ireland is like no other. There are Irish pubs all over the world that try to recreate this magic but there is something a bit special about experiencing an old-fashioned Irish pub back home. Visitors are always left amazed and recount stories of the wonderful experiences they have had in an Irish pub.
Festivals galore
9
Festivals bring out the best in what Ireland has to offer. Throughout the year different councils and other organizers put on tremendous events that showcase Ireland's heritage, including music, literature, food, sport, arts and culture. During the summer County Galway comes alive with two fantastic festivals back to back, the Galway Arts showcasing art, music, performance and theater, and the Galway Races, the annual horse racing festival. Every part of the country has something on offer throughout the year so visitors will always have something to savor. And of course the Saint Patrick's Day festivals where everyone can feel a little bit Irish.
Lisdoonvarna matchmaking festival
9
This is a festival that is out on its own. Every September in Lisdoonvarna, County Clare, thousands of eligible singles descend on this town to find love, or at least have a great time. Each weekend throughout the month there are different events taking place like live music and matchmaking dances. It's not just for singles as everyone is welcome to experience to atmosphere this festival brings every year.
Claddagh ring
9
Originating in a small fishing town, the Claddagh, in the West of Ireland, this ring was first produced over 300 years ago during the 17th century.  These rings are still produced in County Galway and are an extremely popular gift. This ring signifies everlasting love (heart), loyalty (crown) and friendship (hands) and is given to a person who is very special in someone's life.
Which of these Irish experiences would you most like to have? Let us know in the comment section.