As we drove into the historic market town of Bantry in West Cork one June, we had our first magnificent view of the scenic and tranquil Sheep's Head Peninsula. 
We made our way to the Dromcloc House B&B on the sheltered side of the peninsula for a three-night stay overlooking spectacular Bantry Bay. Dromcloc House B&B owners Dympna and Johnny Crowley provided us with a delicious breakfast and entertained us with many tales of local lore. 
Johnny, who is also a local historian, and Dympna, who grew up in Black Gate on Sheep's Head, recommended that we take "the road less traveled " as we ventured around the peninsula.
Our first stop was Lady's Well in Dromcloc. Entrance to this hidden site used as a Mass Rock in the Penal times was through a farmer's gate with a trail leading to a statue of the Blessed Virgin overlooking Lady's Well. The bonus was a spectacular view of Bantry Bay!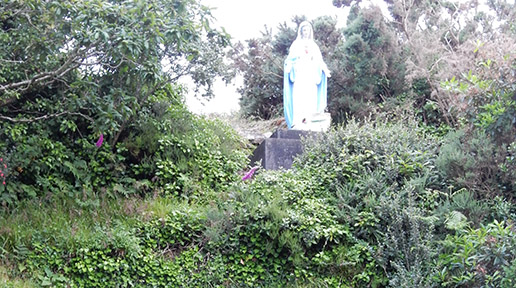 8
We then made our way along the northwest side of Sheep's Head Peninsula beginning in Dromcloc and winding our way along the scenic coastal route to Seefin Mountain. The views of Bantry Bay and the Beara Peninsula across the bay were breathtaking indeed. Stone walls, one-lane roads with two-way traffic, and steep drop-offs make this route both exhilarating and frightening at the same time. A word to the wise, driving along the coastal route is "not for the faint of heart!"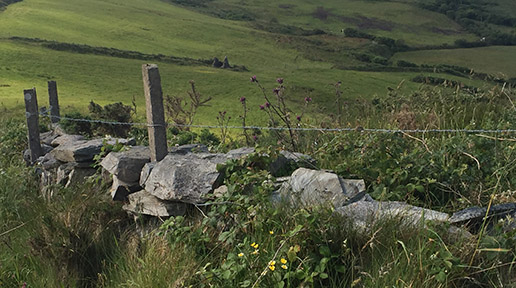 8
As the road winds by Seefin Mountain, the hillside is graced by a Crucifixion Statue positioned in a location that provides views of both Bantry Bay and Dunmanus Bay on the southeast side of Sheep's Head Peninsula. This is a "must-stop" site since it provides one with "glorious" scenic views while taking in the peace and solace provided by the statue.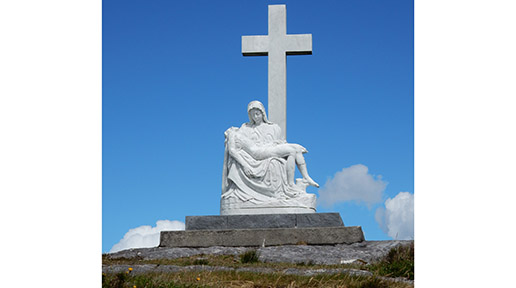 8
The coastal route veers south at Seefin Mountain and provides one splendid view after another of Mizen Head Peninsula as it snakes its way down to the village of Kilcrohane on Dunmanus Bay. We then headed west towards Sheep's Head at the headland of the peninsula, stopping to take in the view of Mizen Head from Black Gate. Time did not permit us to take the 4 km walking loop to the Lighthouse at Sheep's Head, but then again that gives us a reason to return.
8
We headed back to Dromcloc along the southern coast with a stop at Droumnea Castle between Kilcrohane and Ahakista. This 17th-century fortified house stands like a signal tower guarding Dunmanus Bay and provides sensational views of Mizen Head Peninsula.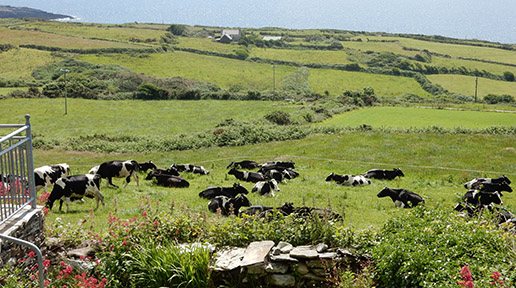 8
Next, we stopped to take a hike to the Ahakista Stone Circle. It's easy to miss the signpost for this Bronze Age stone circle, so be alert and willing to backtrack if needed. The hike may be short, but as is typically the case in Ireland, involves climbing up and down a hill and several "rock steps", so make sure you wear hiking shoes.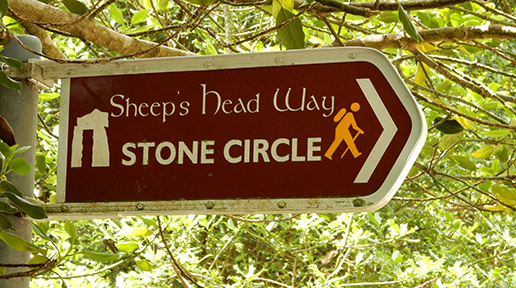 8
For those who are looking for picturesque hiking trails, then consider taking in Sheep's Head Way. This highly acclaimed walking trail opened in July 1996 and covers 200 kilometers of trails on Sheep's Head Peninsula.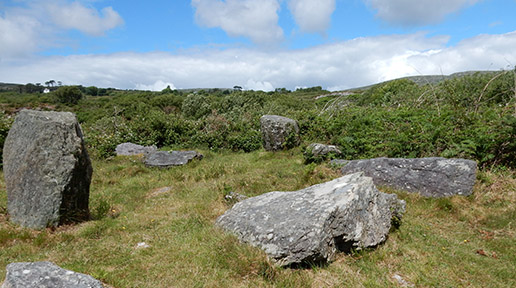 8
Our half-day trip on Sheep's Head Peninsula started out as an interesting drive but soon became an amazing journey. The extraordinary vistas remain embedded in our memories and will continue to beckon us to return for another adventure in this tranquil paradise in West Cork.
*Kate and Mike Lancor live in Moultonborough, New Hampshire and enjoy "chasing" their own ancestors as well as helping others "chase" their ancestors. They run a genealogy search business and can be reached by emailing oldfriendsgenealogy@gmail.com or on their Old Friends Genealogy Facebook page. They have traveled to Ireland five times and especially enjoy "chasing" Irish ancestors for their clients.
*Originally published in August 2016. Updated in November 2023.