Take the road less traveled in Ireland's most north-westerly county of Donegal.
There are at least two songs with the title "The Hills of Donegal." That is not surprising because Donegal is mostly hills and they are very beautiful. It is also true that roads of Donegal are mostly byways because the county occupies the extreme northwest corner of Ireland.
Read more: Northern Ireland and Game of Thrones tours
People go there but nobody goes through it to get anywhere else. It's a large county with innumerable places to stay and visit. This time we settled on its west coast and enjoyed a day and a half of wandering based at the particularly hilly town of Ardara.
We stayed just beyond the southern edge of town at Woodhill, a guest-house of unusual charm and interest, presided over by John Yates who has been living there and renovating it for close on 30 years.
Read more: Ireland's most unusual holiday home is a Hobbit house in Donegal
The house and some of its many outbuildings date to 17th century and Plantation of Ulster when Nesbit family acquired land. They liked region so much that they stayed for 300 years. Nineteenth-century descendants enlarged and embellished the house and created a beautiful garden which is worth going a long way to visit. The garden and south-facing bedrooms enjoy a view of rugged crests of Slievetooey and its neighbors.
THE HILLS OF DONEGAL

When I was young and in my prime
My mind being free from care
Whilst leaving all in Donegal to wander far away
Whilst leaving all in Donegal to wander far away
That I might plough raging main, going to Amerikay.

In Creeslough town my friends stood round
And I bad adieu to all
In Creeslough town my friends stood round
And I bad adieu to all
And down Lough Foyle, and away I went
From hills of Donegal.

The night being dark and stormy
And loud waves did roar
Our captain cries, "Hold off, me boys
Our vessel's going ashore!"
Our captain cries, "Hold off, me boys
To deck you one and all!"


And I rued day I sailed away
From hills of Donegal.

- Traditional Irish Ballad
Read more: Mayo and the Cliffs of Moher tours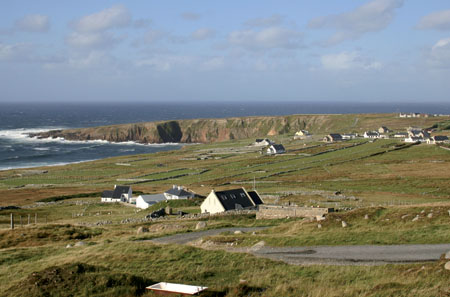 5
The journey begins by going northwards from Ardara along the R241 for three miles (five kilometers) where a signpost indicates Santa Anna Drive and takes you to the seaside at Rossbeg.
The hills are not high – and the charm here and further north on Rosses peninsula is of incessantly changing scenery, from bleak moorland to green pastures to clusters of white-washed houses, always close to the Atlantic Ocean and in view of mountains and islands great and small.
Three miles further brings you to a signboard announcing "Sheskinmore Nature Reserve," where grazing of sheep and cattle is carefully controlled to preserve wildflowers. You meet a little harbor at Rossbeg and then go through traditional seaside resorts of Portnoo and Naran with their magnificent sandy beaches.
Keep to the left and coast road after Naran and cross Gweebarra River by a remarkable concrete bridge that spans it. A little farther on there is a car park which allows you to climb to Mass Rock, one of many open-air altars which were only places where Mass could be said during worst of Penal times.
Read more: Exploring the remote and rugged wonders of Donegal
Signposts show the way to Cloghán Liath (pronounced Klug-an Lee-ah), the official name of the small town better known in song as Dungloe. The region is part of Donegal Gaelteacht (Gayl-tokt) where Irish is spoken by many people and where English names are not permitted on signposts. The song and fair maiden of the name are celebrated by an annual Mary of Dungloe festival in the month of August.
The R259 road leads around Rosses, passing by the old fishing harbor of Burtonport where you may take a ferry to nearby Arranmore Island. It then takes you northwards past Donegal Airport and westwards to the foot of Errigal, one of most splendid of all Ireland's mountains. When you come in sight of beautiful Lough Nacung you turn north for Gortahork and another little harbor at Meenlaragh. This one is the ferry port for the mysterious low-lying island of Tory.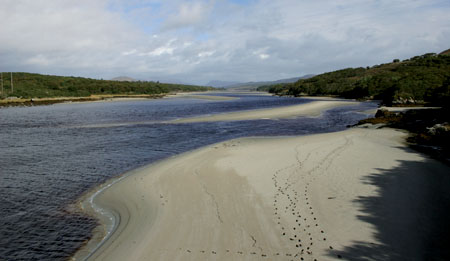 5
Read more: Dublin and surrounding areas tours
Bloody Foreland is signposted and, just after highest point on road overlooking it, you may rest at a welcoming car park and enjoy one of very best of all of the views on our trip. The 'bloody' is not a rude word, but a polite reference to the color of rocks there.
It is neither the most northerly nor the most westerly part of Ireland but claims fame as the northwest corner of the country. The view is of a long, low headland sloping gently towards the ocean with a foreground of prosperous-looking white houses contrasting with green pastures divided by ancient stone walls.
Head back towards Ardara by what is officially the main road, though scarcely a highway. Turn left after re-crossing Gweebarra River to visit marvelously hilly village of Glenties. It has a small museum and a large and exceptionally beautiful modern church, decorated with beautiful sculptures large and small by some of Ireland's most talented artists.
Read more: Donegal airport named among "most scenic landings" in the world
That circuit makes a comfortable day's driving but there is much more to see around Ardara. Near the foot of Slievetooey lies Townland of Maghera and some of the most spectacular but least-known pieces of the landscape of Ireland. To reach them you follow briefly the N56 towards Killybegs and take the second turn to the right. The road is an extremely narrow one that leads away into mountains and ultimately to  the remote valley of Glencolumbkille.
But we will leave most of that for another day and content ourselves with first eight miles (12 kilometers) that go along the south shore of Loughros Beg Bay. After six miles you stop to admire one of the finest – and most easily accessible – of Ireland's waterfalls, where the cascade seems to descend from sky down to form a calm, clear pool before it runs away to sea.
Then stop at the car park in Maghera itself. A boardwalk leads off through dunes which, again, call for superlatives: seemingly endless hills of purest silver sand. They lead to a series of sea caves, short tunnels in incredibly contorted and shattered rock which, for good measure, happens to be some of most ancient in Ireland.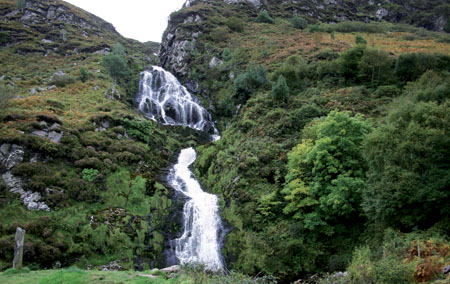 5
Read more: Kerry and the Wild Atlantic Way tours
Where you re-enter Ardara, two great temptations welcome you. On the right is the modern church with a splendid rose window. The glass is work of Evie Hone, 20th-century artist who brought brilliant color and light to many of Ireland's churches.
On the left is Triona Design which is very much more than a saleroom for best of Irish tweed and knitwear and jewelry. You will be able to browse in good time, but not before the staff has enticed you to come and watch the weaver at work and explain intricacies of his age-old craft.
David the weaver is the proprietor of the business and belongs to the fifth generation to follow this time-honored craft. If he can spare a moment he will share his immense knowledge of the history of Donegal tweed and its background of rural tradition.
Then take R241 towards north for four miles (six kilometers) to the tiny village of Kilclooney. The greater part of its area is occupied by a car park lying in front of Dolmen Centre, an excellent modern exhibition hall.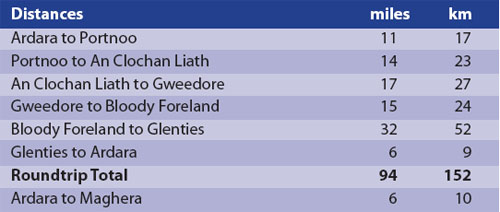 5
From the car park, walk across little green bridge and up the grassy path into the heather. There a rough track takes you southwards for half a mile to one of most impressive of all of these stone-age monuments. It has stood there on skyline inspiring awe amongst countless generations in course of five thousand years from when it was built.
That was just a small slice of this county where you should either stay for a long time or come back to visit again and again. It is just three and a half hours drive from Dublin's Fair City.
Read more: Galway and the West tours
* Originally published in Ireland of the Welcomes in 2013.