The new Aer Lingus sale will bring you to Europe for prices we never thought possible. 
Long gone are the days when traveling to Ireland and on to Europe from North America would cost you a pretty penny and the story is only improving in 2019 with Irish airline Aer Lingus aiding you to beat off the January blues with a bumper transatlantic sale.  
Last week the airline, while also revealing a stunning new livery, announced the "Bring on Europe" sale with offers on round-trip flights across the ocean from as little as $499.
With a whole continent to see, Aer Lingus invited North American travelers to take advantage of the US immigration and customs preclearance established in Irish airports to not just visit Ireland but to explore other top European destinations only a stone's throw away. 
Read more: Irish airline Aer Lingus named among top 40 in the world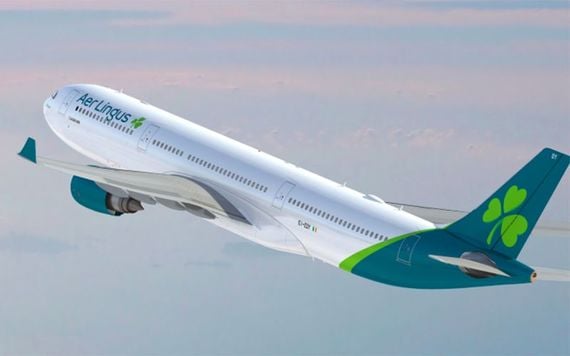 2
Whether the Anglophile in you wants a stopover in Manchester to visit the grounds of your favorite football team or you fancy taking a ride in the gondolas on the Venetian canals before it's too late, you can make it happen on a budget and from wherever in North America you may live. 
With prices offered on flights between April 1 and June 15, 2019, you can book from now until February 4, 2019, to make the most of these incredible deals on over 20 European destinations.
Imagine saying you went from Hartford to Barcelona and did it from as little as $609 return!
To celebrate the launch of the sale and the arrival of the new Aer Lingus look in New York on Friday, January 18, IrishCentral caught up with Dara McMahon, Director of Marketing and Digital Experience with Aer Lingus; and Bill Byrne, head of the Aer Lingus's North American operations, as they explained more on the latest changes to the Irish airline and their plans for the future. 
"We're building a network that is much bigger than JFK, Boston or Chicago or any of our historical cities, and we've gone on beyond that to Toronto, Washington, Seattle, San Francisco, Los Angeles and Miami," Byrne explained. 
"We're going to fly to as many places in the US as the Irish are going to want to go to visit and as many as the American Irish want to go visit in Ireland." 
You can hear all about the exciting future for Aer Lingus in the above video. 
You can read more about the unveiling of the airline's new look on IrishCentral here. 
Why do you travel with Aer Lingus? Let us know in the comments section.