World number 8 Rory McIlroy says he is skipping the Irish Open golf championship in County Clare in May.
His decision has been slammed. Roy Curtis, Irish Sports Journalist of the Year, has said his decision was "a terrible snub" and an insult to Ryder Cup captain Paul McGinley who is the host of the Irish Open.
McIlroy was unrepentant, however, citing the British Open being played in his native Northern Ireland since 1951.
"If there is ever a year when I feel I can miss this Irish Open, it's this year," he told the BBC.
"If I was to play the Irish Open, The Open Championship would be my third event in a row. For me, that's not the best way to prepare for what could be the biggest event of my life.
Read more: Rory McIlroy: what you should know about the Irish golfing legend
Rory McIlroy says missing the Irish Open will give him a better chance of winning The Open at Royal Portrush later in the summer. pic.twitter.com/TCz14Nsgbk

— BBC News NI (@BBCNewsNI) February 21, 2019
"I never thought I would play a major in Northern Ireland. It would be the biggest achievement of my career if I was able to win it.
"It's easy to criticise from far away because you don't know the details. I'm sure people are going to be upset but at the same time, if it means that it gives me a better chance to win The Open, and prepare well for Portrush, I'm going to do it.
"I'm going to make decisions that are the best thing for me. If that upsets anyone, then I'm sorry - that's not my problem, that's their problem."
Curtis was harsh in his criticism, stating that it "remains a terrible snub to McGinley – is the equivalent of emptying the contents of a septic tank onto Lahinch's world-famous Dell and Klondyke putting surfaces.
"It bathes the build-up to that week in May in a toxic sludge.
Read more: WATCH: Rory McIlroy plays golf with Jimmy Fallon
'People in Ireland can see me playing because I'm going to play The Open and I'm sure a lot of people will travel from down south.'

Rory McIlroy has explained his decision to miss out on this year's Irish Open...https://t.co/3YGtuRRPNQ

— Off The Ball (@offtheball) February 21, 2019
"The argument that turning up in Lahinch might somehow inhibit McIlroy's assault on the majors, that it is a necessary sacrifice if he is to end a five-year wait for his fifth grand slam, is not just as threadbare as a tattered, shopworn and forlorn welcome mat.
"It is an insult to the national intelligence."
A few months back McGinley had slammed McIlroy for cutting back on his European playing time.
"It's very disappointing," said McGinley in his Sky Sports column.
"I've been racking my brains wondering how that can be.
"Obviously Rory sees it in other ways and has got his own rationale for that, although I'm finding it hard to understand," added McGinley.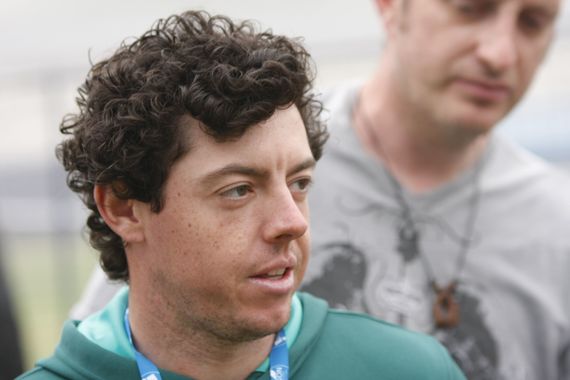 2
"Of the 12 players that represented Europe in the Ryder Cup this year, Rory is the only one who is going to do that and the others have all signed up to play the minimum of four events outside of the majors and WGCs.
"We've already reduced the number of events players have to play on the European Tour from five down to four, just to make it easy for the guys, like Rory, who are playing a worldwide schedule."
What do you make of it? Let us know in the comments section. 
Read more: I hate being so famous says top golfer Rory McIlroy