Are you looking for the perfect baby name and seeking inspiration? The Central Statistics Office (CSO) have released a new online app which allows user to see how the popularity of your favorite names has changed over time or print a "Name Certificate" with your baby name stats.
A simple quick search allows the public to assess the CSO's full states from 1964 to 2016. The app will show your names rankings in the most popular names registered in Ireland's births, deaths and marriages office over the years.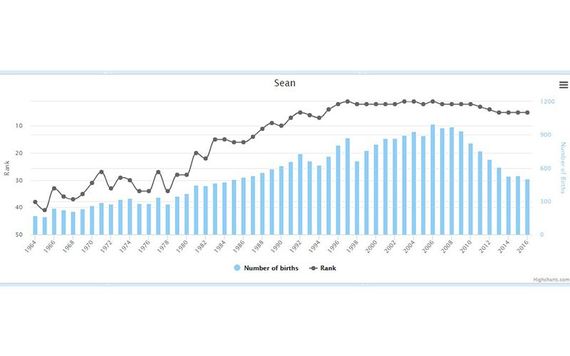 3
It also shows exactly where your name, of variants of it, ranked on specific years. You'll also see how many babies were registered with that name, and how your name ranked in that specific year.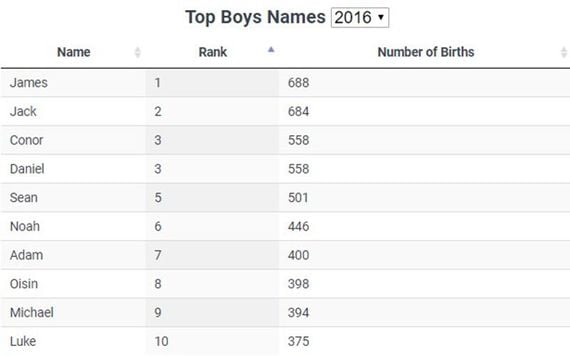 3
Ireland's Central Statistics Office recently released the most popular registered in Ireland in 2016, with Jack and Emily wining the top spots.
The top five boys' names James, Jack, Daniel, Conor and Sean have been the top five since 2007 with slight changes to their order.   Indeed, four of the top five boys' names (Jack, Sean, Conor and James) have been in the top five since 1998. 
This is the sixth consecutive year that Emily has been the most popular name chosen for girls.  Emily, Grace, Ava, Lucy and Amelia and Sophie (joint 5th) were the top five most popular names for girls in 2016. 
Muhammad was the only new entry to the top 100 for boys in 2016.  Muhammad was also the boy's name rising most in popularity.  It increased 36 places from 119th place in 2015 to 83rd place in 2016.  
There were six first time entrants to the top 100 for girls: Aria, Harper, Heidi, Matilda, Willow and Zoey.  Willow and Matilda were also the girls' names rising most in popularity, both up 49 places from 121st place and 146th place respectively in 2015 to 72nd and 97th place respectively in 2016. 
As in previous years, the tables show that girls are given a wider variety of names than boys with 4,526 girls' names registered compared to 3,456 boys' names.  Despite the greater number of male births, a smaller range of names were used for boys than for girls.
Still in search of inspiration? Check out the app here.