Unseen letters from Jackie Kennedy to David Ormsby Gore, the British Ambassador to Washington, reveal a secret romance that almost led to marriage.
In November 1967 Jackie had traveled publicly with Ormsby Gore to Angkor Wat in Cambodia leading to speculation they would be married.
Jackie, however, pulled back at the last moment and Instead married Greek shipping magnate Aristotle Onassis, 23 years her senior, in a move that baffled Ormsby Gore, who was also known as Lord Harlech.
In a handwritten letter, filled with anguish and "a touch of cruelty," as The New York Times noted, she explained that her decision to marry the shipping magnate was for protection not love.
"If ever I can find some healing and some comfort – it has to be with somebody who is not part of all my world of past and pain," she wrote.
"I can find that now – if the world will let us."
Harlech, whose wife had been killed in a car accident, was devastated by Jackie's marriage as he revealed in a letter he never sent. He stated:
"All the pathetic plans I had brought with me for visits to Cyrenaica, holidays near one another and a whole variety of solutions to our marriage problem, including one for a secret marriage this summer – plans which I saw us eagerly discussing, calmly and with complete frankness as we did at the Cape and in Cambodia for the next wonderful ten days – all had become irrelevant trash to be thrown away within a few hours of my landing in New York," he wrote.
"As for your photograph, I weep when I look at it. Why do such agonizing things have to happen? Where was the need for it?"
The letters were discovered only last month in red leather cases at the ambassador's family home in Wales. They are being auctioned next month.
3
Among them is the letter to Harlech, dated Nov. 13, 1968, a month after her marriage to Mr. Onassis and five months after the assassination of Robert F. Kennedy.
Jackie spoke of the love and bond she felt for him but compared it to the love of sister for a brother. "We have known so much & shared & lost so much together – Even if it isn't the way you wish now – I hope that bond of love and pain will never be cut."
Kennedy told Ormsby Gore: "You are like my beloved beloved brother – and mentor – and the only original spirit I know – as you were to Jack."
Read more: Jackie Kennedy sketches at the center of court battle
Harlech told her he was mystified by her choice of Onassis 23 years older and aged 62. Kennedy, however, was firm.
"Please know – you of all people must know it – that we can never really see into the heart of another," she wrote. "You know me. And you must know that the man you write of in your letter is not a man that I could marry."
Onassis, she wrote, is "lonely and wants to protect me from being lonely. And he is wise and kind. Only I can decide if he can, and I decided.
"I know it comes as a surprise to so many people," she continued. "But they see things for me that I never wanted for myself."
Harlech and JFK had a very close friendship and Kennedy constantly consulted the British Ambassador especially during the Cuban missile crisis.
Robert Kennedy said that Ormsby Gore was "almost a part of the government," adding that the president, "would rather have his judgment than that of anybody else."
President Kennedy also praised the ambassador: "I appreciate as you know, in all these critical matters your judgment – which I have found to be uniformly good and true"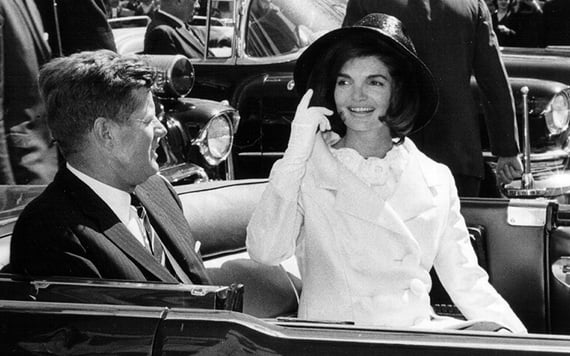 3
In total, there are 18 letters in the new-found cache.
The papers also include a letter Mrs. Kennedy wrote to Ormsby Gore after the death of his wife, Sylvia, which indicated his desire to marry her.
"Your last letter was such a cri de coeur of loneliness – I would do anything to take that anguish from you," she wrote. "You want to patch the wounds & match the loose pairs – but you can't mend."
Barbara Leaming, a biographer of President and Mrs. Kennedy, told The New York Times Ormsby Gore was "the pivotal relationship Jack had in the presidency. "Jackie loved in Jack the man he wanted to be, and David was the man helping him, in her eye."
As for Ormsby Gore, "of course he fell in love with her – she understood him so well," Ms. Leaming said. "But I have no idea if it was consummated or not."
Ormsby Gore eventually did get married again, to an American woman who bore a striking resemblance to Jackie. He died in a car crash in 1985. Jackie attended his funeral.
Read more: Jackie Kennedy's granddaughter has uncannily similar looks