Photos of crying children walking to school and young boys meeting with fully armed soldiers as they run to meet their friends show the worst of the Northern Ireland Troubles.
The images and photographs of the Northern Ireland Troubles came to the forefront in 2028 as a popular Instagram account HistoryPhotographed shared a stark, heartbreaking picture of a young boy in Belfast in the early 1970s, towered over by a British soldier holding a gun.
Captioned "A little boy walking to his friends encounters British soldiers around the corner in Belfast, Northern Ireland, 1973," the photographer who took this shot of the Northern Ireland conflict perfectly depicted the infiltration of violence in the 1970s, 80s, and 90s into everyday life for many people living in the state during this time. In the image, more young boys can be seen further down the street around the corner, some steps behind a second armed soldier, as the first child looks down at the tip of a gun.
Scenes such as this were common in Northern Ireland during this time and even into the 2000s - after the signing of the 1998 Good Friday/Belfast Agreement - as the peace process worked through its infancy stage.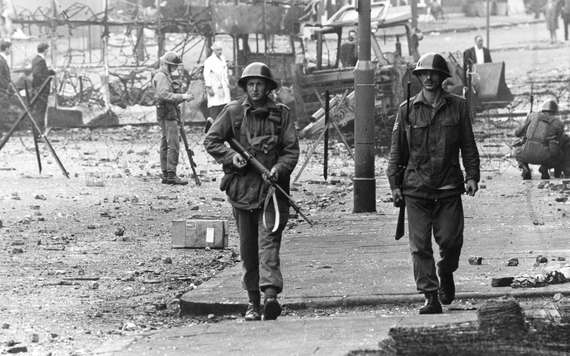 4
Pitting the Irish Republican nationalists wanting to reunite the six counties of Northern Ireland with the Republic and the Northern Ireland Unionists/Loyalists who identified as British and wanted to remain part of the United Kingdom against each other, the exact beginning of the Northern Ireland conflict can never be officially decided on, with territorial fighting stretching back centuries.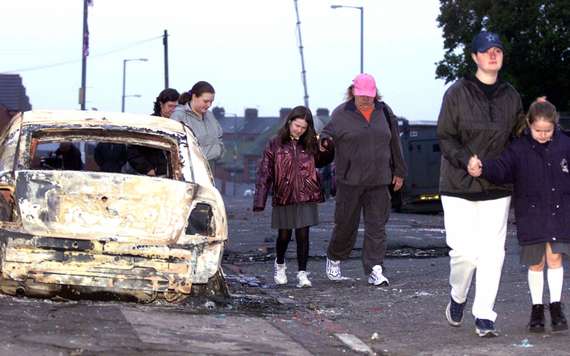 4
Many can agree, however, that over 40 years after Northern Ireland was officially partitioned from the rest of the island, it was the violence at an October 1968 civil rights for Catholics march in Derry and the rioting and violence again in Derry during the Battle of the Bogside in August 1969 that eventually sparked the beginning of the preceding three decades of violence that tore Northern Ireland apart.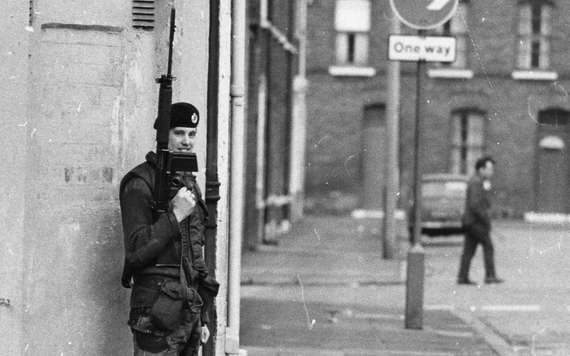 4
After the nights of rioting following this year's July 12th marching in Northern Ireland and the attack on the home of former Sinn Féin President Gerry Adams, we looked back through the archives of images from the conflict to get to the heart of why, 20 years on from the signing of the Agreement, working away from violence is just as important as ever.
Do you have any memories of the Northern Ireland Troubles? How do you think peace is progressing so far? Let us know in the comments section, below.