Lee Radziwill, sister of former First Lady Jackie Kennedy, died peacefully in her home on Friday, February 15, 2019. 
The former princess is believed to have died of natural causes. 
Below, we look at the relationship between Jackie Kennedy and her younger sister which resulted in Kennedy marrying Radziwill's former lover: 
A new tell-all book "Jackie, Janet, and Lee" by best-selling biographer J. Randy Taraborrelli reveals the lifelong rivalry between First Lady Jackie Kennedy and her sister, Lee Radziwill.
The sister of former First Lady Jackie Kennedy was said to be incensed by the revelations of the intense life-long rivalry between the privileged siblings in the book.
Born Caroline Lee Bouvier in 1933, Lee Radziwill was three years younger than Jackie and spent much of her life in her elder sister's shadow, despite her own accomplishments, beauty, and sense of style.
Radziwill rarely spoke of her relationship with her sister, who married Radziwill's former lover Aristotle Onassis, the 84-year-old American socialite was said to be unhappy about the dirty laundry aired by best-selling biographer J. Randy Taraborrelli in "Jackie, Janet, and Lee."
"Lee doesn't like her dirty laundry being aired and she feels betrayed by her cousins, who gave interviews to the author," a friend of Radziwill is said to have told Page Six.
Not only does the book delve into the circumstances surrounding Kennedy's marriage to Onassis, but it looks at the constant rivalry between the pair for men and money and the fraught nature of their relationship regarding their mother, the Janet mentioned in the title of the book.
Read more: Jackie Kennedy's sister was "relieved" after JFK's assassination
The sisters' relationship with their mother Janet caused tension between them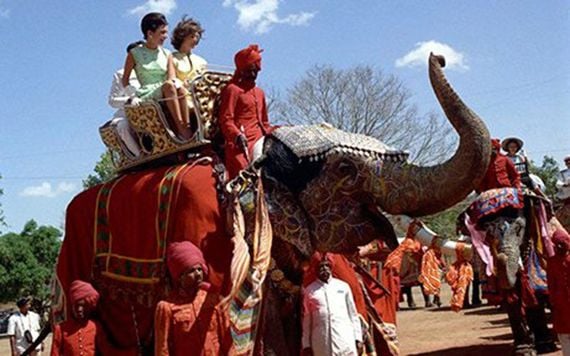 3
In "Jackie, Janet & Lee," Taraborrelli reveals that Kennedy was unhappy when her mother Janet Lee Bouvier Auchincloss helped Radziwill with a $750,000 gift when the younger sibling was down on her luck.
"Lee was bewildered as to why Jackie would even care . . . Jackie had millions in the bank. Why begrudge her sister this small amount?" the book states.
While Jackie was often regarded as her father's favorite, being named after him and sharing his looks, Lee was also thought to be their mother's favorite. This caused some tension between the sisters when Kennedy felt that Radziwill was not spending enough time with their mother when she was suffering from Alzheimer's.
"Jackie was on the phone every single day, or at her mother's home at Hammersmith Farm, always involved every step along the way in Janet's care," Taraborrelli was told.
"But if that phone would ring and it would be Lee – maybe once a month if that much – oh my, Madam would light up! She would say it outright, 'Lee is my favorite.'"
Born into riches, the Bouvier sisters were raised in a 12-room duplex apartment at 740 Park Avenue in Manhattan, funded by their stockbroker father John Vernou Bouvier III, known as "Black Jack." They spent their summers on an estate in East Hampton on Long Island.
Despite experiencing a tough divorce between their parents at a young age, they remained close to both their parents, visiting "Black Jack" in his new one-bed apartment in New York and living with their Mom and her new husband, wealthy investment banker Hugh D. Auchincloss, in northern Virginia.
Read more: JFK and Jackie insulted Queen Elizabeth at royal dinner
Radziwill's difficulties with Jackie Kennedy only heightened when she entered the White House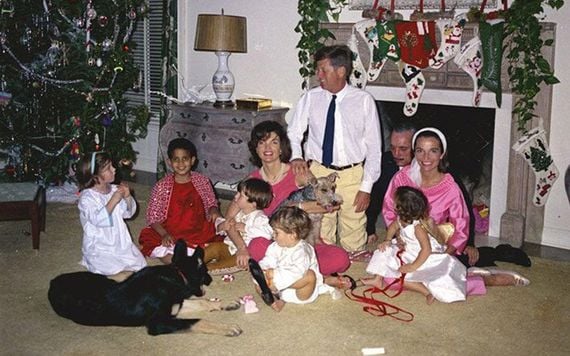 3
It was the White House move, in particular, that rekindled the difficulties Radziwill previously had with being the younger Bouvier sister, according to John H. Davis, a Bouvier cousin. In his 1969 book "The Bouviers" he wrote that Kennedy's "accession to the White House promised to magnify a problem [Lee] had had to cope with for some time, the problem simply of being Jackie's sister. Although she was abundantly gifted herself … she had often been obscured by the shadow of her sister's prominence, and now that shadow threatened to eclipse her identity."
Despite this, the sisters were still close and Radziwill often accompanied Kennedy on her travel as First Lady.
Being a part of the Kennedys' world did not come without a certain amount loss of of control over your life, however, and Radziwill's very close relationship with Greek shipping magnate Aristotle Onassis was a cause of concern for Jack and Robert Kennedy who believed the man a "pirate."
So great was their desire to put an end to the relationship that they allowed Jackie Kennedy to travel on Onassis' yacht in the summer of 1963 – as she struggled to recover from the death of her son Patrick, who lived just 39 hours – so that the First Lady could convince her sister not to marry the tycoon.
Radziwell didn't learn of her sister's marriage to her former lover from Jackie
Five years after the assassination of JFK, Jackie married Onassis, although she did not tell her sister about the wedding. Instead, it fell to Radziwill's former lover to tell her that he was to marry her sister.
"He begged me to come to the wedding," she said, who put on a brave face despite her disappointment.
"I am very happy to have been at the origin of this marriage, which will, I am certain, bring my sister the happiness she deserves," Radziwill said publicly at the time.
Read more: Jackie Kennedy's Doctor Feelgood shot her up before she met Queen
The younger Bouvier sister has also previously spoken of Kennedy's treatment of her in the wake of JFK's death. She told a friend that Jackie slapped her on one occasion when grief overcame her. Flying from her London home to be with Kennedy in the White House when she heard the news of JFK's death, Radziwill attempted to help her sister, but later told a friend that Jackie "can't stop thinking about herself and never feeling anything but sorry for herself!"
Jackie is said to have been angry when Lee was not with their mother when she died in 1989. Jackie died in 1994 and she left no money for her sister in her will.
Have you read "Jackie, Janet, and Lee?" What is your favorite book on the Kennedy family? 
H/T: Page Six