US President Joe Biden is set to begin his long-awaited visit to Ireland later in the week, but the upcoming visit is not his first time touring the Emerald Isle.
Biden, who will make a four-day visit to the island of Ireland between April 11-14, visited Ireland as Vice President in 2016 before visiting again in 2017. 
During his 2016 visit, he praised the true Irish welcome he had received and reflected on the lessons his Irish roots had afforded him.
Biden met with Irish President Michael D. Higgins and then-Taoiseach Enda Kenny during the visit in June 2016. 
Biden also paid a visit to his ancestral homeland in Ballina, County Mayo, and Carlingford, County Louth, and penned a deeply personal letter explaining why the visit meant so much to him. 
"I'm leaving for a very special trip tomorrow," Biden wrote ahead of the 2016 visit. 
"I'm going back to Ireland – the country from which my ancestors hailed, and a country whose independence the Easter Rising set in motion, 100 years ago this year. It is my first dedicated trip to this nation as Vice President – during which I'll meet with the country's leaders, discuss issues of trade, economic recovery, migration and refugee policy, and other national security challenges, and celebrate our shared heritage.
"And it's a trip I'm so deeply grateful to be taking alongside my children and grandchildren…
…Over the course of my life, I've been a lot of places. I've traveled all around the world – more than a million miles on Air Force Two alone. I've been honored to have held a lot of titles. But I have always been and will always be the son of Kitty Finnegan." 
Biden concluded the emotional letter with a quote from Irish writer James Joyce, who once wrote "When I die, Dublin will be written on my heart". 
Biden wrote: "Well, Northeast Pennsylvania will be written on my heart. But Ireland will be written on my soul." 
Biden's 2017 again included visits to his ancestral homelands in Mayo and Louth in addition to a meeting with President Michael D. Higgins at Áras an Uachtaráin.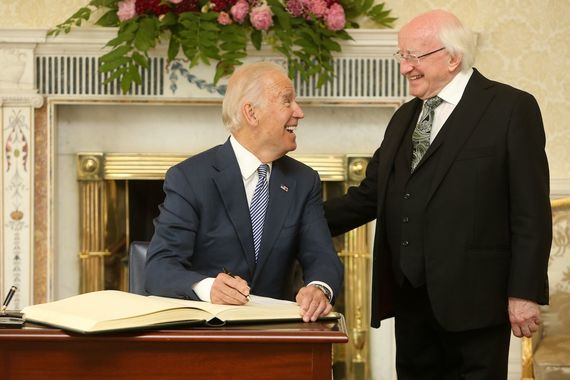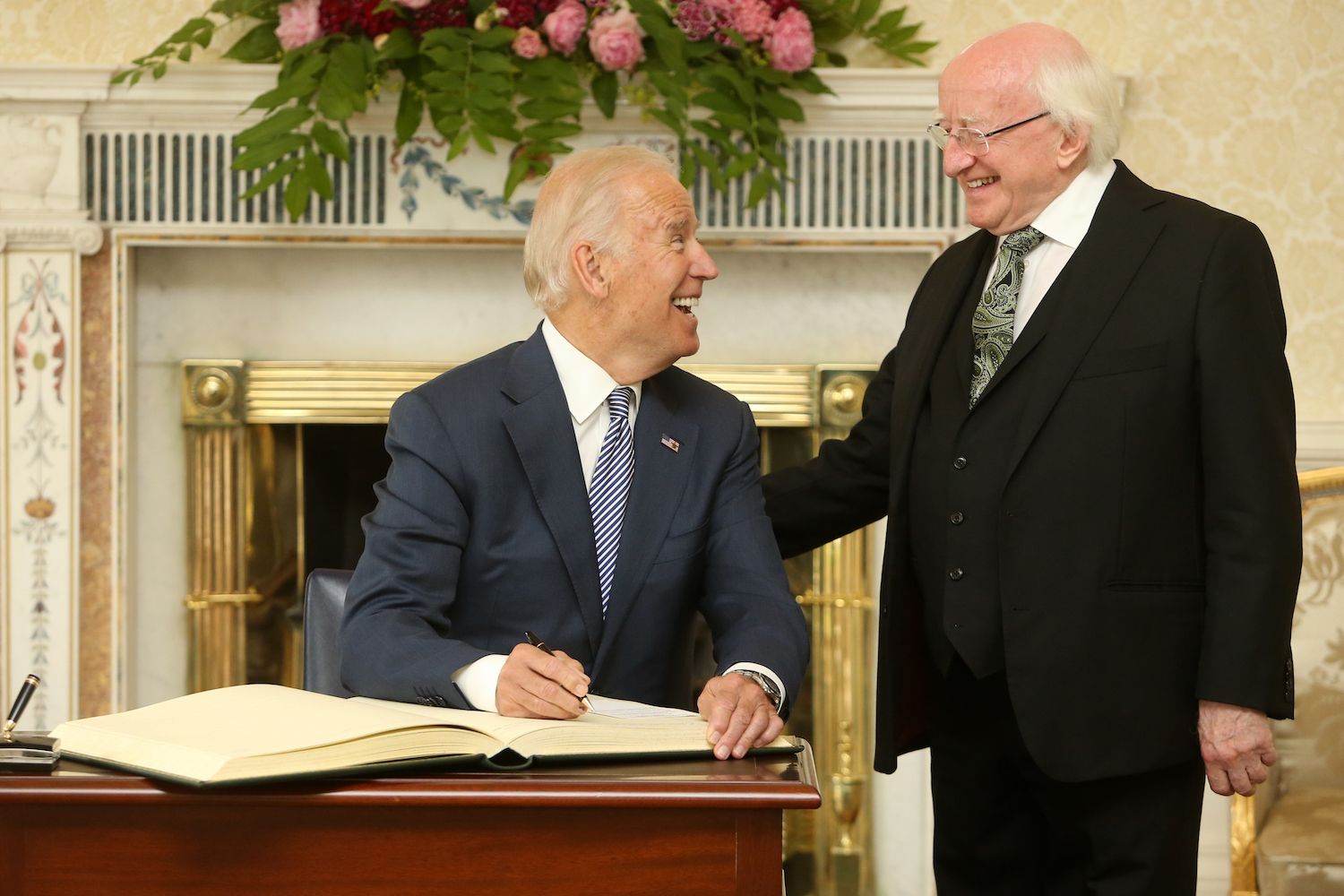 2
He also turned the first sod for the Mayo Roscommon Hospice Foundation's new 14-bed hospice unit in Roscommon during the 2017 visit. 
Biden revealed his distant cousin Laurita Blewitt invited him to turn the first sod at the hospice and said the visit meant a "great deal" to him, adding that he hoped to make the trip with his son Beau, who died in 2015. 
Biden sent a video to the Mayo Roscommon Hospice Foundation in November 2021 to congratulate them on the official opening of the new unit. 
"I got to meet so many of you, doctors, nurses, counselors, and volunteers. In each of you, I saw the values of your community," Biden said in the video. 
"Love, selflessness, compassion – that's what hospice represents. A place where dignity, empathy, and support are shown to all."
"I know this special place will bring comfort to the proud people of County Mayo and Roscommon." 
Looking ahead to Biden's upcoming visit, the US President is set to make an address in Ballina on Friday, April 14, while he is also set to stop in County Louth on his journey from Belfast to Dublin. 
Biden will also meet with Higgins in Áras an Uachtaráin and attend a reception hosted by Taoiseach Leo Varadkar in Farmleigh House.