How tracing my Irish roots led me to the big Irish family I'd dreamed of. 
I dreamed of having a big family as a child. I wondered what it would be like to know a grandmother. I imagined how wonderful it would be to have a bunch of cousins and for us all to gather at our grandmother's home on Thanksgiving and other holidays and truly enjoy each other's company.
My reality was very different than my dream. Both of my parents were orphans. While I had a few relatives on my father's side who lived in a neighboring state, I didn't think I had any relatives on my mother's side. She never mentioned them. Most holidays were spent with my sister and our parents in our tiny railroad room apartment in the town of Guttenberg, New Jersey.
Because our mother suffered from untreated mental illness, after the age of seven we really didn't celebrate Christmas and Thanksgiving like our friends did. In fact, we didn't celebrate at all. There was no Christmas tree and no wrapped presents. The mood was pretty bleak. Our apartment was never decorated and our mother was not able or willing to prepare a festive dinner. Holidays were worse than any other day because all of our friends were occupied with visiting relatives.
Read More: How my orphaned Irish father rediscovered his Irish family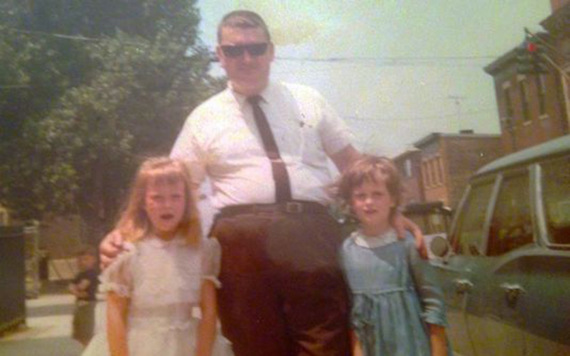 7
On Christmas, my sister and I usually walked to the neighboring town of West New York to attend a movie at The Mayfair Theater. The movie cost us each 75 cents in the 70s. After the first show was finish, my sister would lead me into the bathroom and instruct me to stand on top of the toilet, as she did, while bending down so the employees could not see our feet or our heads when they checked the bathroom to ensure everyone exited the theater. I was so afraid of getting caught.
My sister was a year older than me and she was as cool as can be, "We only have to hide for ten minutes before the next group of people comes in for the next show." Her plan always worked and we were able to stay and watch two movies without having to pay for the second one. If we pooled our coins together we were able to purchase a container of popcorn with hot butter on it and we shared a soda.
Read More: How magical Ireland healed my broken heart 
I lost my sister many years ago and the memories of us trying not to laugh while hiding in the bathroom at The Mayfair Theater are precious to me now.
I married a great guy in 1988 and I enjoyed building a traditional family with him and our daughter along with my niece who came to live with us after my sister died. I decorated every room of our home during the holidays overcompensating for my childhood and the perfectly wrapped presents under our tree seemed endless. I made sure each holiday and birthday were special at our home. I felt loved and fulfilled and I had a feeling of belonging.
7
In 2011 I was widowed at the age of fifty. My daughter is grown and on her own and my niece moved to Hawaii. After my husband's death, I just wasn't sure where I belonged and if I even belonged anywhere anymore.
I had never traveled to Europe before, but in 2012 I began to feel an unexplainable feeling I needed to visit Ireland. I felt drawn there. While my father did a good job passing along whatever information he had known about his ancestors in Ireland before his death in 2001, I never considered it possible to learn any additional information about them. There was no one left to ask.
Read More: Before I lost my husband to cancer, I nearly lost him to suicide 
I was born in America but my father always told me I was all Irish. He told me all of my ancestors on his side and my mother's side came from Ireland.
My father had an old tin box where he kept his important papers and he took me aside many times as a child and showed me a very important document to him, "This is my Aunt Annie's birth record from County Leitrim, Ireland." He cherished the document because it was his link to his past and proof of his Irish roots. I placed his aunt's birth record along with a picture of my Dad in a protective sheet and I tossed it in my carry-on bag and off to Ireland I went.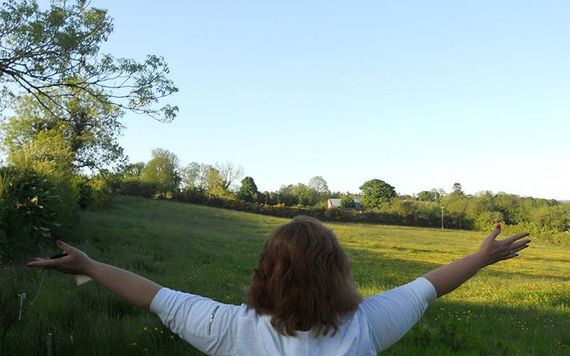 7
By the end of my first week in Ireland, I decided to drive up to County Leitrim where my grandmother was born. I wasn't looking for anyone or anything I just wanted to go and see the county where my grandmother once lived. While walking through a cemetery in the town of Cloone, I happened to look across the street and I noticed a pub. The sign outside read "Creegans Pub." I thought it was a great coincidence because that was my grandmother's last name and I decided to go in and check it out.
There was one man in the pub and he was tending bar. When he told me his name was Tommy Creegan I joked, "Hey, maybe we're cousins!" It was just a joke but he then called his sister, Dolores Creegan to come down to the pub. Dolores walked in a few minutes later wrapping her oversized sweater tightly around her, and with much suspicion, she circled me a few times giving me a good look over before saying, "You're ours. You belong to our family."
Ancestry.com had nothing on my cousin Dolores. She didn't need a DNA test to prove we are related. She agreed to look through my paperwork to see if it matched her own, "But I don't have to do that-I'm telling you-you are a Creegan."  I instantly liked her and I hoped we were related but what were the odds? Our paperwork did match up and I left Ireland after my first visit with a few cousins and a deep love for the country. I also had a feeling of belonging again.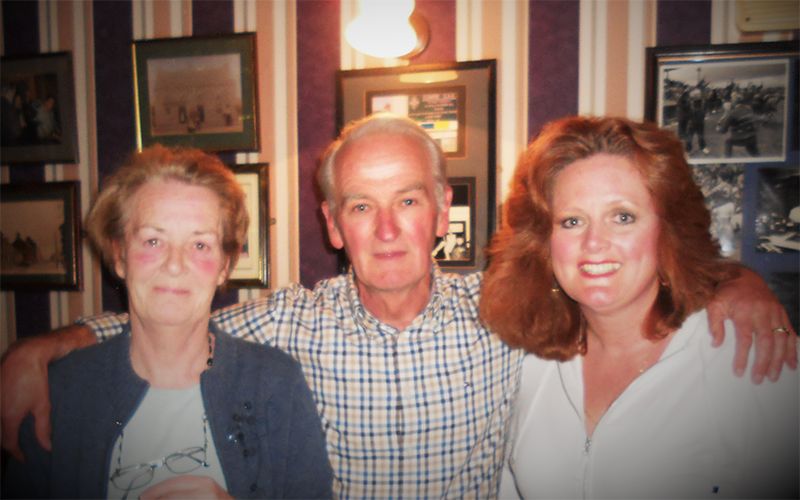 7
After I returned home I joined Ancestry.com and I had my DNA tested. My father was right when he told me I was all Irish and I was thrilled with the results. My cousin Tommy's daughter recently came up as a match on Ancestry.com so I guess in time I would have found my Creegan relations, but it was so much more dramatic and spectacular meeting my Creegan cousins the way I did in 2012.
I reluctantly decided to trace my mother's side of the family. I honestly did not have a high opinion of my maternal grandparents Helen Gallagher and James Naughton. When I was a teenager I remember the day my mother told me, "I have ten brothers and sisters in New York and my mother is still alive and living in New York City." I was stunned, "I thought you had no family?"
Read More: An Ode to Ireland - how it healed and changed me forever
Helen Gallagher was born in Pennsylvania in 1901 and she had a very large family. James Naughton had blue eyes and red hair and Helen's family did not approve of him. Her mother vowed to disown Helen if she married James. I'm not sure if Helen's family was aware James served time in prison in 1911 for getting on a railroad car to commit a felony. Helen married him anyway and they moved to New York.
According to my mother, James Naughton showed up just long enough to get Helen pregnant and then he would take off for months. In 1938 while Helen was pregnant with their eleventh child, James took off for good with another woman who was also pregnant with his child and he started a new life in Michigan at the age of 45. He never saw his children in New York again. James Naughton died in 1968 at the age of 75 and he is buried in Michigan.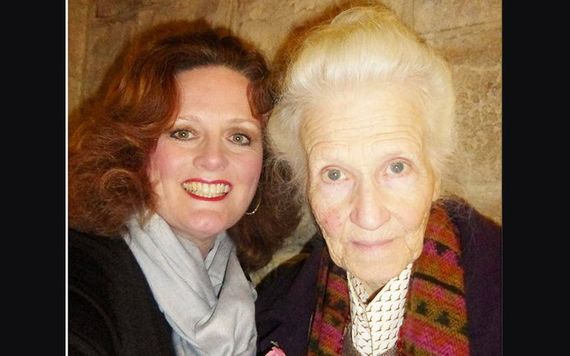 7
Helen kept all of the boys except for Edward and she gave the girls up. A lovely older woman, Eva Abbott from Farmingdale, Long Island took my mother in and gave her a good life but the abandonment scars my mother felt never went away. I imagine it greatly contributed to her mental health issues which developed after my birth in 1961. The boys who stayed with Helen grew up very poor. They took turns going out to play because there were not enough clothes or shoes for all of the boys. The boys remained close and as adults, they raise their families together and they cared for Helen who died in 1988 at the age of 87.
Although they lived less than thirty miles away from each other, my mother met her mother only a few times as an adult. After a brief meeting in 1987 in Manhattan my mother returned home and told me, "I felt nothing for Helen when I saw her."
 My mother met a few of her brothers in her 50s before she died at the age of 57 in 1989. She also met her sister Rita, who was a long-term resident of Pilgrim State Mental Hospital in New York.
7
As I searched the Naughton message board on Ancestry I read a note from Helen's son Edward Naughton, the only boy she gave away.  His message read:
"Searching for family"
"My parents' names are James J Naughton and Helen Gallagher. I was in foster care at New York's Foundling Home at the end of the 1930s. I remember having sisters and brothers. I need help. Last known living in New York."
I was filled with excitement and I could not wait to call my uncle Edward. Knowing he was an older man now I had hoped I could give him a sense of closure by sharing what I had known about his family. The note was from November 2000. I was so saddened when I found his obituary online from 2016. He was the last child of Helen and James to die.
His obituary said he had two children living in Tennessee. I found his son on Facebook and quickly sent him a message. He called right away. He didn't know much about his father's side either and he was happy to make the connection. A few days later his sister called. I was comforted to hear later in his life Edward did meet his surviving brothers and one brother even moved to Tennessee to be close to him. His children said it brought him a sense of peace. I was thankful Edward had the stability of a loving family as an adult.
I've traced my maternal grandmother and her family back to Donegal all the way to the 1700s and my maternal grandfather's family the Naughton's to Ireland for several generations.  On my father's side, the Concannons immigrated to New York from Galway and the Creegan's are well rooted in County Leitrim.
We all want to belong and feel like we're a part of a family. Finding my Irish roots has been very meaningful to me as an adult. Like my uncle Edward, it has brought me a sense of peace and belonging again.
Recently, I have reconnected with a cousin from my Creegan side who lives in Maine and I have plans to meet my first cousin John Creegan who is coming to visit from Minnesota soon. We plan to drive together to New York state to visit our paternal grandfather's grave. I also look forward to meeting and getting to know my two Naughton cousins in Tennessee.
According to Ancestry.com I now have 294 DNA matches spread out across the United States, Ireland and Australia.
I've got some more work to do, but it appears I may have a big family after all.
---
Kathleen Maloney is currently working on a book, "Twice Lost," about what happened to her husband and how finding her roots in Ireland after his death helped her to heal. Learn more on her website.
This article was submitted to the IrishCentral contributors network by a member of the global Irish community. To become an IrishCentral contributor click here.