What makes Druid theater company's production of William Shakespeare's Richard III Irish?
Well for a start – and what a start it is – director Garry Hynes has actress Marie Mullen slowly cross the stage at the opening as the mad old Queen Margaret.
In an unforgettable image of ruination and fury, a stand-in for mother Ireland, and sure enough soon we learn that her Beckettian shuffle, arresting eloquence and iron will are all fixed on one purpose alone, revenge.
Read more: Irish Arts Center's fall lineup shines bright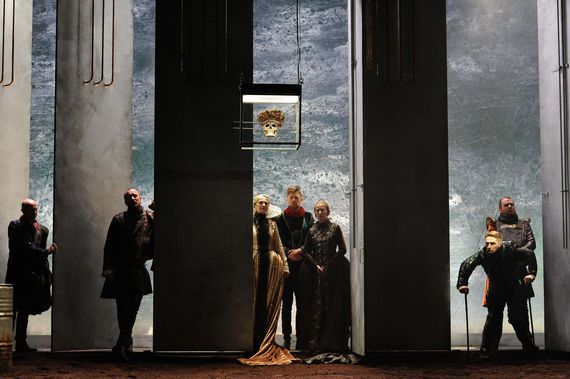 5
The play usually opens with Richard's famous soliloquy, but here he's anticipated and trumped by an image of the lasting destruction that his ambitions have unleashed.
That's how we know this production is an Irish one, that's the kind of dual awareness that elevates this unsettling show.
When he does appear Richard (played with hypnotic intensity by Aaron Monaghan) pops up out of the open grave that his cruel path is leading back toward and there's that Beckett note again.
Nothing is funnier than unhappiness wrote Beckett once, and nothing is more unsettling than the kind of supernatural ambition for conquest and kingship that drives Richard on. Deciding that the peace and prosperity of the nation are boring, he is possessed by a desire to wreak havoc and seize power. It's something to do after all.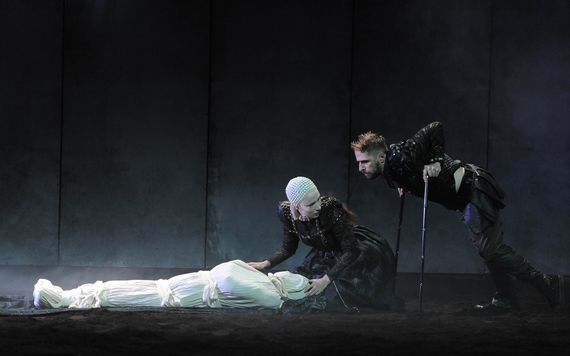 5
It's the kind of 'I was born for this' bravado that we can still see in bumptious political figures like Boris Johnson. Neither he or Richard III will ever ask themselves why they are pursuing the dangerous path they do, they simply feel entitled to by birth.
Depending on who you ask in Britain the real-life Richard was either a villain or a maligned hero. Shakespeare's play is in no doubt about him though. He gives us an artful bad guy who plays people against each other to further himself. His Richard is remarkable, the kind of man who can pick your pocket and stab you in the back and still make you think you were lucky to know him.
It's desperately hard to play a bad guy who's this charming but Monaghan is equal to it, looking variously like a glam rock star, a Weimer singer or an emissary of hell. He's funny and beguiling and possessed of a will so strong it's almost another character in the play.
Read more: Druid theatre company bring stunning new production of Richard III to Lincoln Center festival
For a long time, he's so entertaining that you almost miss the fact that there's something profoundly wrong with him. It isn't just that he's cynical and calculating, it's not just that he betrays everyone close to him as soon as they outlive their utility, it's that he is possessed of a drive that, when you stop to examine it, is monstrous.
Like Shakespeare himself, Druid is smuggling in some contraband with this production, because the lust for power and the kind of reprehensible people that seek it and the destructive damage they can do to their nations is very much on people's minds in these strange times.
There is so much to contend with in this production. The flat Belfast accent of Marty Rea conjures ghosts from closer to home and his murderously deadpan fixer is one of the most unsettling aspects of this disquieting show.
The superb Jane Brennan as Queen Elizabeth is another standout, making appeals to the humanity of a man who has already surrendered his own to his blind pursuit of power. Marie Mullen's curse scene, when it comes, is so strong that she almost levitates the building.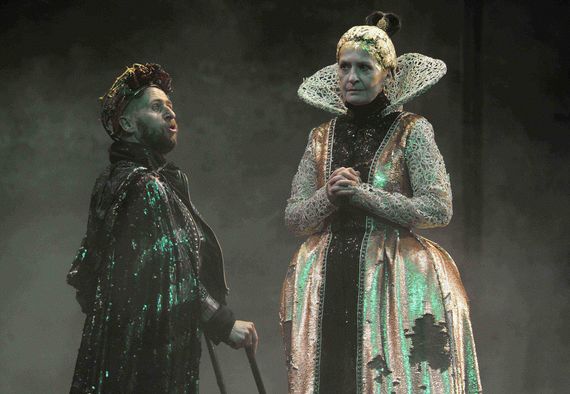 5
When a critic asked the famous Japanese director Tadashi Suzuki why there weren't more productions of Chekhov plays in Japan he famously replied: "we're too short." It would look faintly absurd of us to play bored aristocratic Russians, he thought.
Something of the same thing applies to Irish people playing English royalty. We're not too short for the job but we just don't go in for monarchy. So what Druid has brought to this production are an outsider's awareness and an insider's discernment. It's a double vision that electrifies the play.
The result is one of the most powerful statement's that director Garry Hynes has ever made. Her Richard III has the action of poetry, with images that recur at the start and the end of the production that linger and echo.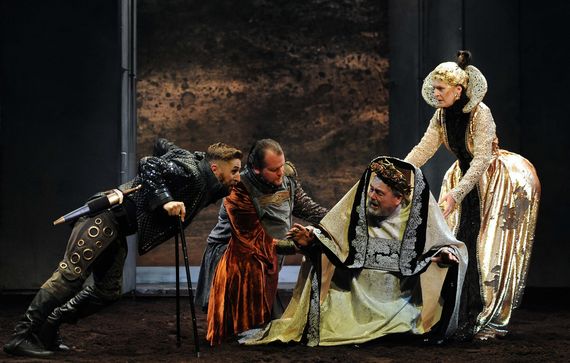 5
In Shakespeare's propagandist play, the order is restored and harmony returns because as Oscar Wilde would say, that is what fiction means.
But in this flinty, hard-eyed Irish production the horse just changes riders, but the lash goes on. If ever a Richard has met his match, it's this one.
Richard III is now playing at the Gerald W. Lynch Theater at John Jay College, Manhattan. For tickets call 212.721.6500.