With the new digs for the Irish Arts Center, in Hell's Kitchen, Manhattan, well underway their upcoming arts season continues apace.
In June the final beam was raised on the brand new Irish Arts Center in Manhattan but whilst the new performance space edges ever closer to completion its arts programming is continuing apace.
In fact, it's currently showcasing what is arguably the strongest new work in the center's history through inspired events like the Next Wave Festival, which is presenting remarkable new Irish works like Hamnet, playing through November 3 at the Brooklyn Academy of Music (BAM). A production by Ireland's Dead Center theatre company, the show debuted to critical raves and will arrive in Brooklyn this weekend.
4
In 1596, Hamnet reminds us, an 11-year-old boy named Hamnet died in Stratford-upon-Avon. His father was the greatest playwright in the English language. Then a few years later in 1602 history records, a play called Hamlet had its debut performance in London. William Shakespeare was the father of the boy and the author of the play but what was he indicating through the similarity of the names?
The founders of the Irish theater group Dead Centre have created an absorbing new play out of a few historical scraps from Shakespeare's little known biography and told from a child's point of view. Performed by Irish newcomer Aran Murphy, as Hamnet and Hamlet and a modern-day latchkey child the show is a profound meditation on absence and belonging that can speak to any age.
We are still discerning the scale of Seamus Heaney's immense contribution to Irish literature. From November 1 to December 15 the Irish Arts Center will partner with the National Library of Ireland to celebrate Heaney's poetry with a selection of carefully curated materials from the Library's landmark Heaney exhibition in Dublin.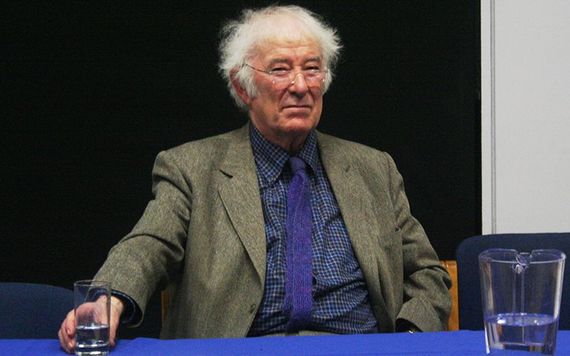 4
Heaney donated his collection to the Library in 2011 and so the drafts on display at the Irish Arts Center will be drawn from the Library's celebrated Seamus Heaney: Listen Now Again exhibition at the Bank of Ireland Cultural and Heritage Centre in Dublin.
Selections to be reviewed will include fourteen manuscripts documenting the Irish artist at work, a collection of some of his most beloved poems typed paper or handwritten on the backs of envelopes, sometimes edited with pencil or ink.
The art center's new exhibition will open in tandem with a celebration of the U.S. publication of 100 Poems, a retrospective begun by Heaney and completed by his family, as part of the arts center's eleventh annual Poetry Fest.
Musician and folklorist Mick Moloney's contribution to Irish culture is also phenomenal. On Wednesday, November 7 he will present an illustrated talk on the evolution of (and relationships between) multiple percussive dance forms on the American continent, including Appalachian and African American flatfoot and clogging, Irish sean-nos and step dance, North Indian Kathak, Quebecois, Ottawa Valley, Cape Breton, and tap.
4
Featuring a short demo by dancers from Darrah Carr Dance studio, Maloney's dazzling lecture series explores the contributions of Irish artists in a global context and has proved to be one of the most popular events on the arts centers calendar. This is unmissable.
The wounds of the Irish civil war never quite healed, we just got better at concealing them. In Keepers of the Flame director, Nuala O'Connor explores the consequences of civil war on multiple generations, focusing on what is remembered and what is forgotten.
O'Connor trawls through the archives of the Irish Military Service Pensions board and what emerges is "a deeply personal retelling of a brutal and divisive period in the birth of a nation and the devastating legacy it left in its wake."
What is the truth? Is there a difference between history and memory? What takes precedence, a family narrative or a national one? Can you understand who you are if you can't accept what has happened to you or your country? These and more provocative questions are finally emerging in a film that brings to light the experiences of some of the 85,000 ordinary Irish men and women of the civil war era.
Keepers of the Flame will screen at the Irish Arts Center on December 5 at 7:30 P.M.