There were two items recently on the Irish Voice and IrishCentral, apparently disconnected, which captured my eye.  They instantly connected powerfully.
One was a photograph of those dreadfully recent "No Irish Need Apply" signs which once appeared on both sides of the Atlantic. The other story was about the drive by 20-years old James Gallagher from Strabane in County Tyrone to emulate his friend and MMA idol Conor McGregor by becoming another world champion in that alleged sport.
I saw from the story that Gallagher will appear in Madison Square Garden later this month for the biggest outing of his career to date.
Read more: Could Irish James Gallagher be MMA's next Conor McGregor?
His opponent, I read, is twice his age. One would suspect, with all due respect, that this opponent is a journeyman whose task it is to add another winning statistic to young Gallagher's so far unbeaten record and boost him along the road to the kind of MMA stardom so dramatically achieved over the last couple of years by McGregor.
3
I need to state immediately that I wish young Gallagher from Strabane every success in his bid for glory.  If, like McGregor, he wins a couple of MMA world belts and becomes a millionaire before he is 25 years old I will be delighted.
He is having a dramatic tilt at glory and wealth in his world, as McGregor did and is still doing re Mayweather tidings recently. Fair play to the young Tyrone lad.
I also note, however, that the sporting nickname which the hypemasters are hanging on him is Strabanimal.  It will probably catch on and follow him for the rest of his career just like Notorious in relation to McGregor.
And that is where, being maybe of a time-warped Irish generation and remembering those No Irish Need Apply signs, that I have to express serious reservations about some likely elements of the hype frothing around the young lad's ankles.
Strabanimal?
Long before he was even a glint in his father's eye, I was unfortunate enough to be present in a pub in Gallagher's native Strabane for a clash between two young and very drunk Strabanimals.  One could say it was an MMA species of fight-Maladroit Malicious Actions back then, and it was a dreadful brawl altogether.
It arose over either a motorcycle or a lady. Both young drunks threw haymakers at each other at the beginning, both missed, then they got into a cursing clinch at the end of the bar, breaking two tables and about a hundred glasses before they were separated by friends. Before that they were trying to choke each other as they rolled around the floor, were kicking and kneeing each other and were using their elbows. It was Strabanimal stuff for sure.
Was that pub brawl much different to what one sees today in MMA fights? I don't think so really apart from the enhanced capacity of the MMA pros to damage each other.
To me it is an ugly type of combat to watch, and I always flee from the televised bouts as quickly as possible. There is a certain science and brutal kind of ballet associated with the sport of boxing which is very different and, for many of us, compulsive viewing.  When the boxers, for example, get into the clinches which are so much a part of MMA bouts they are instantly separated by the referee.
Read more: Conor McGregor named as one of TIME's 100 most influential people
Anyway, as I wrote here before re McGregor, I am delighted at his success but I strongly object to my national flag -- and yours --- being draped around his celebrating shoulders after his bouts. And I hope from the bottom of my time-warped class of a heart that James Gallagher does not do that in Madison Square Garden after he dispatches the journeyman opponent.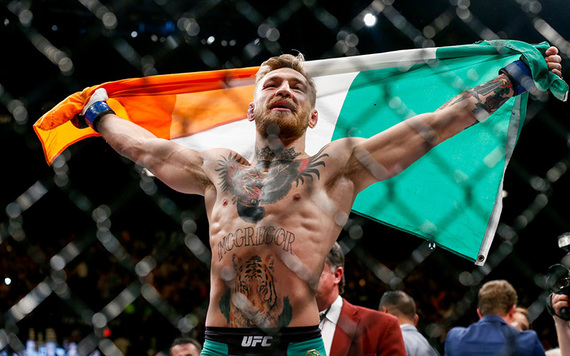 3
My point is that it has taken several generations of us, living responsibly as good citizens, to eventually kill off those signs that read No Irish Need Apply. Connecting our national flag directly with the outcome of what to many of us are ugly brawls like the one I saw involving the Strabanimals in James' home town, in my view is likely to reinforce an ancient prejudice against us. I hope at least some of you agree with me.
Finally, I saw from the Gallagher story that his favorite end move is called a rear end choke hold!  That, maybe, says it all. I think one of the Strabanimals I saw in action in the pub all those years ago was trying for the same move!