United Nations soldiers are holding the fragile peace line between Israeli and Syrian forces in the Golan Heights
As part of the United Nations Disengagement Observer Force (UNDOF), Irish troops are currently deployed on the fragile 80km peace line which separates Israeli and Syrian forces in the Golan Heights. UNDOF was established in 1974, under UN agreement, following the 'disengagement agreement' between Israel and Syria.
Recent actions by President Donald Trump have dramatically increased tension in the area contributing to the very real possibility of yet another major conflict in the region.
According to Professor Ray Murphy from the Irish Centre for Human Rights:

'The possibility of military action in the Golan remains a serious threat'
Read more: Irish American lawmaker again warns UK against compromising the Good Friday Agreement
Happy Birthday Mr President
It comes as no surprise that Benjamin Netanyahu the Israeli Prime Minister has named an Israeli settlement after Donald Trump "Ramat Trump", which is Hebrew for "Trump Heights". Trump was awarded the honor in June, conveniently coinciding with his birthday, "in a gesture of appreciation of Israeli sovereignty over the territory."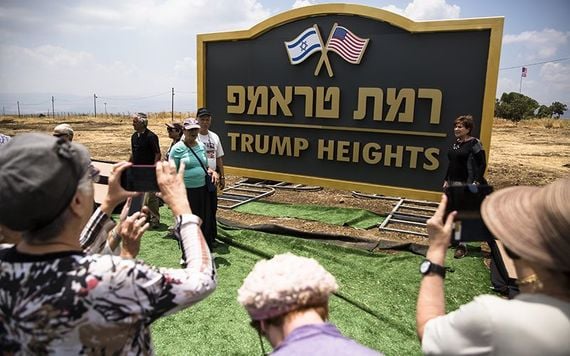 3
Approximately two-thirds of the Golan Heights have been occupied by the Israeli army since 1967 when it was seized from Syria during the Six-Day War. This annexation and blatant disregard of Syria's sovereign rights was loudly condemned by the international community.
The United Nations Security Council Resolution 242 states the "the Israeli decision to impose its laws, jurisdiction, and administration in the occupied Syrian Golan Heights is null and void and without international legal effect."
Israel countered this statement, also citing resolution 242, "safe and recognized boundaries free from threats or acts of force".
The strategic importance of the Golan is obvious and chimes with Israel's intention to expand its territory but more importantly It's really about oil, gas, and water.
Something stinks in the State!
In July 2011, Genie Energy an American energy corporation based in Newark New Jersey was granted sole rights to explore 153 sq. miles of the Southern Golan Heights for oil and gas working privately in the Israeli occupied Golan Heights.
Worryingly the US State Department has stopped referring to the area as 'Israeli occupied territory' and now refers to it as 'Israeli controlled' this In light of the USA's acquiescence to Israel's request for recognition of Jerusalem as its capital and subsequent relocation of its embassy there is a grave cause for concern. Even more worrying is the decision by the Trump administration to unilaterally remove the US from the Joint C.P.O.A (Iran Nuclear agreement) both of these decisions have directly benefited the Republican party to the tune of $30 million- The largest single donation to the Republicans ever! donated by pro-Israeli billionaire and associate of Netanyahu, Sheldon Adelson.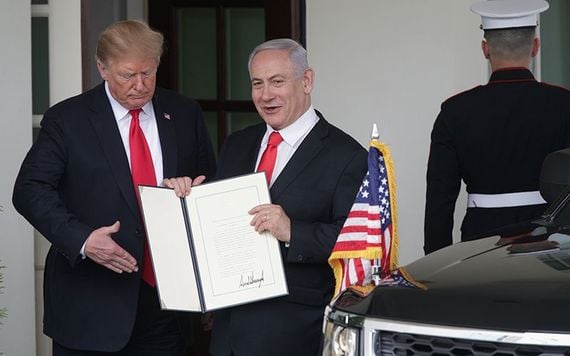 3
There are an estimated one to 40 billion barrels of oil equivalent at least to the currently reported reserves of the top six oil-producing nations combined! Secondly, freshwater; the Golan is estimated to supply about a third of Israel's water supply.
In an attempt to alter the demographic dynamics of the region, Israel has planted 20,000 Jewish settlers and is harassing the native Druze population to accept Israeli citizenship in order to increase its claim and counter International law. After three test-drillings, Yuval Bartov, the chief geologist of Genie Oil & Gas, a subsidiary of American-based Genie Energy, says his company thinks it has found an oil reservoir "with the potential of billions of barrels".
The Dream Genie Team
President Trump has a direct personal interest in Genie energy through Ira Greenstein a Kushner family Lawyer and former President of Genie Energy who has worked for the Trump administration as a Legal aide.
Genie Energy was founded by Howard Jonas a telecoms billionaire; staunch supporter of Netanyahu and long-time friend of the Kushner family. For a company anonymously located in a very shabby part of New Jersey, that few people have even heard of, It is probably the most influential on the planet, its strategic advisory board reads like a Who's who of Geopolitical Puppet masters comprising some of the Western World's most influential figures including Former American Vice-President and President/C.E.O of Halliburton Dick Cheney, Ex-CIA Director James Woolsey, Banking tycoon Lord Jacob Rothschild and Media mogul, Rupert Murdoch.
Read more: Remember that it is immigrants that make America great
This article was submitted to the IrishCentral contributors network by a member of the global Irish community. To become an IrishCentral contributor click here.