An amazing letter written by a nun in Tipperary in 1961 reminds us that these Catholic nuns were products of their time and truly believed that they were saving these children and "they would see the face of God." We must remember it was a very different time.
The letter, dated July 19, 1961, is from Sean Ross Abbey in Tipperary and written by the "Sister in Charge" to a couple in search of a child. She mentions "we have two lovely boys who were - with very great difficulty- taken back from Protestant Homes in England, both have really good background."
The contents of this letter are quite shocking and very sad (whether it is genuine or not.) Yet, those in charge back then were not inhuman. They truly believed that what they were doing was for the best. I am going to look at the situation through the eyes of those times – Catholic Ireland, in the past.
I'd like to point out from the outset, that pre-1970, the same attitudes towards 'illegitimate' children prevailed in many other countries, including England. Perhaps this was because sexual activity had to be controlled, in the absence of contraception. Marriage was deemed to be the only suitable place for it.  (This also had to do with inheritance of property.)
Read more: American nun sold as a child in Ireland tells her amazing story
A child born out of wedlock threatened the status quo greatly. There were homes to 'hide' unmarried mothers everywhere. Virginity became highly esteemed in young maidens, in order to prevent illegitimacy. This was the case in most cultures and religions – none more so than in the Catholic Church.
5
In 1961, I was a ten-year-old young girl growing up in a small town in Ireland. We were taught by nuns only.
These nuns dressed from head to toe in long black habits, with only their bare faces showing - just like many Muslim women do today, and for the very same reason. Everyone had a deeply rooted faith in God and this affected all our thoughts and actions.
There was no sex education whatsoever. However, from an early age, we knew that virginity was very prized – not because we were told so, but because of all the devotion to The Blessed Virgin.
Read more: My shocking visit to Irish Mother and Baby home in 1968
'Virgin most pure, virgin most chaste,' we prayed daily, and then after addressing Our Lady as virgin many more times, we addressed her as Mother. 'Mother most pure, Mother most chaste, mother undefiled.'
We learned that 'defiled' meant dirty and soiled. We learned that Our Lady was 'undefiled,' which meant clean, pure and unspoiled because of her virginity. (We never thought of asking were our mothers dirty and soiled, therefore?)
The Blessed Virgin was our role model. As women, we were to be meek and mild like The Mother of God. There was a huge devotion to Our Lady. Every family had a Mary, whilst other daughters were christened Concepta after The Immaculate Conception and Assumpta after the assumption of The Blessed Virgin into Heaven.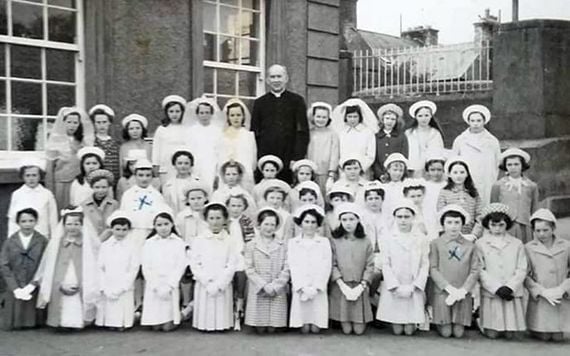 5
At school, we learned (off by heart) that the chief dangers to chastity were 'idleness, intemperance, bad companions, improper dances, immodest dress, indecent conversations, books, plays, and pictures.'
We learned the sixth commandment, 'Thou shall not commit adultery.'
We learned that this was a mortal sin, and heard all about the fires of Hell.
We learned what Christ would say to the wicked on the last day, "Depart from me ye cursed, into everlasting fire, which has been prepared for ye by the devil and his angels.' Fear was the big deterrent.
5
Another important catechism question was 'Must everyone belong to The Catholic Church?'
'Everyone must belong to The Catholic Church and no one can be saved, who through his own fault, remains outside it.'
Read more:  In Ireland, we grew up with a God of fear, not a God of love
A huge emphasis was placed on the fact that only those who belonged to The One True Catholic Church would see the face of God in Heaven.
I read in my mother's prayer book that:
'Company keeping is not lawful until one is of marriageable age and in a position to marry. Marriage is a sacrament to be prepared for, not by years and months of sinful indulgence, but by a life of prayer, restraint and purity. Self-denial is essential. Sexual pleasure is only lawful in marriage.'
I tell you all of the above to point out what life was like in Ireland when this letter was written. With such huge emphasis on virginity before marriage - to become pregnant whilst single was a dreadful thing altogether. The girl had committed the terrible sin of adultery and must be shunned.
It would have been absolutely impossible for her to stay in her good Catholic home. She would be a walking occasion of sin, giving a bad example to all. Her baby, conceived in mortal sin, would be illegitimate and bring terrible shame on her whole family. It wasn't just the priest, but the whole family and community who felt this way.
5
It's important to remember that the nun who wrote this letter was a product of her time. Her view was that a young girl with no home, no support and no money would not be able to bring up a baby on her own. And even if she could do so her child would be always deemed 'illegitimate.' This would be an awful slur on his character.
Believing what the nun did, about The One True Catholic Church, it was imperative that children be raised in a Catholic home, so as they would get to see the face of God.
A priest had written to the convent about a couple called Brennans who were very keen to adopt. He probably said that they were very good Catholics who would attend to the spiritual formation of the child.
Honestly, honestly, this nun thought she was doing what was best for everyone involved, according to the thinking of the time.
Do you agree with our columnist? Did these Catholic people think they were doing the very best for these babies and their mothers? Were they a product of their time? Let us know in the comments section below.
Read more: Let's remember their names - The 796 infants and children who died in the Tuam home