Ireland where 66.4% voted to for change in the referendum is living in changing times and the motherland needs to trust her young.
The landslide victory for the yes side in the abortion referendum last week is visible proof that Ireland has changed forever.  That might seem like an exaggerated claim, but the significance of last Friday's vote cannot be overstated.  The extent of the victory -- the nationwide vote was 66.4 percent for change with 33.6 percent against -- was so stunning it took everyone by surprise, not just on the no side but on the yes side as well.
Based on the opinion polls in recent weeks a yes victory had been expected, but a two to one result was beyond the wildest hopes of even the most ardent campaigners for change.  It signals the emergence of a new Ireland, a generational shift in attitude and thinking that means we are now living in a country that is unrecognizable from the one we had here just 20 or 30 years ago.
"What we have seen today is a culmination of a quiet revolution that's been taking place in Ireland," Taoiseach Leo Varadkar said on Saturday when the result of the referendum was announced.
Fantastic crowds at Dublin Castle. Remarkable day. A quiet revolution has taken place, a great act of democracy. pic.twitter.com/MLtzkSkdLw


— Leo Varadkar (@campaignforleo) May 26, 2018

It may have been silent and hidden but the speed of this quiet revolution, as Varadkar called it, has been breathtaking.  It's only 35 years since the country voted by a similarly large margin in the opposite direction, introducing the constitutional ban on abortion, the Eighth Amendment to the Constitution, which has now been reversed. In a fundamental way this revolution is as significant as the 1916 revolution which set us on the road to political freedom.
Read more: Priests say Catholics who voted Yes on abortion can not be wed in Church
Back then we swapped British rule for Rome rule as the Catholic Church, with the help of our subservient politicians, created a repressive Catholic state. 
Last Friday's vote shows that the last vestiges of that suffocating, guilt-inducing control have been removed, and finally we have emerged as the true republic we were meant to be.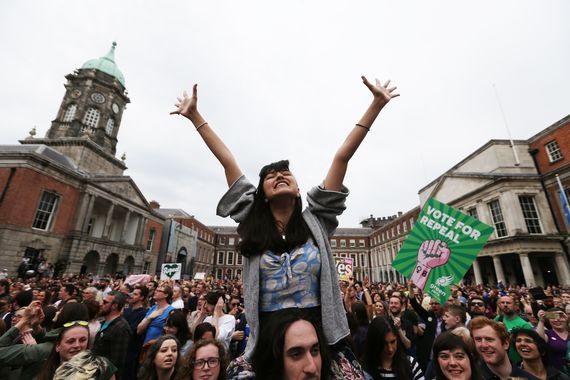 3
We have already had two important changes in the last three decades, following the legalization of contraception here back in 1979.  In 1995 a referendum introduced divorce and three years ago, in 2015, a referendum gave approval for same sex marriage by an unexpectedly large margin.
Even that phenomenal victory, with 66.4 percent in favor, which was hailed with national euphoria as a watershed in the emergence of a compassionate and more liberal Ireland, has been surpassed by the 66 percent result this time.  And last Friday's vote is even more impressive because abortion is a much more difficult issue than same sex marriage for traditional Catholics. 
No life -- or potential life -- is ended in same sex marriage, after all.  Yet this referendum, as we said, won even greater support for change.  It really was extraordinary and a wave of relief and elation swept the country over the weekend.  Many of the women who had gathered at Dublin Castle on Saturday to hear the national result being read out were reduced to tears and there was much emotional hugging and celebration.   
And no wonder, because this marks the end of a shameful period in Irish life which treated women with hypocritical disrespect and outright cruelty.
3
What all this means for Ireland is that we are now a changed country, changed to a degree that would have been impossible to foresee just a few decades ago.  Apart from the introduction of contraception, divorce, same sex marriage and now abortion, one illustration of the extent of that change is that we currently have a gay, mixed-race taoiseach, and it no longer attracts any comment. 
It was a one-week wonder when Varadkar won the leadership last year, but now he's treated like any other politician and he will be judged on how he performs on that basis.  Which is exactly as it should be.
Analysis of last week's extraordinary vote shows the fundamental nature of this shift in Irish society and politics.  It shows the emergence of a new maturity  and a sense of fairness no longer trammeled by the fears and constraints of the past. 
And it's not just down to generational change, the arrival of a new era in Ireland when young people refuse to be bound by the views of their elders.
Young voters were vocal in demanding change and were the major factor in the yes victory.  But also key was the acceptance by so many older voters in rural areas -- the traditional, cautious, silent majority -- that it was time to move on. 
Questions in the exit polls last Friday revealed that even among that demographic, despite their misgivings about abortion, there was an overwhelming acceptance (over 80 percent) of a woman's right to choose.  The desire to see an end to that awful era in which we have forced women abroad for terminations and instead to offer them a compassionate service at home was what swung their vote even though so many of them dislike abortion.
Official result: Republic of Ireland votes resoundingly to overturn abortion ban with voters backing reform of constitution https://t.co/urPAqRybLz pic.twitter.com/cFFqrxUyik


— BBC Breaking News (@BBCBreaking) May 26, 2018

Varadkar was also careful last weekend in his comments to insist that the views of the one-third of people who voted No must be respected, even if one disagrees with them.
This was in contrast to the triumphalism of a minority of the yes campaigners who could not conceal their contempt for the losing no side, although their emotional elation could be excused given the extraordinary outcome.     Our politicians would do well to grasp the significance of what has happened.  Some of them, like the taoiseach and some younger politicians on all sides, have been aware of the developing pressure for change. 
They see a young vibrant country impatient with the pieties of the past and the limitations that are no longer seen as relevant.  They sense we have become a modern society like any other and that the majority here no longer wants any of the warped nonsense of the past. Other politicians have been slower to get it.  Around half of the Fianna Fail parliamentary party, including several of its leading figures, supported the no side.  
For some of them that would have been a conscience matter.  But for others it was more likely the old ploy of doing what they thought would appeal to older voters with the aim of keeping their seats in the Dail in the next election.
To his credit, the Fianna Fail leader Micheal Martin came out early as a yes supporter despite the party pressure, and his influence was a key factor in the victory.  Some of those around him need to learn that the day of cynical politics is over and has no place in this new Ireland.   
We are living in a new era here now and abortion is unlikely to be the last issue that will be swept forward on a tidal wave of young energy.  This has been a wake-up call for the establishment.   So where do we go from here on abortion?  The removal of the constitutional ban is only the first step. 
Republic of Ireland votes Yes to reformation of abortion legislation #RepealedTheEighth https://t.co/Ksd454bcQ0 pic.twitter.com/akdjqiSzQQ


— The Irish News (@irish_news) May 26, 2018

Now begins the hard work of finalizing the proposed legislation that will introduce abortion here.  The aim is to get that done in the coming weeks and get it through the various stages in the Dail and Seanad before the end of the year, at which point abortion would become legal here.
We already know what the government proposal is -- abortion up to 12 weeks without the woman having to give any reason; abortion after that only in cases where there is a risk to the life or a serious risk to the health of the woman, for either physical or mental health reasons.
The following limitations will also apply to abortions after 12 weeks: two doctors (one an obstetrician) will have to certify that there is a serious risk to the life or health of the mother and that termination is necessary to avert the risk.  They will also have to certify that the fetus has not reached viability. 
If it has reached the point of sustainable viability outside the womb, then it must be saved.  All this, the government says, will ensure there are no late term abortions of viable babies.
Read more: US Irish pro-life group offers asylum help to Irish fleeing Yes abortion vote
All this sounds fine although, as always, the devil will be in the detail.  Getting the exact wording of the legislation right will not be easy and there will be difficult debates on the matter in the Dail and Seanad.  But one result of the landslide vote in favor will be increased pressure on all politicians to get this done and to avoid playing politics.    There has even been a suggestion that an attempt will be made to rush it through before the budget in October to avoid any chance of the legislation being lost were the government to be defeated on the budget vote (which would mean an election).
That seems very ambitious, although it would be possible with enough good will on all sides. We in Ireland are living in changing times.  The old certainties are fading around us. 
As one middle-aged woman, a no voter, sadly told a reporter, "I have lost my country."  Her devastation will be shared by a third of those who voted, people who are not anti-women but have a deep belief in the sacredness of life.   The woman's anguished feeling that she has lost her country is no doubt genuine.  But there is no reason to think that the new Ireland that is emerging will be any less caring or compassionate than it has been at its best in the past; in some ways it may even be more truly Christian. 
She needs to trust in the young.  It's their time now. 
Ireland makes history after an overwhelming majority votes in a national referendum to overturn a 35-year-old abortion ban https://t.co/pKkXDlyjeT pic.twitter.com/IgZSWLZ5gJ


— CNN Breaking News (@cnnbrk) May 26, 2018