Northern Ireland-born Irish citizens' rights undermined in latest move from UK government. 
In March the UK government quietly undermined the rights of Northern Ireland-born Irish citizens under the Good Friday Agreement (GFA).
You may have missed the change and quite probably you were expected to. In a little-heralded amendment to the law on March 7, the UK published new immigration rules that automatically treat all people born in Northern Ireland as British citizens (or indeed British subjects) in violation of both the spirit and letter of the GFA.
After the change, which some suggest may well have been quietly requested by the Democratic Unionist Party (DUP), the UK government has amended the definition of a European Economic Area (EEA) national in law, affirming that dual British nationals who are Irish and British by birth will no longer be considered EEA nationals in the UK.
Read more: Unionist fury as May deserts them for possible deal with Labour Party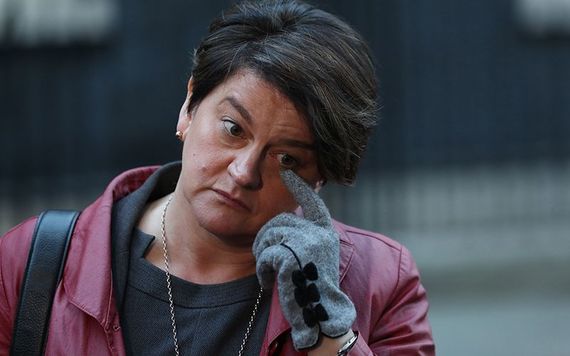 3
Think about this for a minute. That means that Irish people born in Northern Ireland will now have fewer rights than Irish people born in the Republic because Northern Ireland-born Irish citizens are going to be among the only EU citizens within the wider U.K. who are unable to access their EU rights and entitlements. It also means that, definitively, the UK government has determined that all the people of Northern Ireland are British by birth.
You can find more Brexit updates on our topic page here. 
"So what is happening is the government is imposing blanket British citizenship on the people of Northern Ireland and removing our access to EU rights through this process," Emma DeSouza, a Northern Ireland-born Irish citizens rights activist, told the press this week. "This creates in essence two tiers of Irish citizens: those that can retain their EU rights and those that can't."
Additionally, according to DeSouza, Irish citizens or dual Irish-British citizens in Northern Ireland will no longer be eligible to apply for "settled status" as EU nationals in the UK after Brexit because the new rules redefine EEA citizenship as contradictory to British citizenship, and they define all those born in the North as automatically British, undermining the guarantee given in the GFA that all those born there can identify as Irish, British or both.
Read more: Who are the DUP, the Northern Irish political party at the heart of the Brexit blockage?
In response to the UK Governments position that the people of Northern Ireland are British I'd like to share this & declare to Home Secretary @sajidjavid that I am Irish

I am Irish under the Belfast Good Friday Agreement - not British.

Will you join me? #WeAreIrishtoo pic.twitter.com/UG329QhC1P

— Emma DeSouza (@EmmandJDeSouza) March 9, 2019
It's a late in the day and bad faith move by the UK government, desperate to paper over the growing cracks to its immigration system that Northern Ireland currently presents.
In fact, Irish citizens born in Northern Ireland who wish to apply for the "Settled Status" scheme in the hope of safeguarding their EU citizenship rights (like that to free movement) are being warned that they can no longer apply since they are now dual citizens born as British. That means that by default, they will now be regarded as British by the Home Office.
Under the Settlement Scheme, which is connected to the citizens' rights chapter of the withdrawal agreement, EU nationals who meet its requirements can retain a range of EU rights, but for the Irish born in Northern Ireland, that will no longer be the case.
Some commentators see the UK government's latest move as just another example of its complete failure to understand the unique status of Northern Ireland, but others see a much more deliberate move to distance the government from its commitments under the GFA.
To get a grasp of the growing complexities that lie ahead for us, Ireland is currently averaging a record 3,000 passport applications a day. A record 230,000 people have applied for Irish passports since the beginning of the year.  
In 2018 Ireland issued 860,000 passports, the highest number in its history. Of those, 84,855 went to applicants in Northern Ireland.
3
For now, citizens of Northern Ireland can hold both an Irish and British passport, but the latest move by the UK government now complicates their reach and entitlements, since changes to British immigration rules made on March 7 define an EEA citizen as a person who is a national of an EEA country such as Ireland, and "is not also a British citizen."
Whither Irish passport holders in Northern Ireland?
Speaking in Belfast in February, UK Prime Minister Theresa May said she had asked the home secretary and the Northern Ireland secretary to "urgently" review the issues surrounding citizenship rights in Northern Ireland in order to "deliver a long-term solution consistent with the letter and spirit of the Belfast Agreement."
The March 7 law change was the result. It is on its face and to the letter completely inconsistent with the spirit and letter of the GFA. It cannot stand.