You have to hand it to Donald Trump he's consistent. When he decided to try to deport every political prisoner and asylum seeker in the US he would not let anyone stand in his way- including his own sister, a former federal judge.
When Malachy McAllister a former Irish republican fighter seeking sanctuary first sought asylum Judge Maryanne Trump Barry was very inclined to grant it
"Congress's definition of 'terrorist activity," she wrote, "sweeps in not only the big guy but also the little guy who poses no risk to anyone. It sweeps in Malachy McAllister [and] Malachy's children, Seán and Nicola, are swept in, too."
Were the McAllister family to be deported she added, it would mean the words carved on the Statue of Liberty would no longer mean anything, insisting, "I refuse to believe that 'Give me your tired, your poor, your huddled masses yearning to breathe free,' is now an empty entreaty, but if it is, shame on us."
3
She concluded that "We cannot be the country we should be if, because of the tragic events of Sept 11, we knee-jerk remove decent men and women merely because they may have erred at one point in their lives."
Maryanne Trump's sentiments were good enough for every president since 2006, until her brother came into power.
He instructed his DHS to take a very hard line on asylum seekers, Malachy McAllister included. His de facto immigration supremo Stephen Miller would deport his own mother if he had too.
So a good man, Malachy McAllister will likely have to leave. Donald Trump will have directly overruled his own sister's opinion.
McAllister who fled Belfast after a gun and bomb attack on his home has been living in the US for 23 years, a model citizen, husband, father hard worker.
When the Good Friday Agreement was signed Malachy was a key figure in supporting it as he saw it as a path to peace. That was an important signal to the Irish American community that the peace strategy was the way to go when others were claiming otherwise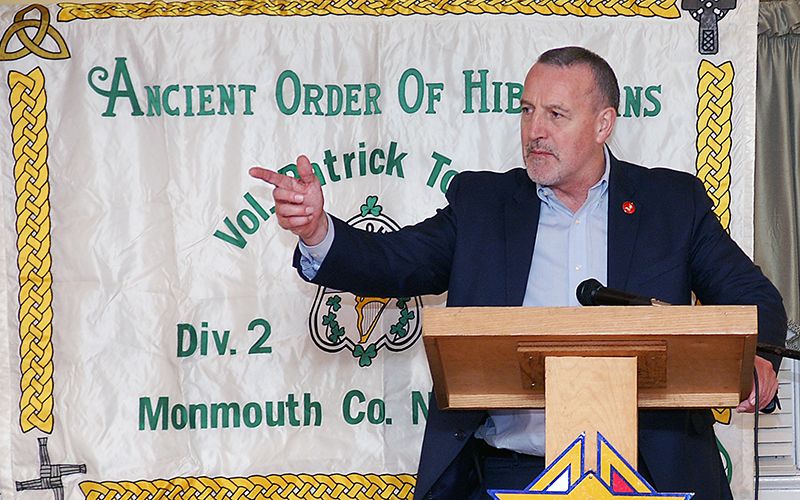 3
Malachy had the raw experience to carry great influence. Back in 1981, McAllister was sentenced to nearly four years in jail for his involvement with the paramilitary Irish National Liberation Army. In 1988, after a loyalist attack on his Belfast home, he and his young family – his late wife, Bernadette, and their four children – fled to Canada and eventually to America.
McAllister currently lives in New Jersey, where he owns a construction business. He lives with his partner and young son and has been deeply involved with a number of Irish American groups, including the AOH, the United Irish Counties, and the New York City St. Patrick's Day parade.
A last-minute bid by Senato Chuck Schumer to keep McAllister in the US has been made. Leading figures like GOP Congressman PeterKing and Democrat Ritchie Neal have tried to stop the deportation.
A release distributed Tuesday on McAllister's behalf said in part, "Irish America has just marked the 21st anniversary of the Good Friday Agreement and with the countdown underway to Malachy's deportation the DHS hasn't acknowledged the goodwill and work that has been put into the peace agreement by the Irish American community and Malachy McAllister, who has worked tirelessly for peace in Northern Ireland.
"The latest intercession in an attempt to prevent Malachy's deportation comes from none other than the head of the Catholic Church in New York, Archbishop Cardinal Timothy Dolan who has reached out to the White House. Irish Ambassador Dan Mulhall and the Irish Embassy have also made a direct request to Vice Admiral David P. Pekoske, acting deputy secretary in DHS highlighting the peace process aspects of Malachy's case.
"Others supporting Malachy's cause include Patrick Lynch (president PBA, NYPD) members of the 69th Regiment (the Fighting 69th) and many more stepping up to support a man who has lead an exemplary life for the past 23 years in the United States of America."
Everyone, it seems who have a deep sense of what asylum seekers should be all about. Trump's DHS is overruling them all.
"But, it doesn't just impact Malachy's life. Two of his children, Nicola and Sean's, immigration status is still unresolved. Malachy's has a seven-year-old American-born son Cadán who is in first grade, and grandchildren born in the U.S.
As for Judge Trump Barry, the now 81-year-old sister of the President-elect has since retired after close to 30 years of service to the judiciary.
Originally a homemaker for many years, Trump's older sister was nominated as a Federal District Judge in 1983 by the Reagan Administration and promoted in 1999 by the Clinton Administration to the Court of Appeals for the Third Circuit.
Like her more famous younger brother, Trump Barry now lives part-time in Palm Beach, FL. Although the siblings are reported to be very close, the two are described as unlike in temperament with a family friend and Trump delegate Robin Bernstein telling the Palm Beach Post, "She's quiet. She doesn't go to the balls. She's everything you'd want a judge to be. She's eloquent and articulate."