Fungie the Dolphin has become an Irish world-record breaker
Dear Fungie of Dingle,
I know I have not been in touch with you since first reporting your arrival in the waters around Dingle in the Kingdom of Kerry back in the autumn of 1987 for The Irish Press which I was working for as a hack back then.
Let me apologize herewith for quipping then that you were just another strange class of a fish moving into Kerry and you would depart before the local fishermen caught you for their dinner. Sorry about that remark. 
I'm back in touch now, however, to congratulate you warmly, from the tip of your tail to your bottlenose, for having hit the international headlines by having been officially named by experts (in a new Lone Rangers report) as being recognized as the longest living solitary dolphin on the planet.
Read more: Dingle's Fungie becomes oldest dolphin in history to maintain human contact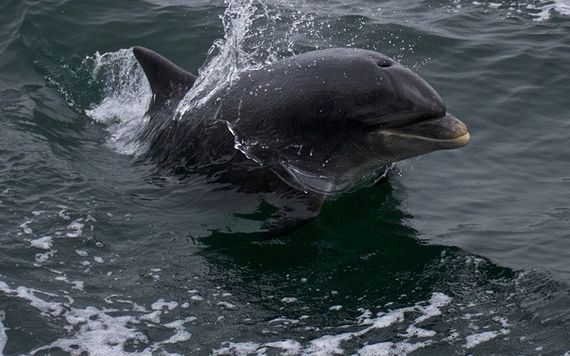 3
That gushing report also describes you as being an Irish national treasure nowadays, probably the most famed Kerry resident of all modern times, "very engaging altogether," the founder of one of the Kingdom's most lucrative tourism industries and, though now middle-aged, still as sprightly and lively as ever.
The Lone Rangers report is a segment of a Marine Connection bulletin authored by Lisa Goodwin and Margaux Dodds, and you must be delighted with yourself altogether. Congratulations all round.
A lot of photographs across the media appeared alongside the reports of your achievement.  I wryly notice that, though now a middle-aged bachelor, you are still flirting madly with any attractive female visitor to your bay.  You were always noted for that.
If you were a landlubber I've no doubt you would be heading up to Lisdoonvarna in the Burren of Clare for the Matchmaker's Festival in September but, clearly, according to the experts in their reports, you prefer the bachelor life with a bit of craic on the side!
Read more: Meet Ireland's most famous dolphin Fungie on National Dolphin Day
Anyway, the cute Dingle folk wouldn't let you leave Dingle's waters because you have become a goldmine for them.  There is an entire fleet constantly on the go nowadays ferrying countless thousands of tourists from all over the globe out to meet and greet you and, in all fairness, you always show up on time to enhance your reputation and image.  You have earned tens of millions of tourism revenue for a region which would otherwise have been struggling to survive these harsh enough times ashore.
Dear Fungie, I have good reliable sources in Kerry still, and I hope you will accept a little warning about the immediate future for all of us on the Emerald Isle.
There is a quite powerful government minister above in Leinster House called Shane Ross whose stated policy is to make our roads system safer for all users, both native and tourist, and accordingly lower the road mortality rates.   He rarely ventures outside Leinster himself, but there is a whisper floating around among my sources that he is likely to take a trip to Dingle before the summer is over to observe any traffic jams, including marine ones, and indeed to make a brief jaunt out to observe you in action.
You will hear the trumpets blowing loudly when that day comes around and it would be advisable to either take the day off altogether or, failing that, to keep a safe distance away from his boat and certainly not to flirt with female tourists in your usual fashion for the duration. There is a risk of him citing you for creating traffic hazards both on the shore and in your own bay's waters and I know you will heed this early advice.
More details later when they come to hand. That is a definite promise.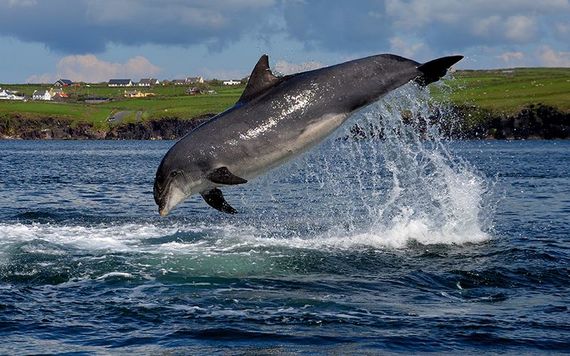 3
Another kinda humorous story has come my way this week, again from a reliable source. It concerns the colorful Healy-Rae political dynasty in the Kingdom who, like yourself, have their own unique way of making headlines.
There's a whole shoal of them nowadays ashore and their trademark, above all, is the donning of soft tweed caps on all public occasions that would benefit them.
Apparently, a plan is being hatched by them, and well advanced too, to have an attractive female visitor enter your waters alongside a photographer equipped with a camera and a waterproofed tweed cap!  Should you begin to play and flirt with the lady concerned, the pair of them will attempt to equip your bottlenose area with that tweed cap, however briefly, and afterwards, the Healy-Raes will claim all the image rights likely to rapidly develop later!
Was I you, Fungie, with your priceless international status, I would stay well clear of the pair of them.
I sincerely trust that these hints for the rest of the year mitigate my totally erroneous description of you decades ago when you first arrived on our shores. Keep hale and hearty through the summer and avoid all that plastic stuff around you which, I'm informed, will give you indigestion at the very least.
Swim safe around Dingle bay for another four or five decades!
Have you visited Fungie in Dingle? Let us know in the comments section, below. 
Read more: Spectacular shot of Fungie the dolphin leaping out of Dingle waters