There are so many striking parallels between the Irish refugees of the 19th century and those who are fleeing to the United States southern border now
Both the migrants attempting to cross the US border now and Irish who arrived at the United States in the 19th century were poor and desperate, both driven out of their own homelands by privation and violence. Both were accused of being enemy agents too, of being hostile to the dominant culture, and both were even often accused of harboring rapists.
But the Irish were not publicly attacked by the sitting president. He was not calling us "animals," as the current president, Donald Trump calls refugees now.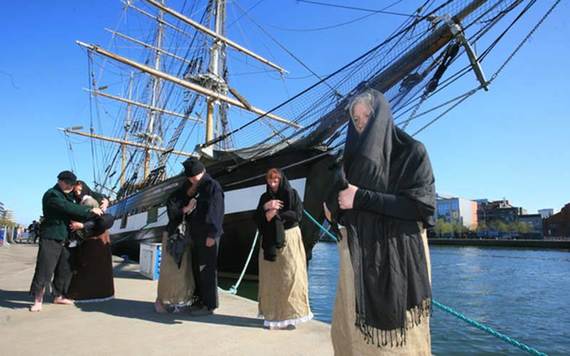 6
Nor did did we have our children and toddlers taken from us at the port of landing, we were not housed on concrete floors, left to rot in steel cages without toiletries or toothpaste or even water, until we became filthy and ill and unresponsive, as the children and toddlers of those modern refugees are now, in their first taste of the free world.
Earlier this week Sarah Fabian, a Department of Justice attorney, stepped into the pages of history when she cooly attempted to argue that Customs and Border Patrol could indefinitely imprison separated children and toddlers seeking asylum here without providing them with even the basics of human decency.
Unfortunately for her, she faced a Ninth Circuit court panel that included Judge A. Wallace Tashima, who was sent to an internment camp as a child.
Fabian has form here, by the way, having previously claimed that couldn't attend crucial hearings to reunify children with their desperately worried parents because she needed to dog sit. Priorities, eh?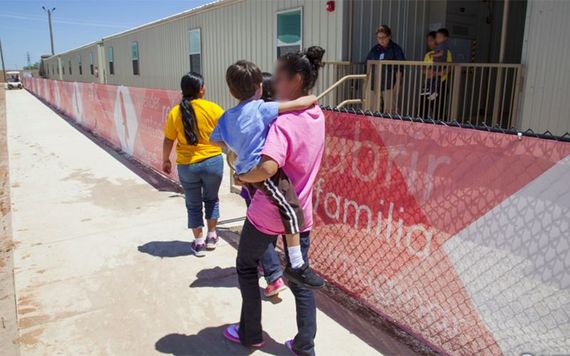 6
One thing is certain, it is absolutely imperative that the children taken from their parents be reunited as quickly as possible because being sent to these unhygienic, disease plagued and dangerous metal cages are potentially fatal.
Read more: US to check 5 years of social media for all visa applicants
In recent months, at least seven children have either died in custody or after being detained by federal immigration agencies at the border.
"Give me your tired, your poor, Your huddled masses yearning to breathe free, the wretched refuse of your teeming shore," says the sign on the Statue of Liberty.
6
But instead of finding a safe heaven or welcome the children fleeing to the United States in search of shelter and safety now are finding incarceration, inhumanity, and suffering, under the Trump administration's watch.
They are being forced to sit in their own soiled clothes in dangerously overcrowded conditions for days and weeks on end as the system fails to contend with them.
This dehumanizing process is actually a choice, by the way, it's intended to intimidate and dissuade others from ever attempting to come here. But even that plan has failed.
6
No one makes the perilous journey to America's southern border if the conditions they are fleeing from are not worse. It is also willfully imprecise to call these people "illegal," because they have a legal right to apply for asylum here.
Consider this, the inhuman treatment that these refugees experiences doesn't just diminish and rob them of their dignity, it does the exact same to us too. It makes our own society crueler and more bigoted and it erodes our standards.
That means that it comes down to you again dear reader, the proud ancestor of Irish immigrants, or a first generation immigrant yourself. This is not a time for you to look the other way as the nation's long history as a tolerant and immigrant welcoming nation is being trashed.
Read more: Ellis Island footage reminds us of where we all came from
Right now appropriators are deciding the next budget for Department of Homeland Security (DHS), including Immigration and Customs Enforcement (ICE) and Customs and Border Patrol (CBP). We should insist these agencies are not granted any more funding while children and adults continue to be abused and die in custody.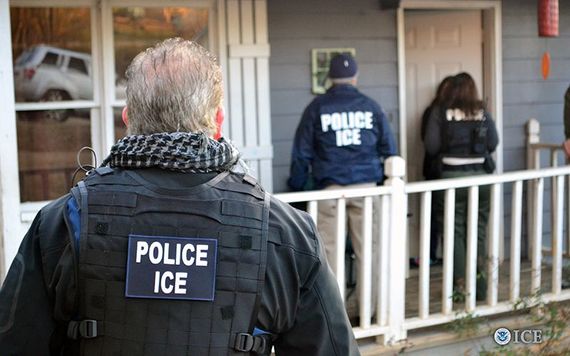 6
You may think it's safe to watch vulnerable people being treated worse than animals because it's no one you know. But you would be very wrong about this. History teaches us that when children die under lamentable conditions that kind of abuse can quickly spread. Who's next for these repulsive steel cages? The poor? People who can't pay their taxes? The homeless?
The camps charge over 700 dollars a day per child, even though in many cases they are not providing them with an adequate bed, or soap, or toothpaste, or even clean clothes. It's profitable, in other words, to win big contracts to imprison children like some Victorian workhouse.
But when a system decides that your worth more to them locked up than free, bad things can happen. History is filled with monuments that stretch from Germany to Japan that show us exactly where all this cruelty can lead.
We should heed their message.
Read more: Trump pledges to deport "millions" of undocumented from America - including Irish?