John Connors, the 33-year-old Irish actor, writer, and director, was in Los Angeles for the North American premiere of his new film "The Black Guelph" on June 30.
The Irish film ran as part of the 26th annual Dances With Films festival, screening at the legendary TCL Chinese Theatre on Hollywood Boulevard.
View this post on Instagram
Best known for his turns in "Love/Hate" and "Cardboard Gangsters," Connors' latest film "The Black Guelph" follows Canto, a 30-year-old who deals drugs while suffering from mental health issues when his girlfriend Leah, kicks him out. 
Leah, sick of his antics and his criminal lifestyle tries to shield her daughter Rachel from his negative influence.
Meanwhile, Dan, Canto's father, comes back to the area and tries to reconnect with his son, who outright rejects him for abandoning him when he was a child. 
You can see that this isn't postcard Ireland, which may explain some of the hesitancy in certain quarters about his output, a hesitancy that has followed him from the beginning, he says.
Standing firmly outside the Irish mainstream since he first appeared, Connors has made a reputation for himself as a skilled performer, a propulsive screenwriter, and often a thorn in the side of the cozy Dublin film world consensus.
Depending on who you ask, he's a maverick, a menace, or a man for all seasons. In recent years, he got himself canceled on Irish social media for his admittedly outrageous and unprovoked attack on Ireland's Minister for Children, Equality, Disability, Integration, and Youth Roderic O'Gorman, a moment for which many in the press and arts have steadfastly refused to forgive him, despite his many apologies.
"The new film is getting no coverage still in Ireland, despite the fact that we've had coverage from the Hollywood Reporter, Film Verdict, and Screen Daily, all the best platforms for film," Connors tells the Irish Voice, sister publication to IrishCentral.
"Even the Sunday World took some stuff that I said recently from the Hollywood Reporter but wouldn't even mention the film.
"And so now we're in the Chinese Theater and we're up for an award there and yeah, it kind of seems to be the pattern of my career. Anything that I do that's worthwhile seems to be getting some sort of acceptance abroad first. Well, it's kind of the pattern for a lot of Irish artists going back a ways."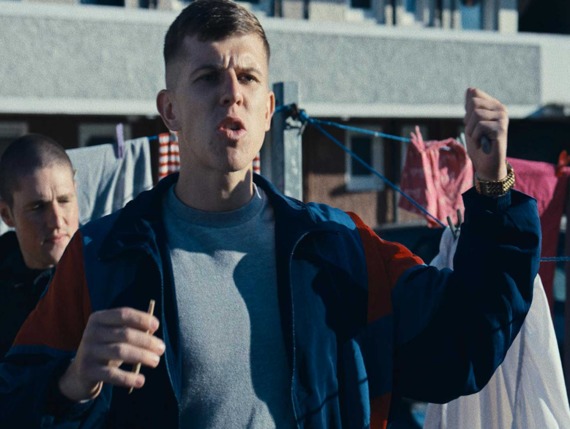 2
Connors has a gut disdain for the kind of "paddywhackery" that mainstream audiences eat up. It means his films are bracingly realistic but it can run some viewers the wrong way.
"There's often this kind of this view of Ireland that might be a bit romantic and old-fashioned," he says diplomatically.
"And I suppose some of the Irish diaspora might want to think of Ireland like that. But I think it's better to actually face the truth. And to say, Ireland is not perfect. I love being Irish. I would never change that. But we have to look into our past. We have to look into our present, and we have to challenge power.
"'The Black Guelph' is all about that. I suppose sincerely, I just want people to go in and watch it and take from it what they will, but I think if you're looking at the Irish diaspora, I think they're going to see a different side of Ireland.
"That is very real, unfortunately, and authentic, and I hope that it challenges some of their biases. I mean only recently we've had some sort of changes in terms of equality for different groups. The look at our housing crisis, look at the corruption in government, the list is endless, so I think we have to change that. I think that art changes culture and then culture changes politics. So for me, my work is about exploring all that stuff."
Connors doesn't hold back from what he wants to hear and see, or how little of what's coming out of Ireland lights him up at all.
"I've been watching a lot of theater in the last year or so. It's just mediocrity and safety. You forget about it the next week. And no one's actually willing to take a risk. And no one in the establishment is willing to take a risk on new voices.
"So I don't know how we're gonna go creatively as a country. I just want to see new faces and hear new voices."