If there is one headline I never thought I would write in my life it is the one above. After almost forty years in journalism, I still retain the capacity to be shocked.
I grew up in a country where condoms were banned, where divorce was illegal, where abortion was a serious crime, where gay people were criminalized. Abortion was so far off the charts that it was not even debated.
Ireland's reaction to all things to do remotely with sex is almost comical if it were not so tragic; back then  the hidden costs were never debated with abortion trains to Britain, people caught forever in violent marriages, and unwanted pregnancies because of no access to contraception. The politicians were very slowly dragged out of the mire and forced to legislate.
It all begins with Mary Robinson.
Read more: Abortion guidelines for girls under 18 cause concern for doctors in Ireland
4
Come with me to 1971 when then-Senator Mary Robinson tried to introduce a contraception bill in the Seanad but was denied permission to even make the motion. She received hate mail and threats of violence.
But the flame had been lit. Let's use the time capsule to land in 1974 and watch as the Irish Prime Minister Liam Cosgrave bizarrely voted against his own party's bill to allow only married people to buy contraceptives. One senior politician famously refused to even handle the bill physically, he was so disgusted at its base intent.
Or travel with me to 1979 when Irish leader Charles Haughey, under pressure from a Supreme Court decision to allow condoms, made them available only by prescription calling it an "Irish Solution to an Irish problem."
The fact that Haughey himself was a well-known womanizer hardly seemed to matter. Hypocrisy and Irish politicians were on intimate terms with each other.
Read more: Young Americans are campaigning against abortion in Ireland - and lied to get there
4
Or come with me to 1985 when the Garret FitzGerald-led Irish government won a vote by the razor-thin margin of 83-80 to drop the need for a prescription and make condoms available. (Gasp!)
On the eve of the vote, the Dublin archbishop Kevin McNamara claimed the legislation would send Ireland down a "slippery slope of moral degradation." This was the same McNamara who cheerfully transferred pedophile priests from one parish to another. He even restored to the full ministry a priest found guilty of child sexual abuse.
Or let's go to 1986 when a referendum to allow divorce failed with 63 percent of the Irish populace voting against it. "Hello Divorce, Goodbye Daddy" was one of the slogans of the era. Farmers were warned their divorcing wives would demand half the farm. Mistresses would be moved in and older wives would be thrown out. It would cause a plague.
Skip forward to 1995 when a referendum on the same issue of allowing divorce was put to the people and it barely squeaked through, winning by only 9,000 odd votes out of 1.6 million cast.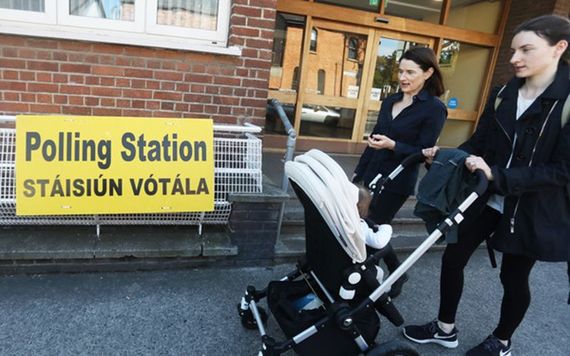 4
AS CNN reported, "The final tally, after a recount, showed 50.3% in favor of ending Ireland's 58-year-old ban on divorce. 49.7% opposed the change. The margin of victory was 9,114 votes out of 1.62 million cast."
So that was divorce and contraception sorted. Homosexuality was decriminalized in 1993.
Soon the slovenly tide of scandal, pedophilia and the strange death of the Catholic Church as chief arbiter of high morals came snaking in. It turned into a tidal wave as a great flow of liberalization followed in reaction.
Gay marriage was approved in 2015 by 63 percent and last year abortion by 66 percent. In both cases, the ability to humanize the debates to show the reality of the thousands of Irish women forced to go to Britain for abortions or the terrible hardship of gay couples trying to ensure legal rights that were open to all married couples had a transforming impact.
And now abortion is legal. Ireland changed utterly this week and I for one can hardly believe it.
What are your thoughts? Let us know in the comments section, below. 
Read more: Future abortions carried out in Ireland to cost 'in the region of $350'