If you wanted confirmation that the scandal of the 'Tuam Babies' has become an international story, it was very much in evidence at the screenings of a poignant new documentary in New York and Boston last week.
Members of the audience stood up and declared that their mothers had emigrated to the United States because of the shame of being detained in institutions across Ireland.
At the screenings of 'Mother & Baby,' which examines the lives of the children in the home, survivors and family members came forward to talk about how their own mothers left Ireland in order to forge out new lives far from home.
Young film-makers Mia Mullarkey (director) and Alice McDowell (producer) invited Tuam Home survivor Peter Mulryan and his wife Kathleen to the US for the five screenings and the reaction from audiences, both young and old, was overwhelming.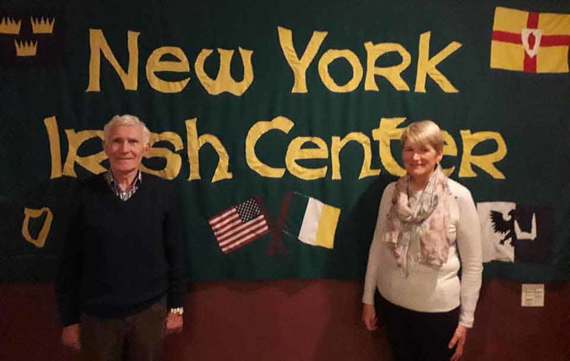 6
Galway-based Mia and Alice sourced archival material from heroic historian Catherine Corless, whose tireless research uncovered the scandal of the 796 'Tuam Babies', and the result is a powerful 20-minute documentary which led to lively 'question and answers' sessions with the US audiences.
The screenings at Irish cultural centers in Queens, New York, and Canton, New England, were particularly poignant as they attracted older Irish-Americans who had direct family experience of harsh institutions which locked up single mothers back in Ireland.
Read more: 796 Tuam babies to be exhumed from mass grave in Galway
6
In Queens, an Irish-American man called Tim Dwyer identified himself as the son of a woman who had been incarcerated in the Tuam Home at the same time as Peter's mother, in the early 1940s.
He spoke of the shame his mother had experienced and her desire to start a new life by moving to America as soon as she was released from the institution in Co Galway. Peter and Tim had an emotional conversation after the 'questions and answers' session.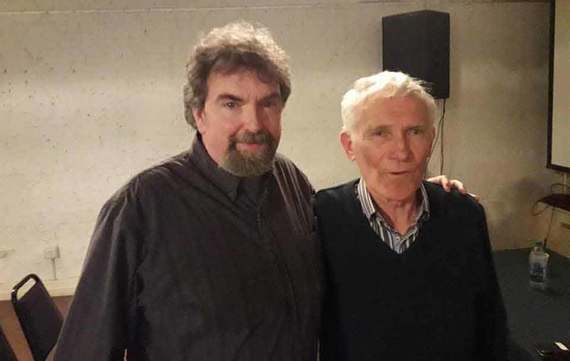 6
In Boston, a woman told of her mother's experiences at the Castlepollard Mother and Baby Home in Co Westmeath and how she had lived in a Magdalene Laundry before emigrating to the United States to escape from the shame.
One young student told a screening in Manhattan that his grandmother had been adopted from Ireland, but the family had great difficulty in tracking down their blood relatives.
Peter told the audience he believed that some of the 'Tuam Babies' may have been adopted in secrecy by Catholic families in the United States, which is why the families are so keen to find out what happened to the 796 babies and young children.
Read more: Nuns stopped mother and baby home survivor saying goodbye to dying mother
For a man who was told his life would never amount to anything, it has been quite remarkable to witness how Peter engaged with audiences at the five screenings in the US.
During emotional question and answer sessions, Peter has told shocked, angry, and sad Irish-American audiences about his experiences as an 'illegitimate' child in Co Galway and his search for justice for the little sister he never knew he had.
Peter and his wife Kathleen were invited to New York and Boston by the film-makers, as much of the documentary is about Peter's story of overcoming huge obstacles and finding love and self-confidence in his life.
The way in which Mia and Alice focused on the harsh lives faced by the children of unmarried mothers and the survivors' determination to rebuild shattered lives drew sustained standing ovations in New York and Boston.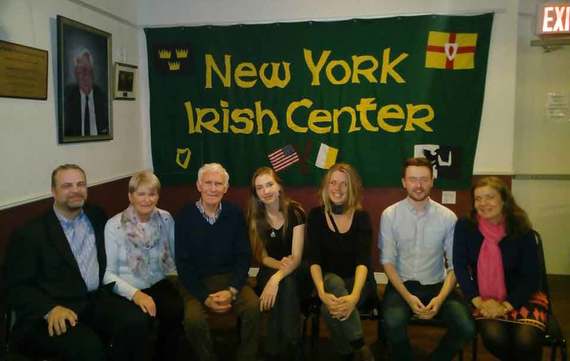 6
"I'm from Galway. I grew up in Annaghdown, which is not far from Tuam. My mother came to know Catherine Corless, the historian who uncovered her whole story. I met Catherine for coffee in her kitchen. I was blown away by her research and her story, the impact of that," Mia told IrishCentral in New York.
"The intention behind it all was to give a voice to the children, both those who didn't survive and those who did. I think in the media there was a lot of attention on the scandal, and rightly so on the mothers, and we felt that the children hadn't had their say. We felt there was healing and catharsis by hearing them and allowing them to speak."
Some of the survivors were speaking in public about their backgrounds for the first time.
"The film did not shy away from the darkest images of Irish life and a lot of anger and sadness was expressed at the five screenings," said producer Alice McDowell.
"There were quite a few people who had grown up in Ireland at the screenings and it felt as though they had escaped. We met the niece of one of the Tuam survivors in Brooklyn and she said he is a changed man, far more confident since this story broke.
"There was a lot of shock and anger, and crying at the screenings. People were weeping openly. The same question came up at all of these screenings. People asked what about the men who had fathered these children."
On the night of the screening at the New York Irish Center in Queens, word had just reached Peter that the site where up to 796 babies are believed to have been buried was set to be exhumed.
Peter has campaigned for justice for the 'Tuam Babies' since local historian Catherine Corless contacted him to say that he had a younger sister, ten years his junior, among the missing babies. It was the first he had ever heard about his younger sister.
For all Peter knows, his sister could be alive today and living in the United States as he has no documented proof that she died or was buried in the Tuam Mother and Baby Home.
Peter said the support from the public, on both sides of the Atlantic, has been incredible since the survivors and families began to tell their stories. He has found great healing in meeting the sons and daughters of incarcerated women in the US.
"Such is the change in our lives as a group, we were always outcasts in society," he told the packed hall at the New York Irish Center.
"We were classed as nobodies from a very early age. We were treated differently. In schools, we were segregated away from the other children, for what reason I don't know.
6
"We would always be embarrassed to say where we came from and we would go around with our heads down all the time. Now it has transformed hugely. The wheel has turned around. People are now coming to us, instead of us coming to them. It has given us all a new lease of life."
A number of women in the audience asked why there had been no mention of the men who had fathered the children, whose mothers were locked up the Tuam Home between 1925 and 1961.
Peter recalled the harsh beatings he experienced after being fostered out at four and a half years of age and said that he had no memories of his life in the Mother and Baby Home.
"Strangely enough, I have no memories of that institution, from the day I was born until the day I left at four and a half years of age. I was fostered out to a family in the West of Ireland. I went from the frying pan straight to the fire," he told the audience in Queens.
His wife, Kathleen, recalled how they began dating in 1973 and how they managed to track Peter's mother down to the Magdalene Laundry in Galway after deciding to get married the following year.
There were audible sighs and expressions of shock from the audience when Peter and Kathleen told them how they had to pretend that his mother was his auntie whenever they visited her at the institution in Galway.
She is buried in a shared grave at Bohermore in Galway City and was completely institutionalized by the time they tracked her down.
Peter told the audience that he had just received word from Ireland that the site would be exhumed. He hoped that the babies would be given proper, dignified burials.
"Today was one of those days I won't forget. The Taoiseach of the day listened to our story and it came out positive, what we want done. But it's still not complete," he said.
"The piece that's missing is that there is no word of an investigation. They will exhume the bodies and we are hoping they will be given back to their nearest relatives, to be given a proper burial. A dignified burial like every citizen on this planet is entitled to."
* Ciaran Tierney won the Irish Current Affairs Blog of the Year award at Tramline, Dublin, on Thursday night. You can find him on Facebook here.
This article was submitted to the IrishCentral contributors network by a member of the global Irish community. To become an IrishCentral contributor click here.