Sean Casten, the Democratic Representative from Illinois, was born in Dublin
Irish-born Representative Sean Casten has slammed President Trump and his tweets that told "'Progressive' Democratic Congresswomen" to "go back and help fix the totally broken and crime infested places from which they came."
Read More: What would Donald Trump's Scottish ancestors think of ICE crackdown?
On July 14, President Trump tweeted:
So interesting to see "Progressive" Democrat Congresswomen, who originally came from countries whose governments are a complete and total catastrophe, the worst, most corrupt and inept anywhere in the world (if they even have a functioning government at all), now loudly......

— Donald J. Trump (@realDonaldTrump) July 14, 2019
....it is done. These places need your help badly, you can't leave fast enough. I'm sure that Nancy Pelosi would be very happy to quickly work out free travel arrangements!

— Donald J. Trump (@realDonaldTrump) July 14, 2019
The President is understood to have been referring to Representative Alexandria Ocasio-Cortez of New York, Rep. Rashida Tlaib of Michigan, Rep. Ilhan Omar of Minnesota, and Rep. Ayanna Pressley of Massachusetts.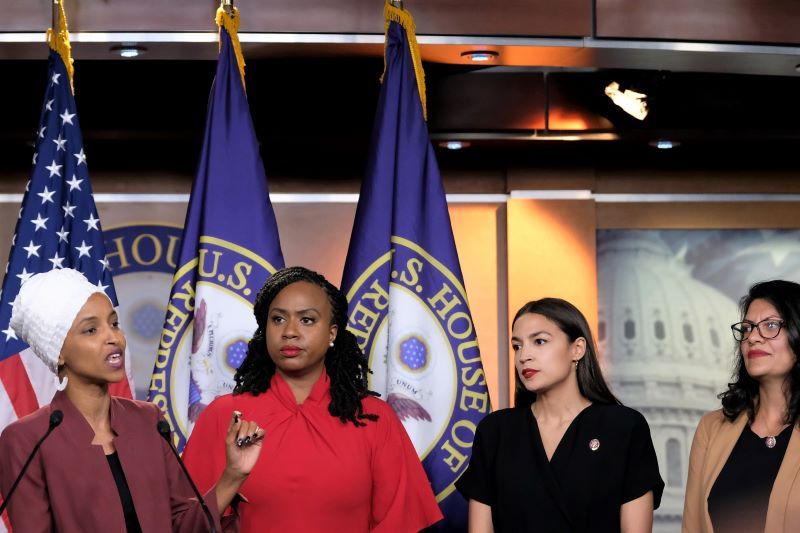 2
Of the four Congresswomen, only Representative Omar was born outside of the US - she was born in Somalia in 1982, emigrated to the US in 1992, was granted asylum with her family in 1995, and became an official US citizen in 2000.
Despite being the only actual immigrant Trump told to "go back and help fix the totally broken and crime infested places from which they came," Rep. Omar joins more than two dozen other immigrants currently serving in Congress. Among them is Democratic Representative from Illinois Sean Casten, who was born to American parents in Dublin.
The Facebook page for Casten's Congressional campaign shared the below picture on St. Patrick's Day 2018:
Read More: "S**thole" countries once included Ireland we should remember
In response to Trump's July 14 tweets, the Irish born Rep. Casten tweeted from his personal account that the President's remarks were "racist, inaccurate and inflammatory."
You are the President of the United States. The office must be bigger than the man, but you should at least try to live up to its dignity. This is racist, inaccurate and inflammatory. Stop embarrassing us and apologize. https://t.co/5GKj33wZwh

— Sean Casten (@SeanCasten) July 14, 2019
He followed up by providing for Trump a list of "immigrants who make America great," and a link to the current members of Congress, including himself, who were born outside of the US:
Hey @realDonaldTrump: I know you're not a big reader, but here are a list of immigrants who make America great. https://t.co/PD6aHtFDDx

— Sean Casten (@SeanCasten) July 14, 2019
The following day, Rep. Casten urged people to "Ignore Trump today" and instead focus on taking the GOP members of Congress to task:
Ignore Trump today. He's not worth it. Focus your righteous fury on all those GOP members of Congress who can't find the courage to call out racism, defend the constitution or condemn sexual assault. Take away their silent, fearful complicity and Trump is done.

— Sean Casten (@SeanCasten) July 15, 2019
Read More: The real reasons why the Irish move to America
And, for reference, here is the list of 29 people who are currently serving in Congress that were born outside of the United States:
Adriano Espaillat - Dominican Republic - Democratic -Rep. from New York
Albio Sires - Cuba - Democratic - Rep. from New Jersey
Chris Van Hollen - Pakistan - Democratic - Senator from Maryland
Dan Crenshaw - United Kingdom - Republican - Rep. from Texas
David Rouzer - West Germany -Republican -Rep. from North Carolina
Debbie Mucarsel-Powell - Ecuador - Democratic - Rep. from Florida
Diana DeGette - Japan - Democratic - Rep. from Colorado
Don Beyer - Trieste - Democratic - Rep. from Virginia
Don McEachin - West Germany - Democratic - Rep. from Virginia
Ilhan Omar - Somalia -Democratic - Rep. from Minnesota
Jesús "Chuy" García - Mexico - Democratic - Rep. from Illinois
Jim Himes - Peru - Democratic -Rep. from Connecticut
Mark Meadows - France - Republican - Rep. from North Carolina
Mazie Hirono - Japan - Democratic - Senator from Hawaii
Michael F. Bennet - India - Democratic - Senator from Colorado
Norma J. Torres - Guatemala - Democratic - Rep. from California
Pramila Jayapal - India - Democratic - Rep. from Washington
Raja Krishnamoorthi - India - Democratic - Rep. from Illinois
Raul Ruiz - Mexico - Democratic - Rep. from California
Salud Carbajal - Mexico - Democratic - Rep. from California
Sean Casten - Ireland - Democratic - Rep. from Illinois
Sean Patrick Maloney - Canada - Democratic -Rep. from New York
Sharice Davids - Germany - Democratic - Rep. from Kansas
Stephanie Murphy - Vietnam - Democratic - Rep. from Florida
Susan Wild -West Germany -Democratic - Rep. from Pennsylvania
Tammy Duckworth - Thailand - Democratic - Senator from Illinois
Ted Lieu - Taiwan - Democratic - Rep. from California
Ted Rafael E. Cruz - Canada - Republican - Senator from Texas
Tom Malinowski - Poland - Democratic - Rep. from New Jersey
What do you make of President Trump's tweets? Let us know in the comments