Former Irish republican fighter and asylum seeker Malachy McAllister will not be deported from the U.S., according to a Washington report.
Kevin McAleenan, President Trump's newly-appointed acting secretary of Homeland Security, has granted a request from Senate Minority Leader Chuck Schumer to stay the deportation of McAllister, the Washington Examiner reports.
On Thursday, Schumer had called McAleenan asking him to overrule ICE's decision not to grant McAllister political asylum.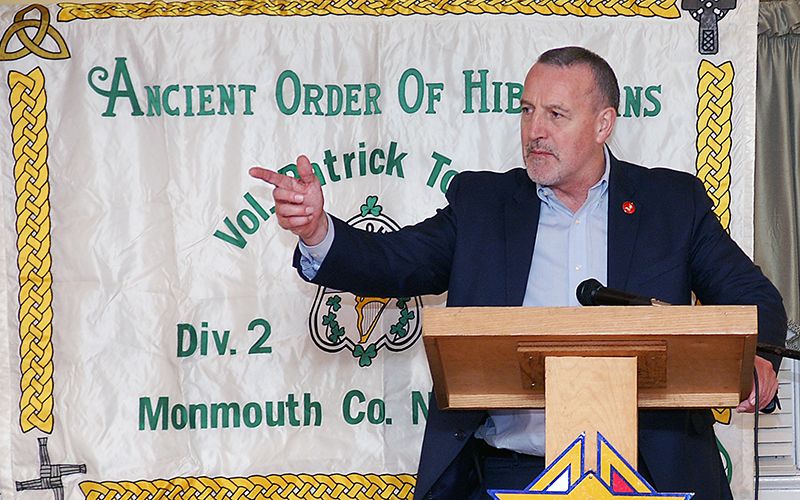 3
Read More: Trump overrules his own sister to deport Irish Republican fighter seeking refuge
"Mr. McAllister is a valued member of the Irish American community who has done nothing but productive things since seeking asylum here following an assassination attempt on him and his family during the Troubles. It achieves no positive benefit for America to deport him," Schumer said in a statement.
According to a leaked email from a top Department of Homeland Security, McAleenan has decided to overrule Immigration and Customs Enforcement and grant Malachy McAllister a six-month stay.
McAllister, who was to be deported on April 30, served as a member of the Irish National Liberation Army in the 1980s. He served three years in prison after being convicted of unlawful and malicious wounding with intent to do grievous bodily harm and conspiring to murder police officers. He claims he abandoned the nationalist paramilitary group prior going to prison. McAllister fled Belfast with his family after a gun and bomb attack on his home and has been living in the US for 23 years.
3
A U.S. immigration judge denied his claim for asylum in 2000 and a subsequent appeal was also denied. Trump's sister, Judge Maryanne Trump Barry, broke with the 3rd Circuit Court of Appeals and sided with the Irishman.
"We cannot be the country we should be if, because of the tragic events of September 11th, we knee-jerk remove decent men and women merely because they may have erred at one point in their lives. We should look a little closer; we should care a little more. I would ask — no, I would implore — the Attorney General to exercise his discretion and permit this deserving family to stay," wrote Barry.
Senator Schumer, who has fought for years to defer Malachy McAllister's deportation, has supported administrative and legislative remedies for McAllister alongside Senator Robert Menendez, Rep. Peter King, Rep. Bill Pascrell, Rep. Eliot Engel and other House supporters.
McAllister has so far been able to evade deportation, including a stay from Obama-era Homeland Security Secretary Jeh Johnson.
Read More: Senator Schumer makes last-ditch effort to block McAllister deportation
However, in May 2017, ICE Director Tom Homan told members of the Senate Judiciary Committee that due to a new ICE policy, bills to protect people from deportation would no longer suspend removal proceedings.
In March, Senate Judiciary Chairman Lindsey Graham requested a six-month stay for Malachy, but ICE denied that request.
McAllister is a deeply respected and active member of the Irish community in New York and New Jersey, where he owns a construction business. He has a young son who is a US citizen, several grandchildren, and he is a long-time supporter of the Irish Peace Process.