The sons of Stephen Termini, the New York man who was seriously assaulted in Dublin on Wednesday, July 14, are preparing to fly to Ireland this week to be at their father's bedside.
"We have a flight booked for my brother and I," Termini's son Mike Rizzuto told the Irish Mirror on Monday.
"We have flights booked but we just need to finalise passports and we will be on our way there.
"If all goes well it will be some time Wednesday afternoon.
"The main thing we want is just to be there for him. That's our top priority. We just want to make sure he's ok."
Termini was still in a coma as of Monday, Rizzuto said, but noted that he was still in stable condition.
Rizzuto's band Kissing Candice also shared this statement on behalf of Rizzuto on Monday: "With the media coverage I have now, I want to help obtain justice for not just my dad, but every victim that story has been swept under the rug.
"I want to help bring positive change anywhere I can, starting with the manner at hand. #justiceforall"
Rizzuto, a musician based in upstate New York, launched a GoFundMe after learning about the assault on his father. He acknowledged on it: "Although we may have not been the closest throughout the years, he is still my father and the reason I am here today."
The GoFundMe, which had a target of $10,000, has surpassed $109k in donations as of Monday evening. There have been more than 3.7k donations so far, with people from both the US and Ireland offering their support.
"As an Irish person, I am saddened and embarrassed by what has happened to your Dad," one person wrote with his donation. "I am hoping he can make a recovery before too long. I hope that some of you can make your way to Ireland to be by his side at this time. Wishing for the best outcome possible."
Another wrote: "I grew up in the north inner city of Dublin & this attack does not represent our community. Candle lighting for a speedy recovery and good wishes to your family."
"I am appalled that such a heinous act happened to him and in our capital city Dublin," wrote another donor. "Please believe me when I say, this does not represent the vast majority of this country. I am usually proud to be Irish but not at this moment."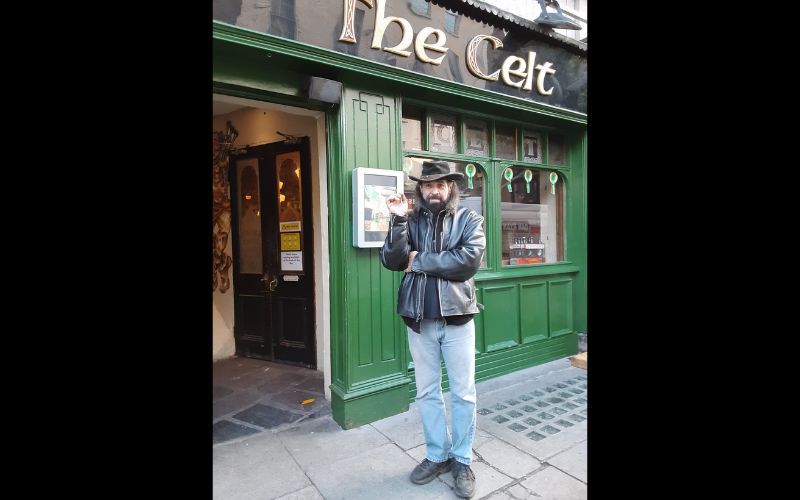 2
Gardaí in Store Street confirmed on Thursday morning, July 20 that a serious assault had taken place where a number of persons attacked a man, aged in his 50s, on Talbot Street, Dublin 1 at about 10:40 pm on Wednesday, July 19.
The man was taken to Beaumont Hospital where Gardaí said on Thursday morning that he was in serious but stable condition.
However, the victim, who has since been revealed to be Termini, is at risk of losing an eye, his sister told IrishCentral on  Friday.
On Sunday, Gardaí confirmed that a male juvenile had been arrested and was charged during a special sitting of the Children's Court at the Criminal Courts of Justice. The juvenile was remanded on bail to appear before Children's Court Number 55 on Thursday, July, 27 at 10:30 am.
Rizzuto said he hopes to attend the next court appearance of the juvenile who was charged with the assault.
"I would like to be there for that. I'd like to be there so they can realize how much trouble and pain we've been dealing with and see how everything goes."