Massachusetts Congressman Richie Neal, the current chairperson of the House Ways and Means Committee, is facing a challenge from the 30-year-old Mayor of Holyoke. 
Many Irish Americans may be used to seeing Massachusetts Congressman Richie Neal speaking on the Irish border, Brexit, or meeting with politicians from his ancestral home on the problems they are facing.
Yet after spending 26 years on the House Ways and Means Committee, his climb to chairperson has not only thrown him further into the spotlight but has now put him on the radar of the up-and-coming, more liberal contingent of Democrats looking to rid Congress of the older generation they feel is failing them. 
After the shock loss of New York's Joe Crowley to one of the newest star representatives, Alexandria Ocasio-Cortez, in the 2018 primaries; Alex Morse, the 30-year-old mayor of Holyoke, is now hoping to mount a similar challenge against Neal. 
Read more: The Quiet Man who could defeat President Trump and reveal his taxes
Neal's paternal grandmother was born in County Down while on his mother's side, her grandparents were born in West Kerry and as a result, the Congressman has always played an active role in Irish affairs in the US, visiting the border in Northern Ireland during his last visit with House Speaker Nancy Pelosi. 
Mayor Morse, however, launched his primary challenge against Neal on Monday, hoping to take the seat in Massachusetts' 1st Congressional District, citing a lack of urgency from the established member. 
"There's an urgency to this moment in Massachusetts' First District and our country, and that urgency is not matched by our current representative in Congress," Morse said in a statement.
"The fact is, the Congressman has been largely silent on the issues that matter most. He's been absent, unaccountable, and unavailable. It's not just that we need new leadership in Washington. We need new leadership that understands that we can no longer settle for small, incremental, and compromising progress. We need to be on offense. We need to be fighting for something, not just against." 
Read more: Congressman Richie Neal, the man who can stop Brexit border attempt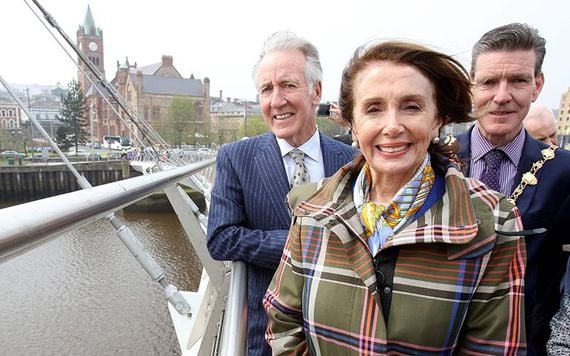 2
At only 30 years old, Morse is Holyoke's youngest-ever mayor, being elected in 2011 at just 22, and the first one to be openly gay. Criticizing Neal's acceptance of corporate PAC money, Morse has pledged not to accept any, speaking on his own history of declaring Holyoke as a sanctuary city for undocumented immigrants, installing a needle exchange program to fight the opioid epidemic, and becoming the first mayor in the state to endorse legalizing marijuana. 
At 70 years old, Neal has also been criticized by progressives for reticence in calling impeachment hearings and his relationship with lobbyists and special interests. 
Would you continue to back Richie Neal? Let us know in the comments section, below.