Pope Francis has donated $500,000 to help the thousands of Central American migrants stranded at the Mexican border.
The donated funds, from the Peter's Pence collections, will be distributed among 27 projects in 16 dioceses and Mexican religious congregations that have requested assistance in order to continue to provide food, lodging, and basic necessities to the migrants, reports Vatican News.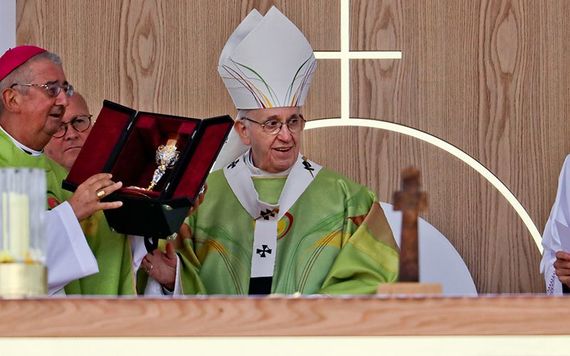 2
Read More: Notre Dame needs to be rebuilt but so does the Catholic Church
According to a statement from Peter's Pence, "In recent months, thousands of migrants have arrived in Mexico, having traveled more than 4,000 kilometers on foot and with makeshift vehicles from Honduras, El Salvador, and Guatemala. Men and women, often with young children, flee poverty and violence, hoping for a better future in the United States. However, the US border remains closed to them."
"All these people were stranded, unable to enter the United States, without a home or livelihood", the statement reads. "The Catholic Church hosts thousands of them in hotels within the dioceses or religious congregations, providing basic necessities, from housing to clothing."
The statement adds that "media coverage of this emergency has been decreasing, and as a result, aid to migrants by the government and private individuals has also decreased."
Peter's Pence statement insists that "a regulated and transparent use of the resources, which must be accounted for, is required before the aid is assigned."
Read More: Cardinal who barred Irish president from Vatican given major position by Pope Francis
According to the statement, thirteen projects have been approved and another fourteen are currently being evaluated.
"Thanks to these projects", the statement concludes, "and thanks to Christian charity and solidarity, the Mexican Bishops hope to be able to continue helping our migrant brothers and sisters".