"Repent Decades of Sins in Seconds!" Irish bookmakers erects a giant confession box poking fun at the fact that 80 percent of Irish Catholics do not take part in the religious rite.
The massively successful Irish bookmakers Paddy Powers has erected giant drive-thru confession box to help the people of Ireland "repent decades of sins in seconds" ahead of Pope Francis's visit to Ireland for the World Meeting of Families 2018, on Aug 25 to 26.
According to the bookmakers they built this "13-metre-wide x 12m high x 26m deep structure, ensuring the sheer scale will be big enough to withstand the full spectrum of sin – providing an express lane to eternal salvation for Ireland's lapsed Catholics."
Read more: Sinead O'Connor asks Pope Francis to excommunicate her from the Catholic Church
Paddy Powers commissioned a survey which found that over 25% of Irish people has not attended confession in over ten years or more. Almost 80% said they do not go to confession regularly (being once a month) and a further 29% disclosed that it was so long ago, they can't remember when they last confessed.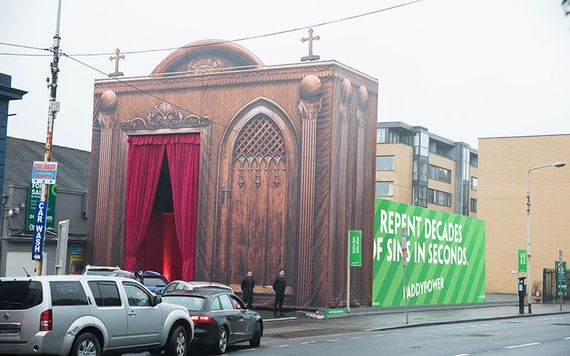 3
When asked if they found it convenient to attend confession, the majority (61%) said no, and a further 15% said it could be improved.
Paddy Powers saw a gap in the market. They bookmakers stated that they have "created the perfect portal to help punters clear their conscience on the go, taking them from sinner to winner in a flash."
Read more: "We showed no care for the little ones" Pope Francis says no more cover-ups of sexual abuse
Making confession even more convenient Paddy Powers confessional is built right next to Phoenix Park, where crowds of up to 500,000 are expected to visit this weekend. Not since Pope John Paul II's visit in 1979 will Ireland have seen such a giant Mass.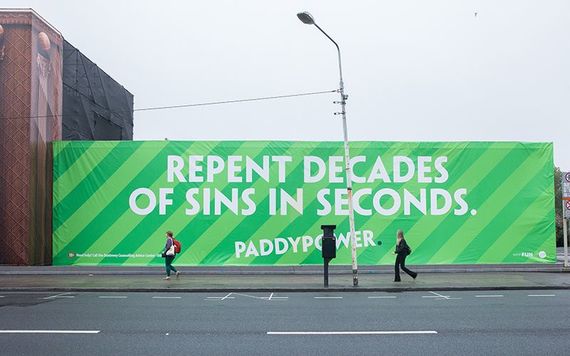 3
A Paddy Power spokesperson said "Ireland has changed a lot since the last Pope's visit - gay marriage is legal, we've repealed the Eighth Amendment, and even secretly cheered for England in the World Cup.
"With decades worth of sins clocked up since then, we're providing a convenient means to complete your contrition with your keys still in the ignition.
"And if the Catholic hierarchy have anything they'd like to get off their chests too, they are more than welcome to take a spin through our mega drive-thru confession box while they're here," the Paddy Power spokesperson added.
Read more: We owe Sinead O'Connor an apology - she spoke the truth about church child abuse
What do you make of their media stunt? A funny joke or in bad taste? Let us know in the comments section below or on social media.