Joseph Kennedy III, the 37-year old three-term Congressman, will deliver the Democratic Party reply to President Donald Trump's State of the Union address on Tuesday night January 30th.
The move makes the telegenic Kennedy the face of the Democratic Party, a clear effort to break through the older image projected by front runners like Senator Bernie Sanders and  former VP Joe Biden who will both be well into their seventies in 2020.
Read More: Rep Joseph Kennedy III reflects on his great-uncle's legacy and why he got into politics
Boston Globe reporter Victoria McGrane stated: "The job will put him on national television as the face of the Democratic Party and the voice of chief Trump critic at an extraordinary moment in the country's politics. For many Americans, it will be their first introduction to the latest Kennedy on the political scene."
If he performs well, Nestor Ramos, a Globe columnist told Kennedy, "half the country would immediately empty their wallets into your campaign account."
"Congressman Kennedy is a relentless fighter for working Americans," Democratic Leader Nancy Pelosi stated in a press release. "While President Trump has consistently broken his promises to the middle class, Congressman Kennedy profoundly understands the challenges facing hard-working men and women across the country."
Kennedy stated he was honored to be chosen for the role.
Read More: Joe Kennedy to Trump: "Stop pitting Americans against each other"
"From health care to economic justice to civil rights, the Democratic agenda stands in powerful contrast to President Trump's broken promises to American families," he said. "Our vision for this union is guided by a simple belief that equality and economic dignity should be afforded to every American."
Kennedy is a very popular figure in Congress who avoids playing off his famous last name. In 2014, he announced he did not want to be chairman of the Democratic Congressional Campaign Committee. The Affordable Care Act, immigration, and gay and lesbian rights are issues where Kennedy and Trump strongly disagree.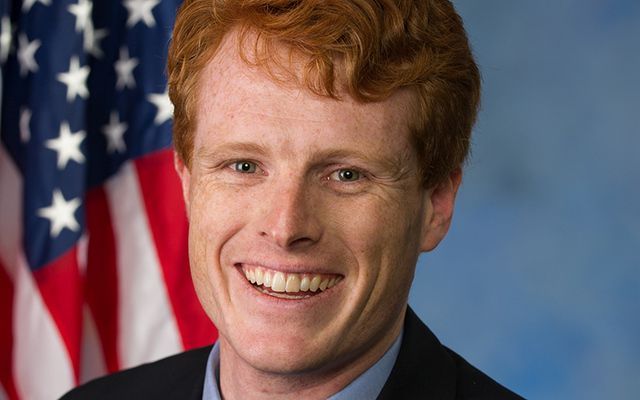 2
Both sons of very wealthy families, the contrast in their life stories could not be more different, one man choosing public service as his life while the other built a real estate empire.
Kennedy is passionate about his Irish heritage, telling Irish America Magazine in an upcoming interview that he spent 10 days in Ireland in 2014 retracing his roots.
He delivered a speech on the benefits of emigration, citing his own family's path on St. Patrick's Day last year.
IrishCentral was the first publication to urge him to run for president in 2020.
Read More: Why Congressman Joe Kennedy should run for president in 2020
Kennedy's major breakthrough moment came when he launched a late night attack on the efforts to dismantle Obama care. Kennedy stated that the GOP bills "is not an act of mercy. It's an act of malice." The video received more than 10 million views on Facebook.
"Wow," tweeted Howard Dean, the former chairman of the Democratic National Committee. "This is a Kennedy who could be president. A must-watch."