Theresa May resigns if Brexit deal is pushed through, claim reports coming from London. 
British Prime Minister Theresa May has reportedly announced that she will step aside as leader of the British government ahead of the second phase of Brexit negotiations if her deal is passed by parliament in the coming days. 
May has faced increased pressure to resign after two previous defeats of her Brexit deal but has remained defiant in her stance that she would see out the United Kingdom's departure from the European Union. The first defeat of the deal saw the biggest UK parliament defeat in living history. 
Read more: Is Ireland the most pro-US voice at the EU table? Brexit conference discusses US-Irish relations
"I am prepared to leave this job earlier than I intended in order to do what is right for our country and our party" - UK PM Theresa May confirms she will quit if her #Brexit deal is passedhttps://t.co/Y8RyOLP74J pic.twitter.com/3Qslw9A2I1

— BBC Breaking News (@BBCBreaking) March 27, 2019
According to a statement released by Downing Street on Wednesday evening, the Prime Minister told a meeting of her Conservative (Tory) Party lawmakers, "I know there is a desire for a new approach – and new leadership – in the second phase of the Brexit negotiations – and I won't stand in the way of that.
"I know some people are worried that if you vote for the Withdrawal Agreement, I will take that as a mandate to rush on into phase two without the debate we need to have. I won't – I hear what you are saying...
"I am prepared to leave this job earlier than I intended in order to do what is right for our country and our party.
"I ask everyone in this room to back the deal so we can complete our historic duty – to deliver on the decision of the British people and leave the European Union with a smooth and orderly exit."
Read more: Petition to abandon Brexit gets over 1 million signatures as EU agree to delay departure date
In a meeting of Conservative lawmakers, UK PM Theresa May said she would stand down if her EU divorce plan finally got through parliament https://t.co/7Gk3Cot4Ih pic.twitter.com/8fGY0YvpY2

— Reuters Top News (@Reuters) March 27, 2019
May's resignation would allow a successor to take over the second phase of Brexit negotiations. The Conservative leader herself only took on the leadership role after the Brexit vote in June 2016, winning the race to succeed David Cameron and become Britain's second female Prime Minister.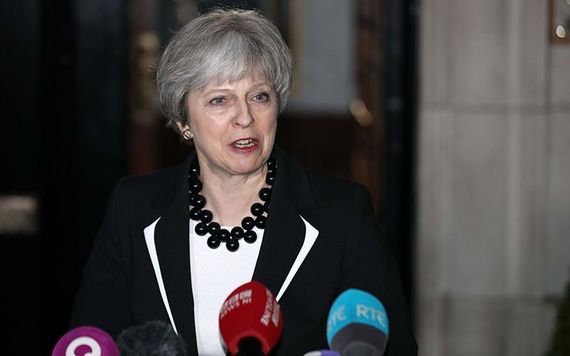 2
It is expected that she will bring her Brexit deal before the British parliament for the third time in the coming days. 
Her move to resign has already seen some within her party change their mind on voting in favor of her deal. 
"I do now accept that it is probably the best way forward and I will probably support it," pro-Brexit Tory MP John Whittingdale told Sky News. 
"We will have more confidence if [the future relationship negotiations are] led by somebody who's a strong supporter of Brexit."
Labour MP @jessphillips says the PM has more chance of getting her deal through now but she doesn't believe Theresa May has the numbers yet.

Follow the latest on Brexit and Theresa May's future here: https://t.co/oQnhogYYH0 pic.twitter.com/Voycs8GgoU

— Sky News Politics (@SkyNewsPolitics) March 27, 2019
 There is a strong possibility that May's successor will be pro-Brexit. May herself had not campaigned to leave Europe. Skeptics are already highlighting that any further phase two negotiations will also need the support of the Labour Party, support that a Brexiteer would find difficult to rally.