US Vice President Mike Pence's Irish trip is confirmed for September 6-7
UPDATE: On August 15, US Vice President Mike Pence confirmed in a tweet that he will indeed be visiting Ireland on September 6 and 7:
Finally, on September 6-7 we will travel to Ireland, a country that is very near to my family's heart, where we look forward to meeting with President @MichaelDHiggins, Taoiseach @LeoVaradkar, and Tánaiste @simoncoveney while celebrating my Irish roots!

— Vice President Mike Pence (@VP) August 15, 2019
Pence said he will be meeting with Irish President Michael D. Higgins, Taoiseach Leo Varadkar, and Tanaiste Simon Coveney.
***
Just three months on from US President Donald Trump's June visit to his golf course in Doonbeg, Co Clare, the small town may be welcoming his second-in-command as Vice President Mike Pence visits the land of his ancestors. 
Read More: Preparations reportedly underway for US Vice President Mike Pence's visit to Ireland
It is reported that VP Pence is to arrive in Dublin on Friday, September 6, following visits to Iceland and Britain. He is expected to meet with the Irish Taoiseach (Prime Minister) Leo Varadkar and a visit to Irish President Michael D. Higgins is also under consideration while the VP is in the Irish capital. 
The former governor of Indiana is then potentially flying to Shannon airport in Co Clare later that day, although plans are not yet final. Co Clare is expected to be the Vice President's base as his mother's side hail from Doonbeg, the town in which President Trump owns a golf course. It is not known if Pence will stay in the President's property while there. 
Aside from cousins in Doonbeg, Co Clare, Vice President Pence has Irish roots in Co Sligo. In 1923, his grandfather emigrated to the US through Ellis Island from his home in Tubbercurry, Co Sligo.
Pence first visited Ireland in the 1980s and has visited several times since, often bringing along other family members.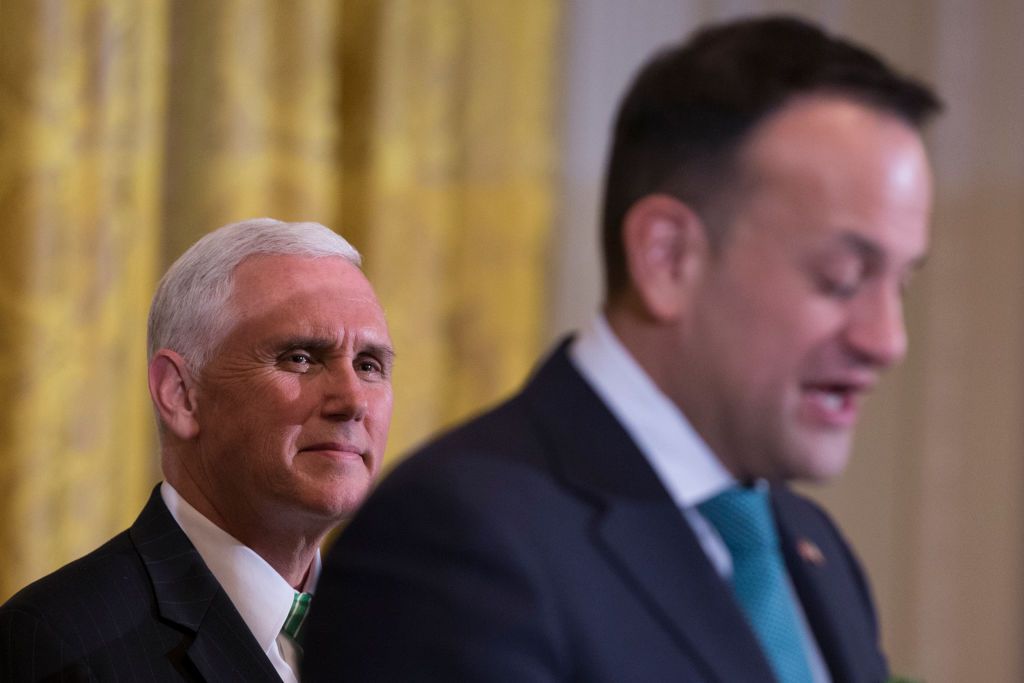 2
In March, the Vice President's Irish roots were discussed when Taoiseach Leo Varadkar was hosted by Pence at his Washington, DC residence for a breakfast during the Irish premier's St. Patrick's Day visit.
During that meeting, Vice President Pence said: "Thank you also for the invitation to make an official visit to Ireland.
"You did say the one condition was that I had to bring my mother.
"And I am happy to report to Taoiseach Varadkar that I have spoken to mom – a first-generation Irish-American – and she has now confirmed that she would travel with me to Ireland and we are making plans to return to my grandfather's homestead."
Read More: Mike Pence to visit ancestral home of Ireland on official September visit
Pence also spoke of his roots at the annual St Patrick's Day dinner of the Ireland Funds, which honored him shortly after his appointment as vice president in 2016. 
"All that I am, all that I will ever be and all the service that I will ever give is owed to my Irish heritage," he said.
What do you make of VP Mike Pence's visit to Ireland? Let us know in the comments section, below.