Tánaiste (Deputy Leader) Micheál Martin has stated that the Irish Government will not allow the United States to transport cluster munitions to Ukraine via Shannon Airport. 
Tánaiste Micheál Martin, who is also Ireland's Minister for Defense and Foreign Affairs, said Ireland has been publicly opposed to the use of cluster munitions since 2008, adding that the US is well aware of Ireland's policy. 
He added that Ireland did "fantastic work" in creating the UN Convention on Cluster Munitions in 2008, working with Peru on the issue. 
He described it as an "outstanding achievement by Ireland" to have more than 120 countries sign up for the convention. 
"We've worked with Gordon Brown and the UK government to stop the use of cluster munitions because there are munitions that are left on the battlefield long after the battle is over and civilians, children, farmers growing crops can all end up being injured by them and have limbs amputated," Martin told reporters last week. 
"So, we're opposed to the use of cluster munitions on the battlefield, that is Ireland's position, that hasn't changed, and that will remain our position." 
Irish neutrality campaigners have expressed concern that the US may seek to use Shannon Airport to transport cluster munitions to Ukraine after Joe Biden pledged to send the explosive weapon to Ukraine to aid their fight against Russia. 
However, Martin said the possibility that cluster munitions might be transported to Ukraine through Shannon Airport "doesn't arise". 
He added that any flight carrying cluster munitions would have to seek permission to travel through Ireland. 
"What invariably happens in situations like this is that every country applies if they are flying through Ireland's airspace for permission so that's all regulated – we are opposed to them so we clearly will not be facilitating their transport through Shannon," Martin told reporters. 
Taoiseach Leo Varadkar had previously re-iterated Ireland's opposition to cluster munitions and said he would relay that opposition to the US. 
Green Party leader Eamon Ryan also stated that the Irish Government was willing to activate the necessary mechanisms to prevent the US from using Shannon to transport cluster munitions to Ukraine.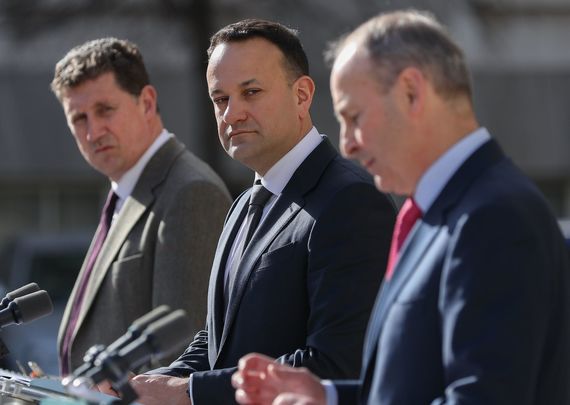 2
US President Joe Biden has faced international criticism for his decision to send cluster munitions to Ukraine, with critics noting that the surface-to-surface missiles have the potential to explode after battle and kill or injure innocent people. Cluster munitions drop small bombs over a wide target area but have a high failure rate and pose risks to the general population. 
Biden has defended the "very difficult decision" to send cluster munitions, adding that Ukraine needs the controversial weapon to defend itself from Russian aggression. 
"It took me a while to be convinced to do it. But the main thing is, they either have the weapons to stop the Russians now," Biden told CNN. 
Secretary of State Anthony Blinken also defended the use of cluster munitions, stating that Ukraine would be "defenseless" if they didn't have them.