Democratic Rep. Joe Kennedy III is reportedly eyeing Sen. Ed Markey's seat for 2020.
According to a senior Democratic official, the 38-year-old Massachusetts congressman is considering challenging Markey instead of running for re-election next year, The New York Times reports.
Speculation that Kennedy, the grandson of Robert F. Kennedy, was eyeing the Senate seat began with a mysterious telephone poll conducted in July that pitted Kennedy against Markey. Soon afterwards, a grass-roots group called "Jump in, Joe" was formed with the goal to draft the congressman into the 2020 race.
Read More: The time has come to impeach President Trump says Joe Kennedy
"We think Congressman Kennedy should run for the United States Senate not simply to oppose any person or because his last name is Kennedy," the group states on its website. "The congressman should run because our country is vulnerable, and he has demonstrated that he has the energy, courage, and progressive ideas to fight for the Commonwealth and put our nation on a more just course."
Politico reports that the group, which was created by members of Kennedy's Boston Pride Parade Committee, launched a website, a Facebook group and a petition last week. The Facebook group had nearly 600 members in less than a week after it formed.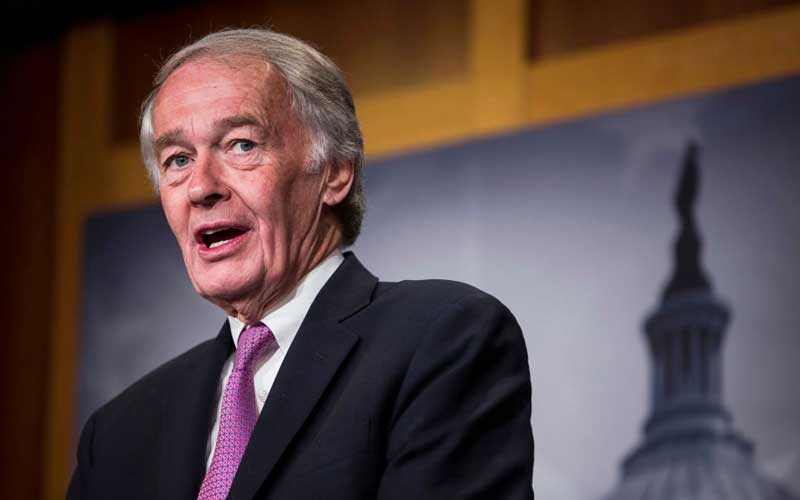 2
"This is not about the incumbent. It's not about Sen. Markey. We admire his public service over the past 43 years," said Jamie Hoag, one of the founders of the group. "This is about Joe Kennedy and why we think he would be the best fit for the U.S. Senate."
Kennedy's campaign has said the congressman intends to run for re-election next year.
Kennedy spokesperson Emily Kaufman told Politico: "Congressman Kennedy is humbled by the support of so many folks in Massachusetts. As he has said, he is running for reelection in the 4th District."
When asked whether they conducted the mysterious July poll, Kennedy's campaign declined to comment and would not say whether the congressman has seen the poll's results.
"We review all kinds of poll numbers, like any campaign. But that's not something we discuss publicly," said Kaufman.
However, on Friday, a Democratic official confirmed that the survey was paid for by Kennedy's campaign.
As for Markey, the senator is already in campaign mode although the September statewide primary is more than a year away.
Paul Tencher, a senior adviser to Markey's campaign, told The New York Times: "Ed is not going anywhere. He's going to run, and he's going to run no matter who is in this race."
Read More: Pressure mounts on Joe Kennedy III to run for president
According to Politico, Kennedy's name recognition, goodwill in the party, and formidable fundraising network, as well as the Kennedy nostalgia still present in the state, would make the congressman's entry into the race a game changer.
Said Mary Anne Marsh, a political strategist at Dewey Square Group in Boston: "If Joe Kennedy got into the Senate race, he would immediately become the front-runner. It would be the toughest race Ed Markey has ever faced."