The Irish people will have their say on abortion rights as a referendum on the 8th Amendment of Constitution is set for May 2018.
A referendum on Ireland's constitutional restriction on abortion, the 8th Amendment, will take place before the end of May 2018, Ireland's Taoiseach (Prime Minister) Leo Varadkar has announced.
The 8th Amendment of Ireland's Constitution enshrines equal rights for the mother and the unborn. Repealing this amendment or replacing it would enable the Dáil (Ireland's Parliament) to legislate on the issue.
On Monday evening Varadkar, a qualified doctor, said if the Irish people vote to repeal the 8th Amendment the government could then draft legislation that would allow for unrestricted abortion, up to 12 weeks into pregnancy.
A public opinion poll released by the Irish Times/MRBI last week showed that 59% of those polled were in favor of a change to the constitution which would introduce abortion in Ireland during the first 12 weeks of pregnancy. While 15% were undecided or gave no response, just 29% would vote against.
Health Minister Simon Harris pointed out that the upcoming abortion rights referendum was the first time the Irish people will have voiced their opinions on the issue of abortion since 1983. There were unsuccessful referendums in 1992 and in 2002 which would have overturned this decision and removed the risk of suicide as a ground for an abortion, with regard to the famous "X Case", when a 13-year-old girl was denied abortion following a rape.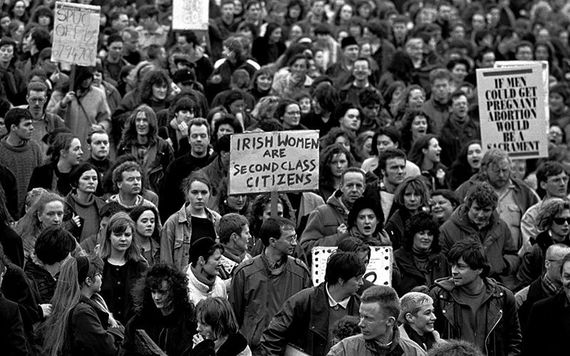 4
As of 2018, it is estimated that 11 women travel to the United Kingdom from Ireland for abortions each week while every year 2,000 Irish women order abortion pills online.
Harris said, "The constitution is not the place for us to address this aspect of women's healthcare."
Speaking on RTÉ's "Morning Ireland," Minister Harris said, "Abortion is a reality for Irish women.
"I cannot close my eyes and block my ears to the fact that 3,265 of our citizens traveled to the UK in 2016 from every county in Ireland.
"I cannot stand over a situation where the abortion pill is illegally accessed in this country and women, perhaps in the privacy of their own bedroom, in a lonely isolated place, [are] taking a pill without any medical supervision."
4
Following a four-hour cabinet meeting on Monday, Varadkar said, "I know this will be a difficult decision for the Irish people to make.
"I know it is a very personal and private issue and for most of us it is not a black and white issue, it is one that is grey – the balance between the rights of a pregnant woman and the fetus or unborn."
The Irish leader said Minister Harris would draft legislation proposing laws allowing for unrestricted abortions up to 12 weeks that would be published prior to the referendum. These proposed law changes would then be brought to the floor of the Dáil for a vote.
Min for Health @SimonHarrisTD outlines timeline for legislative proposals to accompany #8thAmendment referendum pic.twitter.com/l4GgvS22SH


— Morning Ireland (@morningireland) January 30, 2018

Varadkar said the draft laws would only permit abortion after 12 weeks in "exceptional circumstances," such as a serious risk to the life or health of the woman or in the event of a fatal fetal abnormality.
He added that if the 8th Amendment was repealed abortion would "no longer be an article in the constitution, rather a personal, private matter for women and their doctors."
Ministers have agreed to establish a referendum commission.
Minister for Children Katherine Zappone said, "The way has been cleared for the people to have their say.
"It is my firm hope we will have a respectful debate based on the facts."
She added that it was her hope that very soon abortion in Ireland would be "free, safe and rare."
Varadkar said he had thought "long and hard" before his decision to support abortion without restriction in the first 12 weeks of pregnancy.
He said, "Above all I have listened to women… The question has to be a yes or no one – do we reform our abortion laws or do we leave them as they are?
"For my part I will advocate a yes vote."
He continued, "The saddest and loneliest journey is made by Irish women who travel to foreign countries to end their pregnancies. That doesn't have to happen."
Minister for Health said, "Just because an issue is complex or sensitive it does not mean it can be ignored…
"This issue is not going away. It is time for the people of Ireland to have their say on that."
Minister Zappone said it's hoped that the campaigns in advance of the referendum will be respectful on both sides.
Read more: Euthanasia for elderly and disabled next says bishop, if Ireland passes abortion vote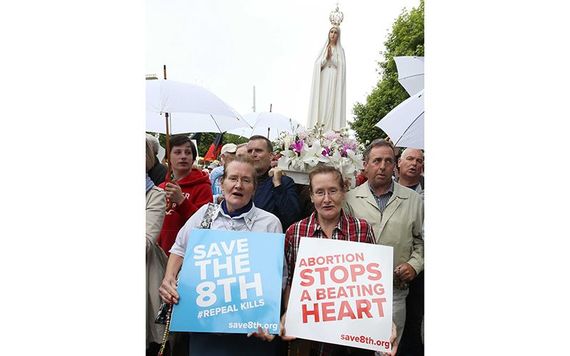 4
Ailbhe Smyth, Convenor of the Coalition to Repeal the 8th Amendment, told BreakingNews.ie, she believes voters today had a better understanding of the issue of abortion than in the past.
"My own experience over 35 years is that it has got easier with each referendum," she said.
"It is very divisive, but I do think that there is a spirit in Ireland now which says: 'There is a problem here, we really want to find a solution, we do need to address it.'"
How do you think the referendum in Ireland will go in May? Will unrestricted abortion in the first 12 weeks of pregnancy soon be a reality for Irish women? Let us know your views below.
Here's a BBC report on the latest news: