Bill Clinton's plan to appoint a peace envoy to Northern Ireland in 1992 deeply "concerned" the British, newly declassified government papers released on Friday have revealed.
A US presidential candidate at the time, Clinton had been urged by high-profile Irish Americans to appoint the peace envoy.
Clinton wrote in his 2004 autobiography, My Life, that in 1992 he had a meeting late one night with "about a hundred Irish activists" including veteran New York politician Paul O'Dwyer, Irish Voice editor Niall O'Dowd, and Republican Congressman Peter King.
Read More: Bill Clinton regards Good Friday agreement as his greatest foreign policy achievement says aide
"They wanted me to promise to appoint a special representative to push for an end to the violence in Northern Ireland on terms that were fair to the Catholic minority. I had also encouraged to do this by Boston mayor, Ray Flynn . . . I said I would do it and . . . push for an end to discrimination against Northern Ireland's Catholics . . . Though I knew it would infuriate the British and strain our most important transatlantic alliance, I had become convinced that the US . . . might be able to facilitate a breakthrough."
The declassified papers reveal the efforts of British diplomats and Northern Ireland secretary Sir Patrick Mayhew to persuade leading Irish American politicians and a top Clinton advisor to drop the idea, The Irish Times reports.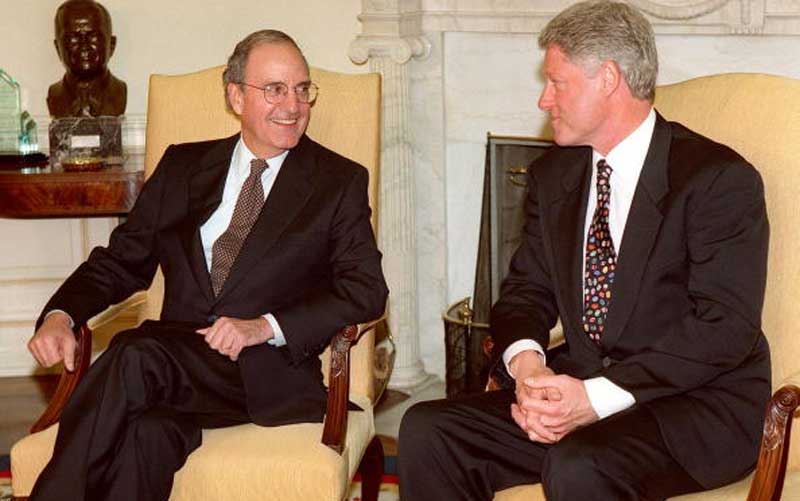 3
In December 1992, following Clinton's presidential win, Robin Renwick, British ambassador to Washington, in a telegram to the British Embassy in Washington, told Sir Patrick Mayhew that Clinton has sent a letter to Congressman Bruce Morrison, the organizer of Irish-Americans for Clinton, about the idea of a special representative to Northern Ireland. In Renwick's telegram, the ambassador said he raised the matter of the letter with Clinton's foreign policy advisor, Sandy Berger.
Renwick told Mayhew: "I told Berger that Governor Clinton's letter to Congressman Morrison had caused a lot of concern and produced a very adverse press reaction in Britain."
In a telegram sent later that December to Mayhew and Sir John Chilcot, head of the NIO, Renwick reported a conversation with House Speaker Tom Foley, who he said had "talked to Governor Clinton at some length about Northern Ireland" and that considering the points he had made, "he believed that he (Clinton) would now adopt a more cautious approach" to the Irish Question.
In May 1993, Renwick informed Mayhew, ahead of a visit to the US , that President Clinton "wisely backed off his campaign promises . . . The National Security Council [NSC]tells us that the Peace Envoy proposal is firmly on the back burner. As long as there is a prospect of the [Northern Ireland] talks resuming, there is unlikely to be pressure to revive the idea."
Renwick went on to advise caution on the part of the British government: "It is important that we do not make it hard for Clinton to back off by publicly pronouncing the proposal dead . . ."
He noted that Gerry Adam's application for a visa to visit the US had been denied, stating that "the Secretary of State will wish to welcome that decision."
He added: "Clinton's support for the MacBride Principles is irritating . . . So far we have continued to get good co-operation from the administration on extradition [of IRA suspects] and on gun-running, notably in the case of the 'Tucson Five.'"
Renwick said: "Congress is dominated by moderate Irish-Americans . . ." adding that Speaker Foley, along with Sen. Edward Kennedy and the Friends of Ireland had been "crucial in steering Irish-American opinion in a more moderate direction."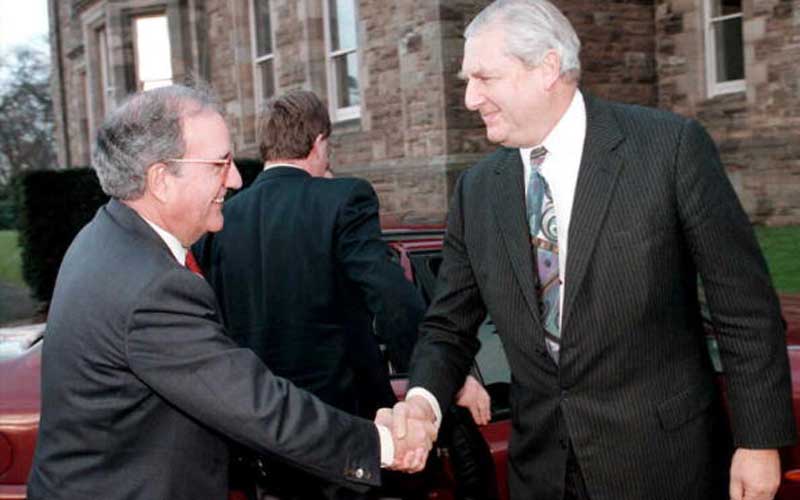 3
He noted: "The Irish-American community is more moderate over Northern Ireland than it was ten years ago. That is largely thanks to the Anglo-Irish Agreement."
Regarding Mayhew's upcoming tour to the US, Renwick said the Secretary of State should emphasize "that the UK has no selfish interest in Northern Ireland and is prepared to accept any solution acceptable to both communities."
According to a report from the British embassy in Washington to the foreign secretary, Douglas Hurd, Mayhew was informed by Boston mayor Ray Flynn, a key supporter of Clinton, during a visit to Boston in May 1993, that "President Clinton was still considering the question of a peace envoy."
Flynn told him that if President Clinton went back on his word he would suffer "serious political consequences."
Read More: Bill Clinton awarded Freedom of Belfast at Good Friday Agreement 20th anniversary
"What about a US 'observer' at the [Northern Ireland] talks?," the mayor asked Mayhew.
According to the report, Mayhew had "explained the difficulty of the suggestion" but said he "understood the political pressures facing the president."
In January 1994, Clinton granted Sinn Féin leader Gerry Adams a visit to the US. In December the president appointed former Senator George Mitchell as an economic envoy to Northern Ireland. Mitchell would go on to chair the talks that led to the Good Friday Agreement.