Clodagh Hawe's relatives want to see succession laws reformed
The family of the late Clodagh Hawe is faced with steep bills as current Irish legislation prevents them from inheritance entitlement.
Read More: Alan Hawe confession letter reveals he "enjoyed" killing his wife and three sons
The Independent reports that Clodagh's mother Mary Coll and sister Jacqueline Connolly want to see "laws on succession changed so that the relatives of people who wipe out their families do not benefit financially from their crime."
In August 2016, Alan Hawe murdered his wife Clodagh and their three sons Liam, Niall, and Ryan before killing himself in their Co Cavan home.
It is understood that shortly before the horrific crimes, Alan Hawe transferred money from a joint bank account he shared with Clodagh to his own personal account. It is thought he did this to ensure his family alone could receive the inheritance.
Jacqueline told The Sunday Independent: "At the inquest, we learned that Alan Hawe transferred funds and arranged his affairs so his family would be the sole financial beneficiaries of his estate."
Clodagh Hawe's bereaved family learned that under the Succession Act 1965, "the Hawe family alone are entitled to all the proceeds of the estate."
As such, Clodagh's family are now faced with more than €50k ($56k) in funeral and legal costs.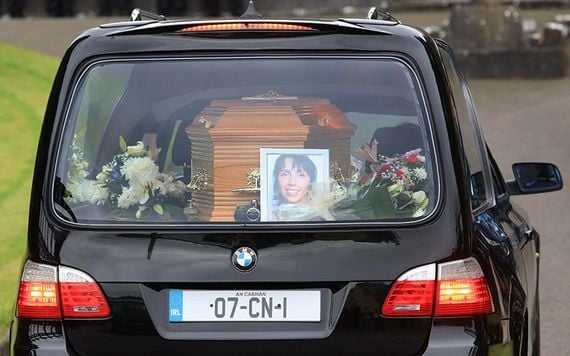 2
Read More: Horror of murder-suicide of wife and three children revealed in family's first interview
Clodagh's relatives are now insisting the law be changed: "It must be reformed as soon as possible so that murderers, or their family if they end their own life, do not financially benefit from their crime."
"Last week I also spoke with Jim O'Callaghan, Fianna Fail's justice spokesperson, who said it must be a priority to change this law."
Jacqueline and her mother Mary have also met with Minister for Justice Charlie Flanagan regarding the matter.
"Let's get this law changed immediately," Jacqueline said. "Please, please stop financially rewarding the perpetrators of femicide and familicide."
Read More: School porn guilt behind Irish teacher's murder-suicide rampage
"Please do not add insult to our injury, loss, and grieving, thinking we want money."
"But trying to get answers to our questions, plus the expenses for the funerals and legal costs we had for the inquest, have all added up to more than €50,000 ($56,000) - bills my mother, retired, and I, a widow, are struggling to pay."