Hawe murdered his family in their Co Cavan home before killing himself in 2016
The confession letter of murderer Alan Hawe reveals that the husband and father "enjoyed" killing his family.
Read More: Horror of murder-suicide of wife and three children revealed in family's first interview
Excerpts from Hawe's chilling letter have been shared by the Irish Daily Mirror nearly three years after the horrific murder-suicide at the family's home in Ballyjamesduff, Co Cavan.
In the early hours of August 29, 2016, Hawe, a vice principal at his children's elementary school, killed his wife and three sons before hanging himself. The horrific crime came a day before the first day of the new school year.
Hawe had reportedly been caught masturbating while at the school during the previous term and may have been fearful of the consequences he was due to face.
Read More: School porn guilt behind Irish teacher's murder-suicide rampage
BelfastLive reports Hawe wrote: "I certainly wasn't abusing anyone. I just don't know what I was." Hawe was also found to be a cross-dresser who enjoyed wearing his wife's underwear.
"I wish I'd never darkened [Clodagh's] life but there was always something wrong with me."
"Clodagh and I were never going to come back from this and I was leaving some mess for her to clean up. No one deserves that crap."
It is understood that Hawe penned two letters: the first after killing his wife Clodagh (39), and a second note after killing his three sons Liam (13), Niall (11), and Ryan (6).
3
Read More: Irish man who killed wife and three sons left two notes at scene of murder-suicide
Hawe reportedly wrote that he killed his three sons because he "couldn't leave the boys orphans."
"I'm sorry for how I murdered them all but I had no other way. I had to do this. I can't leave the boys orphans. I couldn't just up and leave them . . . Please believe me that on this day Clodagh and the boys were happy."
"I have wanted to kill myself for a long time now and I could not bear the thought of leaving my mess and the anger and rejection Clodagh and the boys would have to live with forever."
The letter also chillingly reveals that Hawe enjoyed murdering his family: "All the good stuff we did I was really into it."
"But I think there was some sort of psychosis that made me enjoy that yet in the next moment I was the complete opposite."
"I'm sorry for how I murdered them all but I simply had no other way."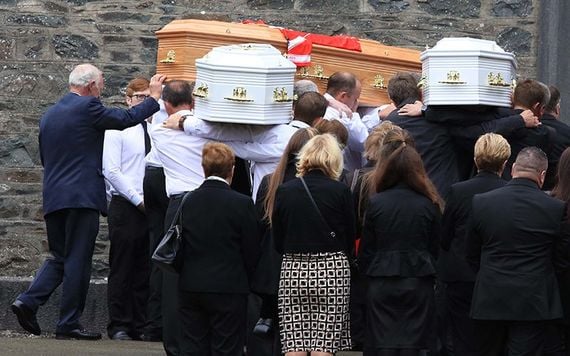 3
Read More: Suicide: how to tackle the killer in our midst
He wrote: "I'm sure I've gotten lots of what I wanted to say properly, some badly. I know to many I was so nice to them but they never knew the real me."
"God bless you all. Be good to your families. I just don't know what it was that I was so normal yet so dark and no one could see it."
If you or someone you know is suicidal, please reach out to Pieta House in Ireland or Solace House in New York City for their free counseling services.