The two American congresswomen barred from Israel at President Donald Trump's request are not the first foreign politicians to be denied entry to Israel
The country of Israel blacklisted Michael Mac Donncha, then Dublin's mayor, last year over the politician's support for sanctions against Israel according to the Jerusalem Post.
Mac Donncha, a Sinn Fein politician, is part of the Ireland Palestine Solidarity Campaign, which circulates a guide of products made in Israel that it urges supporters to avoid.
Jerusalem Post reported that ahead of Mac Donncha's planned visit in April 2018, Israeli leaders ordered immigration officials to stop him if he tried to travel to Ramallah for a Palestinian solidarity conference.
It emerged that officials had mistakenly put "Ardmhéara" which means Lord Mayor as his first name on their watch list — the Irish language version of his title.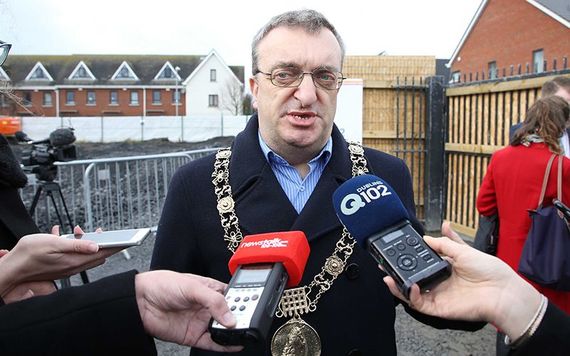 2
Aryeh Deri, the Israeli interior minister, wrote on his Twitter account that Mac Donncha would be stopped and sent home when his plane landed.
"The mayor of Dublin wants to enter Israel so that he can incite against us," he said. "He will not enter."
But the mistake with the Irish language spelling of his name allowed him to enter. Mac Donncha confirmed via Twitter that he had made it to Ramallah — a development that incensed President Netanyahu at the time.
As Mac Donncha departed, "Israeli officials made him sign a document saying he would seek permission before attempting to enter the country again," Haaretz newspaper reported.
In December, Mac Donncha was a principal speaker at a demonstration organized by the Ireland-Palestine Solidarity Campaign in front of the US Embassy in Dublin following President Donald Trump's recognition of Jerusalem as Israel's capital.
This is deeply disturbing. I hope @simoncoveney takes immediate action. Disgraceful to refuse entry to the @LordMayorDublin https://t.co/EgodkMkOdK | CC: @SeanCroweTD @SenatorMarkDaly @SenDavidNorris @frances_black @EamonGilmore @BernardDurkanTD

— Gary Spedding (@GarySpedding) April 10, 2018