The Abortion Rights Campaign, a pro-choice organization in Ireland, has returned a grant it received from billionaire George Soros's Open Society Foundation following a warning from the Republic's Standards in Public Office (SIPO).
"The grant was received to fund educational and stigma-busting projects," it said.
"We do not agree with SIPO's advice, but in good faith we returned the grant in order to comply with all regulatory frameworks."
The Irish Catholic newspaper reported that the group returned the $25,000 (€23,460) after the political ethics watchdog warned that the donation violated Irish law prohibiting the donation of over €100 from foreign sources for domestic political purposes.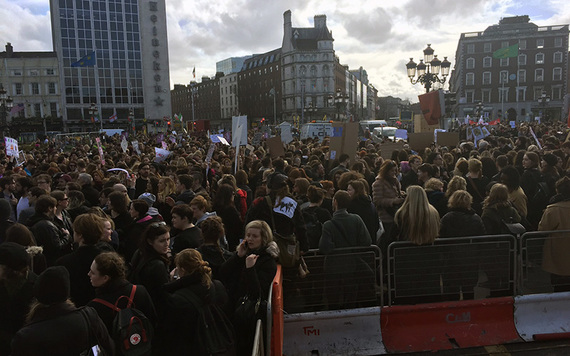 2
Read more: Abortion protests issue still too hot to handle for RTÉ, Ireland's national broadcaster
"Many organizations in Ireland apply for and receive international grants. The majority of the Abortion Rights Campaign's funding comes from voluntary donations from members and supporters. The organization, which has no paid staff and is run by dedicated volunteers, operates on a small budget," said ARC spokeswoman Linda Kavanagh.
"Our focus remains on advocating for reproductive rights while striving to lift the stigma surrounding abortion in Ireland. Every cent we receive goes back into the movement towards choice, change and destigmatizing abortion in Ireland."
Irish repealthe8th #abortion lobby almost entirely funded from US   https://t.co/zua7Zc6fxg pic.twitter.com/IqUrmdtPni

— Repealthe8thFunding (@repeal8thfunds) April 2, 2017
A spokesperson for SIPO said it could not comment on individual cases. "The Electoral Acts provide that any individual or group, other than a registered political party or election candidate, who or which accepts, in a particular calendar year, a donation for political purposes exceeding the value of €100 must, on receipt of the donation, register with the Standards Commission," a statement from SIPO said. "A donation means any contribution given for political purposes."
"A third party is prohibited under the Electoral Acts from accepting a foreign donation," it added. SIPO said it defines a foreign donation as "a donation, of whatever value, from an individual other than an Irish citizen who resides outside the island of Ireland or from a body corporate or unincorporated body of persons which does not keep an office in the island of Ireland from which one or more of its principal activities is directed."
Read more: Suicide prevention group launches 2017 NYC Darkness into Light