Father John Jenkins, President Of Notre Dame, has issued a strong condemnation of clerical abuse and outlined how Notre Dame is dealing with the issue.
Jenkins stated, "The University of Notre Dame is proud of its Catholic mission, and the ways in which that mission enhances its education and scholarly efforts and enriches our University community. Yet the recent Pennsylvania grand jury report about six Catholic dioceses, as well as other reports in the news, have been a cause not of pride, but of sadness, anger and shame.
"We are unspeakably sad at the damage done to the lives of so many victims and angry at those who betrayed a sacred trust. We are ashamed that institutions dedicated to drawing people to holiness, educating the young and defending the dignity of all should be places where some of its ministers corrupted people, exploited the young and so violated their dignity. I share the anguish of many.
"The gravest offenses are those against minors, those under 18 years old. Abuse may occur in other contexts, but the violation of innocent children by Catholic clergy is most heinous, for these men were given a sacred trust of being ministers of God's care and love to young people. In abusing those in their care, they not only cause serious psychological damage but can steal the sense of the sacred from the child.
Read more: Pope meets with US Bishops after German sex scandal report
"We will not single-handedly solve problems, but we can contribute to understanding, healing and constructive change."

Fr. Jenkins writes to share Notre Dame's thoughts and plans in response to the Church crisis: https://t.co/hgrpQeGmqq


— Notre Dame (@NotreDame) October 2, 2018

"More relevant to us at Notre Dame are situations in which those with authority — whether priests, teachers, rectors or others — can use asymmetrical power relationships to exploit and abuse students who are not minors. We have had incidents at Notre Dame that involved this kind of abuse. In 2002, the University publicly invited anyone who had experienced abuse to come forward and receive support. Some did, and the University publicly apologized. I now renew that invitation to anyone who was abused to come forward and let us know.
"As I said in my Address to the Faculty and in the Staff Town Halls in the fall, it is important for those who are exploited or harassed to make a report so that we can investigate professionally and respond appropriately. I pledge that we will do all we can to respond to such reports.
"To help channel our efforts, I have established two task forces. The first will be a Campus Engagement Task Force, whose charge will be to facilitate dialogue and to listen to the observations, thoughts and recommendations of our campus community.
Read more: U2's Bono says Pope Francis "aghast" over Irish clerical abuse
Notre Dame president Rev. John Jenkins announced today the creation of a pair of new task forces in the wake of the Pennsylvania grand jury report on priest sex abuse https://t.co/cnW9uZYBfv


— Caleb Bauer (@calebbauerSBT) October 2, 2018

"I have established a Research and Scholarship Task Force to consider the ways in which Notre Dame scholarly and research expertise might serve the Church at this time. This Research and Scholarship Task Force will assess the current situation, survey initiatives currently underway at Notre Dame and elsewhere, and recommend any further steps we might take to address the current crisis.
"The Church has of course always been a mixture of sin and sanctity, of hypocrisy and heroic witness. Such a mixture is apparent to anyone who studies the history of the Church and to those who have lived in it. The lives of the saints inspire us, but the actions of sinners can be a stumbling block.
"Faced with the current crisis, we can be tempted to think that sin and hypocrisy is all there is. To the extent we think that; we may ask why we stay in such a flawed Church.
Read more: Catholic Church in Ireland hits historic low of men becoming priests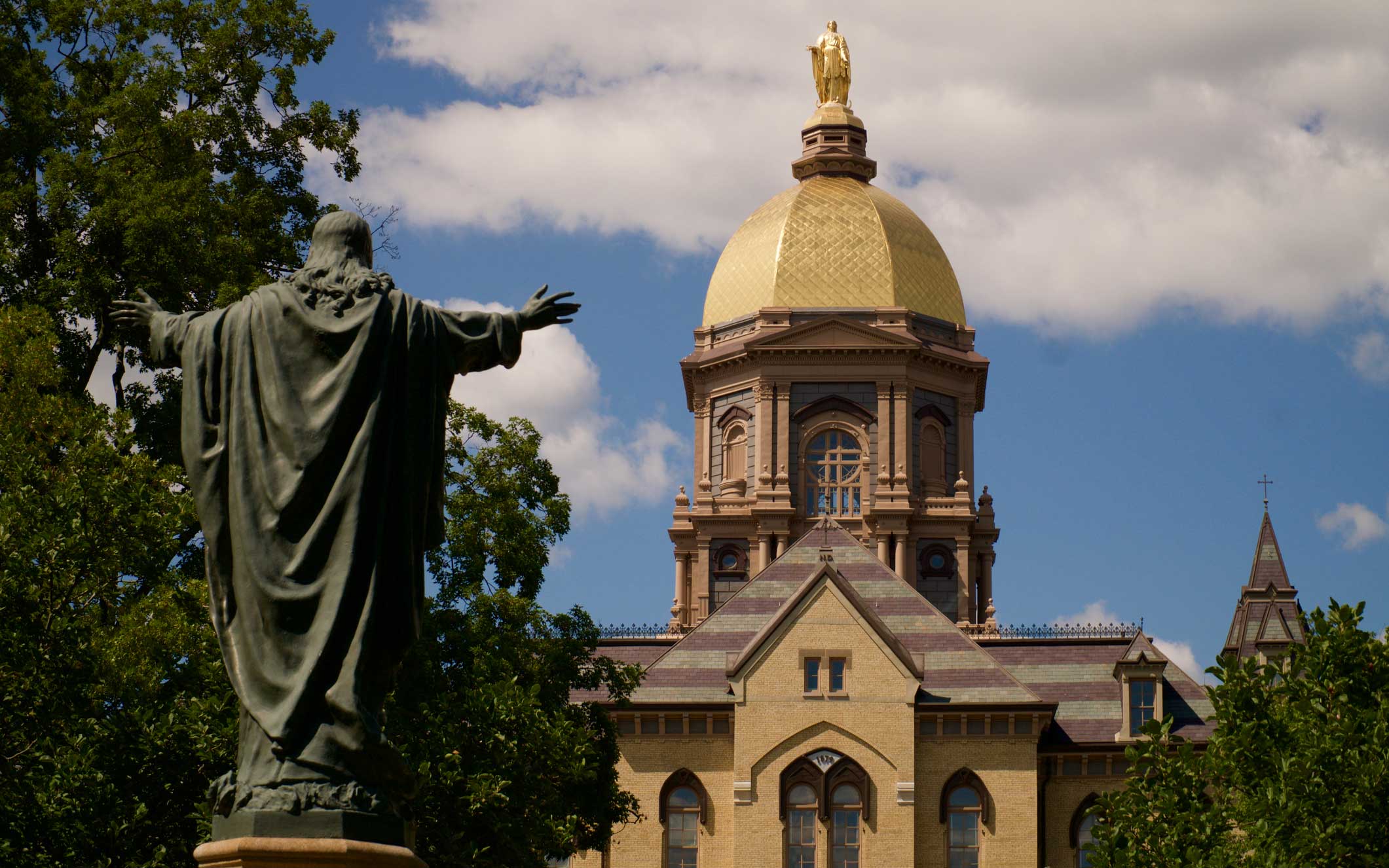 2
"We who share a faith in Jesus Christ recognize, though, that the virtue of saints is not in itself a sufficient reason for staying in the Church, and the vice of sinners is not a sufficient reason for leaving it. The true treasure is the mystery of salvation offered by Jesus Christ, and the Church is the sign and instrument of that saving mystery. Through it, Christ is proclaimed, and through its sacraments, we are strengthened in our journey to holiness.
Father Jenkins added: "'We have this treasure,' writes St. Paul, 'in earthen vessels' — we have it in a human, sinful Church. 'The cross is our only hope,' says the motto of Holy Cross. The current crisis is a cross, but if we carry it faithfully, it will become our hope. Let us pray for the grace to do so."
What do you think of Father Jenkins' comments? Let us know in the comments section, below.