The statute features JFK holding his great-grandfather's bible, which he used at his inauguration
A new statue of President John F. Kennedy has been unveiled in Bruff, Co Limerick, his great-grandfather Thomas Fitzgerald's hometown.
Read More: JFK's words remind us of the true meaning of St. Patrick's Day
In 1852, Thomas Fitzgerald emigrated from Bruff to Boston in the US, laying the seeds for what would become one of America's greatest political dynasties.
The new statue that was unveiled in Bruff features President Kennedy holding the Bible that his great-grandfather brought with him to the US. Sculptor Seamus Connolly told the Limerick Leader: "When the great grandfather left Bruff in the late 1800s, he had his bible with him.
"That was the same bible JFK then used to swear his pledge of allegiance. It was a Catholic bible, and he was the first Catholic president. The community wanted a nod to that on the statue."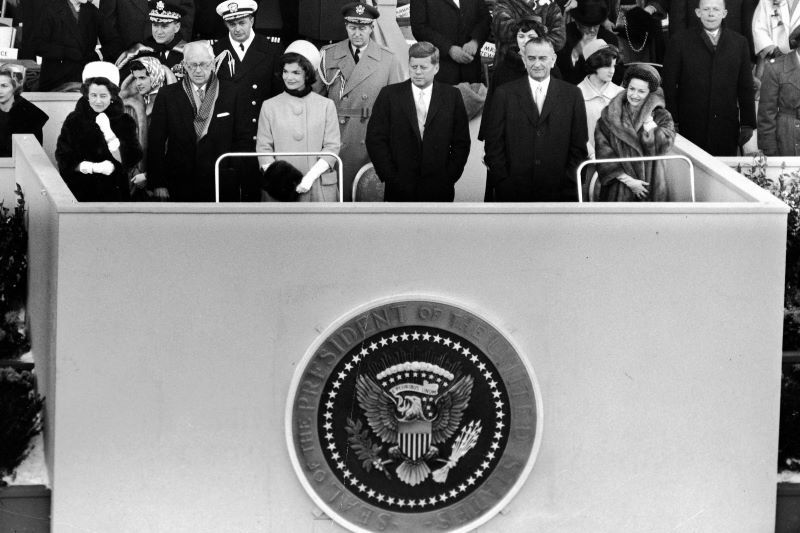 2
Read More: WATCH: Remembering JFK's first State of the Union address
On Monday, May 1, the new bronze statue of the former President was unveiled outside of the Thomas Fitzgerald Centre which was visited by JFK's daughter Caroline and her family in 2013.
According to Newstalk, the Bruff Community Council, Bruff Tidy Towns and Bruff Heritage Group secured funding from the European Union through the Department of Rural and Community Development to erect the statue.
A journalist for the Limerick Leader Nick Rabbitt shared a video of the official unveiling on Twitter:
 #WATCH: The big reveal: moment @MaireadMcGMEP unveils the JFK statue in Bruff. pic.twitter.com/427XdEXqvU

— Nick Rabbitts (@Nick468official) May 1, 2019
TD for Limerick County Patrick O'Donovan also shared pictures of the unveiling on Twitter:
Congrats to everyone in #Bruff on the unveiling by @MaireadMcGMEP of the John F Kennedy statue by Seamus Connolly in the town today commemorating the Fitzgerald's heritage in the area. pic.twitter.com/BUt44QX8gb

— Patrick O'Donovan (@podonovan) May 1, 2019
Read More: Remembering JFK's legacy on the 55th anniversary of his assassination
On hand at the unveiling ceremony on May 1 was MEP Mairead McGuinness, First Vice-President of the European Parliament, who said: "Our heritage is central to who we are as a people. And the Fitzgerald Kennedy story is a very proud one.
"The Fitzgerald-Kennedy story is an inspiring one, a story of triumph of hard work and ambition, one of that gives hope to many and indeed has much resonance for immigrants today."
She also praised the committee behind the new statue: "Your work ensures that the rich history of the Fitzgerald-Kennedys continues as a living heritage.
"I'm delighted and honored to unveil this statue which is an important aspect of this heritage."