A soldier with the Irish Guards in the British Army, who was thrown out for racist behavior, is really from Clondalkin in Dublin.
A shamed British Army soldier, relieved of his position after his racism was exposed is, in fact, from Dublin, The Sun has revealed.
Guardsman Graham Bolger, who served with the Irish Guards (soldiers in this unit do not necessarily have to be Irish), was thrown out of the army after the English newspaper revealed images and messages of him giving the Nazi salute, praising Hitler, and claiming that he would kill all Muslims, even Muslim children.
When Bolger was first apprehended for his actions in January, he was given 24 weeks in prison for his disgusting behavior but a further hearing reduced that sentence to 12 months of community service. Despite his racist actions, he was allowed to return to the Irish Guards just ten days later as they carried out their annual St. Patrick's Day parade for British Prince William and Kate Middleton.
Read more: The strange history of the Nazi plans to invade Ireland
Bolger was filmed giving Nazi salutes and wearing swastikas, and Whatsapp messages from him laughed about killing Muslim children. https://t.co/QZQB19i22b

— Buzz.ie (@buzzdotie) April 5, 2018
After the racist messages and pictures he sent were revealed to the public, however, an internal army investigation was established to find out how 23-year-old Bolger, from Clondalkin in Dublin City, was allowed to return to his post so soon after his hearing.
The videos released showed the Dublin man in his army uniform performing a Nazi salute at the Infantry Training Centre in Catterick, North Yorks. He was also guilty of a campaign of hate directed towards a woman on Whatsapp. In one such text, he said he had joined the Army "for a job and to kill people."
"Well, that's how you wipe out a race in it? If I was to kill all Muslims I wouldn't leave the child, I'd kill that too!" he also wrote.
Read more: Anger as Kate Middleton breaks 115-year old shamrock tradition for Irish Guards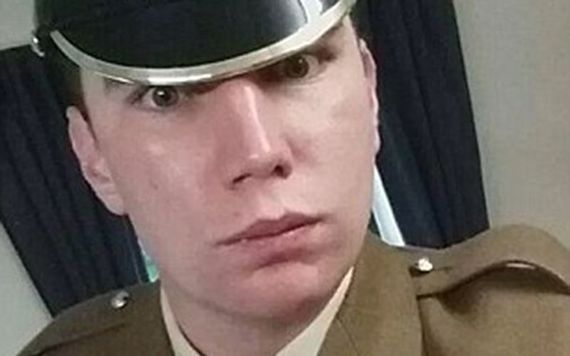 2
After a review was ordered by the head of the British Army General Sir Nick Carter, Bolger was promptly kicked out.
"The is no place for racists in the British Army. He's gone," a source said.
"The Army's better off without this idiot - good riddance."
"The Army has concluded its considerations in relation to this case, but we are not prepared to release any personal information about this individual," said an Army spokesperson.
"We have a common law and Data Protection Act duty to protect the personal information of our employees and there is no good reason to release personal information in this case."