How strangely appropriate – and deeply poignant – that an event had been organized to honor the women of the Magdalen Laundry in Galway for Sunday afternoon.
The event took on a whole new significance following the shock revelations about the discovery of the bodies of 796 babies in a decommissioned septic tank at the Tuam Mother and Baby Home, less than an hour up the road.
About 100 people took part in the moving ceremony in which the names of each of the women buried in Bohermore Cemetery were called out before flowers were placed on their shared graves.
The Flowers for Magdalenes event was planned weeks in advance to give a dignity in death which had been denied in life to the Galway women who had been imprisoned in the city center laundry.
Until the closure of the laundry in 1984, 'fallen' women who became pregnant outside marriage were locked up and forced to work in the premises in the heart of Galway City.
The Magdalen Asylum, as it was known, was run by the Sisters of Mercy from 1845 until its closure. There were 41 such institutions across Ireland in the late 1800s.
Women who became pregnant outside marriage were taken away from their families and placed in the laundries, along with their "illegitimate" children.
4
They were separated from the children, many of whom were moved to another institution across the city, called St Anne's. If they were not given up for adoption, they were allowed to see their children once a year.
The inmates, known as 'Maggies', had to wear 'penitence caps', large boots, and heavy skirts down to their ankles. They worked in the laundry and slept in dormitories. They were never allowed out of the Forster Street premises.
The last resident died in the laundry in 1995, just one year prior to its closure, and Sunday's remembrance ceremony was attended by women and adult children who had been confined to the home. It was really moving to hear graveside testimonials from a former Magdalene Laundry resident, a woman who worked there as a teenager, and a man who had been sent there with his single mother.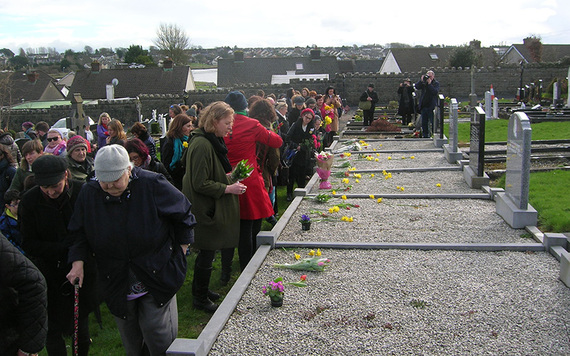 4
Former resident Peter Mulryan broke down in tears as he recalled his difficult childhood in a home and how he used to look up at the stars and dream of another life as a youngster.
Mulryan has taken a High Court action to obtain information about a baby sister he never knew from Tusla, the Irish child and family agency.
"It's an insult the way these women are buried in on top of each other," he said, as he surveyed the shared graves at Bohermore, just minutes from Galway city center.
Mulryan said he had never been able to trace his little sister. He didn't know if she had been buried in the mass grave in Tuam, as he believed she had been confined there, or whether she had managed to escape and make a new life in the United States.
"For all I know, my sister was buried in that septic tank in Tuam," he said. "Yet I have never been able to find out what really happened to her."
Read more: Tuam Babies - "It would be... kinder to strangle these children at birth" said doctor
He was given a huge round of applause for his bravery, as was a former Magdalene Laundry resident who described how harsh life was for the women in the Galway facility.
"I knew many of these women here," she said, with tears in her eyes, looking out over the graves.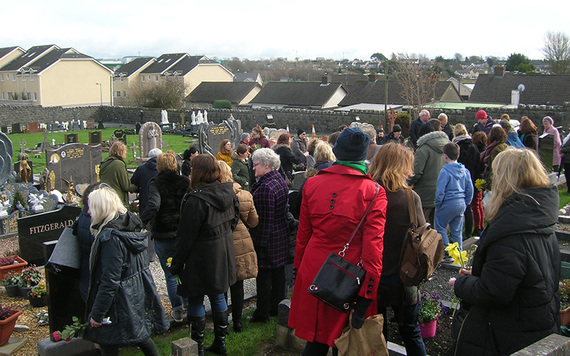 4
Another lady, who worked there as a 13-year old, said she wanted to re-assure family members present that the lay staff who worked there – apart from the nuns – had treated the women well.
Flowers were laid on each of the graves and afterwards poet Sarah Clancy and singer Caroline Stanley dedicated a poem and a song to the Magdalenes.
Sarah read an angry poem, 'A Prayer to St Bridget'.
One of the organizers, Ann Irwin, said she was taken aback by the numbers who attended the sixth annual Flowers for Magdalenes event at the graveyard. Only three women attended in the first year.
"What happened on Friday was totally coincidental, but it was important that we provided an opportunity for people to congregate and to tell their incredibly poignant stories," she said.
"The stories that people told this year were nothing but heart-breaking, really. People have told their stories before, but not to such an extent. They were so beautiful and so brave to tell their tragic stories."
She said it was important to call out the names of each of the women out loud, to give them a dignity which had been denied them in life.
"It was important that everybody said their names together. It was important to hear the testimonials of survivors and that these things are said," she added.
Irwin said it was important not to forget how women and children had been treated when they were confined to the Magdalene laundries across Ireland.
"It's a very, very recent history, but it's a history we have swept under the carpet to such an extent. If it wasn't for events such as today, people would turn a blind eye. It's so important to keep it on the agenda and not to forget these women," she told IrishCentral.
Read more: Tuam babies horror is "fake news" says Bill Donohue of the Catholic League
* Ciaran Tierney is a journalist, blogger, and content writer, based in Galway, Ireland. Check out his website, ciarantierney.com.
This article was submitted to the IrishCentral contributors network by a member of the global Irish community. To become an IrishCentral contributor click here.