Maura Ward, 'The Geriatric Traveler,' hasn't let her Parkinson's diagnosis stop her from exploring the world
Maura Ward, a native of Kilkeel in Co Down, recently completed an inspirational and charitable climb to the top of Mount Fuji, and while the feat is impressive in of itself, Ward is 70 years old and was diagnosed with Parkinson's disease in 2012.
Read More: Michael J. Fox Foundation will fund promising Parkinson's research at Galway University
On her Facebook page 'The Geriatric Traveler,' which has more than three thousand fans, Ward explains that she raised two children as a single mother while working two jobs as well as volunteering in Northern Ireland. 
"As an Irish mammy, I just got on with things," writes Ward. "Sure, they weren't always easy but I had 2 young kids to raise and as a single parent what other choice did I have. So I drummed into them the importance of education, and since they are both now in their 30s, and have spread their wings to London and Bangkok respectively, it was time to spread mine!"
In 2007, Maura's son Johnny, who runs the travel blog OneStep4Ward, began traveling a lot for his career and took his mother along for a few trips. 
"One trip a year or so," Johnny writes, "Thailand, Sri Lanka, China. My mum had discovered a love for budget backpacking in her 60s! We had so much fun together."
Read More: Italian doctor finds cure for Parkinson's disease in Irish dancing
However, in 2012, Ward received her "shock" Parkinson's diagnosis when she was 64. While the news was "tough to deal with," Ward now says "it was also the catalyst for me taking life by the scruff of the neck."
Johnny says his mother struggled for six months or so with the diagnosis, but "then she flicked a switch in her mentality and instead decided to face it head-on."
A few years later, Ward, who says she still has "barely 2 pennies to rub together,"  has proudly backpacked to over 50 countries - "yup, really backpacked - night buses, bag strapped on!" - and even did a skydive 65th birthday which raised over $5,000 for charity.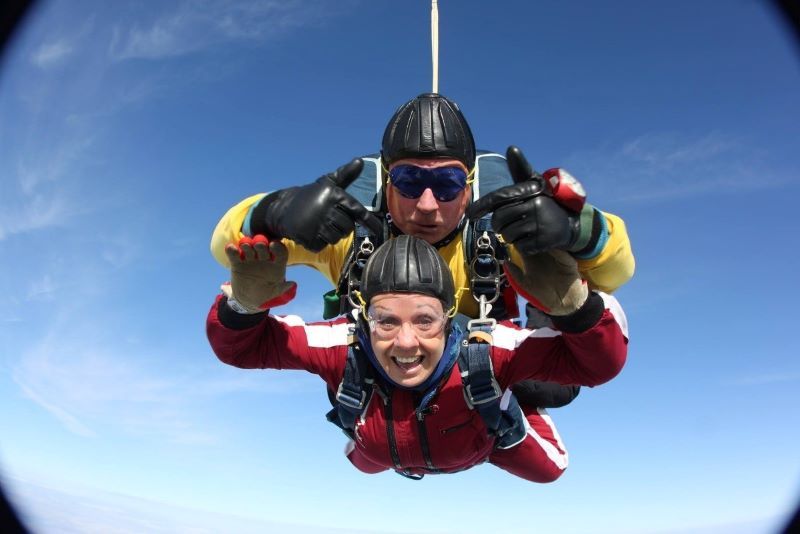 2
The 70-year-old has traveled to places like Afghanistan, Iraq, Uzbekistan, Kyrgyzstan, Easter Island, and Abkhazai, as well as some more popular places like Thailand, Japan, and Argentina.
"She shows that Parkinson's isn't a death sentence," says Johnny. "Life is meant to be lived, and I've never been more proud than to see my mum living life as it's meant to be lived."
Read More: Irish drug cures Parkinson's in mice, gets Michael J. Fox backing
Last year, Maura and Johnny decided to make their Mount Fuji adventure into a charitable experience. On theirGoFundMe page, which has now raised £14,444 ($18k) raised of the £10,000 ($12k) goal, Johnny clarified that all of the money raised would be going to the Cure Parkinson's Trust to help in the research to fight the disease, and none of it would be used for travel or accommodation expenses. 
In July, following a year's worth of training and preparation, Maura's proud son shared in an update on their GoFundMe page: "SHE DID IT!! On the 9th/10th of July, my mum heroically summited Mount Fuji, Japan's highest peak.
"It almost broke her, but nothing was going to prevent her from reaching the top. A display of true grit and determination in the face of a horrible condition. WELL DONE MUM!"
Maura also shared an update with her followers in which she thanked all the donors and people who helped her and Johnny throughout their amazing adventure:
But, the 70-year-old isn't done yet! The Irish Mirror reports that Maura is eyeing a trip to Syria and that she's also considering joining Johnny on a trip to Yemen.